They say one should strike while the iron is hot and that is exactly what owners Andreas Schreiner, Sergio Navarro and Jose Mendin have done with their red-hot Pubbelly brand. The ever-expanding empire has reached even further taking over Joe Allen's old digs with Pubbelly Steak and into South Miami with a second Barceloneta location. Between the original Pubbelly, Pubbelly Sushi, Macchialina, Pubbelly Steak and Barceloneta, devotees can now eat at a different Pubbelly-owned resto every day of the work week.
But let's face it, in Miami; it's all about the steak. Which is exactly what will make Pubbelly Steak, opening tonight, a success with its array of Certified Black Angus Beef is expertly seasoned and cooked exactly right. On offer are the classics: skirt, filet, strip and ribeye, but there are interesting variations not often spotted on other menus. The 14 oz. Kansas City Steak is Dry aged 28 days as is the 26 oz. Porterhouse ($62).
The Cowboy Steak is all Wagyu Beef from Jackman Ranch in Florida and might have emerged as the favorite of the table, but with each steak representing the best of it's ilk, it was a tough call. What were easier to identify are the one-offs that aren't easily found at other restaurants such as the Chioggia Beet Salad with maple and sorrel, Bone Marrow topped with short ribs (and served with a piping hot crusty baguette) and Pork Cheek Ravioli. Few saved much room for dessert, but those that did were rewarded with Apple Pie in a Jar that was even more delicious than it sounds.
But it's not just the Beach-dwellers that get a new Pubbelly edition. South Miami finally gets a taste of their magic with their own Barceloneta. The Spanish tapas restaurant is the spitting image of the original, which is located adjacent to their popular Pubbelly and Pubbelly Sushi in the Sunset Harbour neighborhood. Now South Miamians who stay close to home can finally try their famous charcuterie, chorizo and paella.
28 day Dry Aged Sirloin.172
Dry Aged Sirloin
photo
Bone Marrow with Shortrib Marmalade
28 day Dry Aged Sirloin[1]
photo[3]
Malapeque Oysters, Baby Iceberg Wedge with Bacon Vinagarette and Steak Tartare Slider
interior PB
Inside Pubbelly Steak
dessert
Mixed Berries with foam and Apple Pie in a jar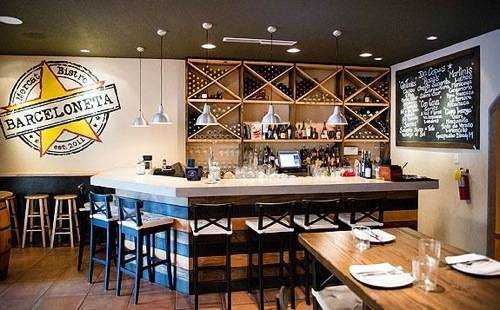 7d0f3c8e01b70de88aa7307557e62abf
Barceloneta South Miami