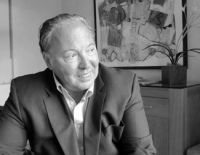 Chelsea's inaugural Fine Wine Fair co-organiser, Anthony Hawser, knows more than a thing or two about great wines.
Trained as a barrister and now publisher of The Drinks Business; the largest trade magazine in Europe for wine and spirits, Antony Hawser knows more than a thing or two about great wines.
Whether it's a double page spread for Dom Perignon or Krug, Antony has covered every aspect of drink. "I always thought I'd enjoy the first growth clarets best, but brand building is really the most interesting part of my job," Antony said. "All brands need the same treatment—tender care and a ruthless recognition of its weaknesses. Just like you and me. London is a great place to study brands as the whole place is one big brand—whether it gets the right treatment is debatable but we're working on it!"
Antony is co-organiser of the inaugural Fine Wine Fair will launch at Chelsea Old Town Hall on 15 – 17 October 2010. Antony explains that inspiration for the fair came after wanting to take the intimadation out of the wine world and wanting to bring together a host of quality wines. . It will be the first fair of its kind to make fine wine accessible to anyone interested in drinking and learning about high end wines. More information can be found at www.finewinefair.org.
Interview by Marie Teather
Subscribe to discover the best kept secrets in your city