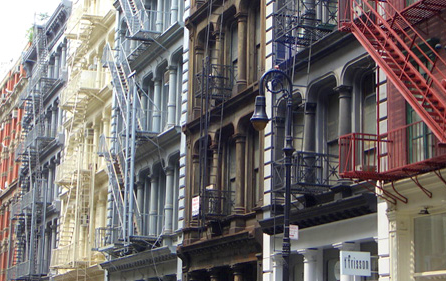 Electrifying! The energy is unstoppable, and the buildings have old school, downtown character.  You can walk into a narrow doorway strewn with graffiti and end up in a 7,000 sq foot loft complete with sprawling terraces and Turkish baths.
You just never know!
Soho is just a 15-20 minute cab ride from the Upper East Side, depending on the driver (Timmy the Turtle or Schumacher). Do make sure when walking around on the cobblestone that you don't ruin your stilettos, but exploring SoHo is a must SO, in my opinion, it is worth every scuff.
Spotlight on Crosby Street: This has always been one of my favorite streets in New York.  I end up on Crosby at least once a week, typically showing loft spaces to clients who specifically want to be on Crosby or very close by. Let's talk about 30 Crosby Street… one of my all time favs, and no, it's not just because Lenny K. lived there at one point, it is all about the incredible loft spaces.
I can appreciate the chic yet dramatic, sexy lobby, complete with a shimmering light fixture and cream-colored draperies. It is very stage like; maybe that's why it has always attracted musicians and movie stars. I will never forget the time when I was in the key lock elevator and it opened to Courtney Love's apartment and well… use your extreme imagination.
Do you like to entertain? Sing, cook, and sip cocktails? Well, as a tenant or owner at 30 Crosby, you're welcome to use the wine cellar dining area to entertain. I like to describe it as Dracula's workshop, because if I told you that you were in Transylvania, you wouldn't argue and/or know the difference.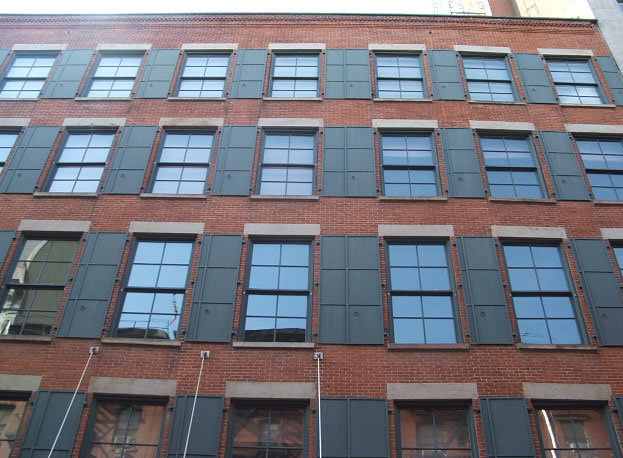 Complete with dripping candles, a dining room table for twenty, dimmed lighting and a wine cellar in the next room, entertaining doesn't get much better. Who needs the Boom Boom room, when you have this Boom Boom Cave? There's no reason to ever leave! I think 30 Crosby should put me on retainer, as I can't say enough about it.
Now this apartment is back on the market! Falling just short of an $18 million dollar price tag. Is it worth it? You may be wondering… Well, I have to say it is one of the most fabulous spaces I've ever seen. When Lenny owned it, he designed the space and decorated the apartment himself, in true Lenny style. I've heard there were lots of feathers, fur, leather, and lucite galore.
If you care to purchase this abode and bring it back to its' rock and roll glory days, you can employ the Kravitz design crew (www.kravitzdesign.com), conveniently located on Crosby Street. Once you go Crosby, you may not ever move. I wouldn't.
More of Heels & Deals? www.tierneymodel.com
Like Haute Living New York? Join our Facebook page or follow us on Twitter @HauteLivingNY. Want Haute Living New York delivered to your inbox once a week? Sign up for our newsletter.
Subscribe to discover the best kept secrets in your city