One evening I sat at the bar at Bevacco in Brooklyn Heights, sipping a purple cocktail named Grace. Though the color might suggest otherwise, Grace was by no means a super sweet cocktail, but a well-proportioned mix of lemon, veer, creme de violette, egg whites, Prosecco, and bonal gentian-quina, all precise and carefully thought out. And the dishes that arrived followed suit: Chef Antonio Morichini has put his love of Italian food—specifically his Roman roots—into his well-crafted dishes: all the pasta is handmade in-house; Morichini adds unique elements to many of the dishes (like a whimsical dash of fresh mint on the black ink tagliolini); while entrees like the oven-baked branzino demonstrate Morichini's passion for simple Italian ingredients. His flavor combinations are sometimes classic, as in the case of bucatini aglio olio, and often surprising, as with the grilled octopus with black olive aioli.
A native of Rome, Chef Morichini trained at the Institute of Cuisine, Culture and Oenology of the Regions of Italy in Piedmont and worked in that region and also in Chiavari on the Italian Riviera before returning to his hometown, where he continued to refine his craft as sous chef at the Michelin-starred Il Convivio Troiani. He subsequently rose to become chef de cuisine at other one-star Michelin restaurants: Glass Hostaria and Acquolina. Before joining Bevacco, Chef Morichini was Executive Chef at Bottega de Vino in Manhattan and was also at the helm of the kitchen at Gavi Restaurant in Armonk.
At Bevacco, Chef Morichini is showcasing his passion for Roman cuisine, using local ingredients—and adding his own unique touches.—Tracey Ceurvels
Haute Living: What's new at Bevacco?

AM: We're enjoying the spring menu. Spring is the very best season; it's about new life. When spring arrives, I'm very happy. I have the opportunity to cook with wonderful fresh ingredients. Spring dishes are lighter and fresher, unlike the heavier dishes of winter.
HL: What are some of your favorite dishes at Bevacco?

AM: Bucatini with crispy garlic, pecorino and oil because it's a traditional Roman dish and also very contemporary. Another favorite is our gorgonzola pizza with truffle oil and arugula.
HL: Where do you like to dine when you're not working?
AM: Any of Daniel Boulud's restaurants, especially Sud. The Mediterranean flavors remind me of my Italian roots.
HL: What's your ideal meal?

AM: What I cook at Bevacco, of course! Good ingredients make the dish and at the restaurant we use the best of locally sourced and organic ingredients. Pastas are fresh and housemade. Then, when everything is made from the heart, it's delicious.
HL: Where do you like to dine on a special occasion?
AM: Again any of Daniel Boulud's restaurants. I admire him, his approach to cooking and the technique and flavors he brings to food.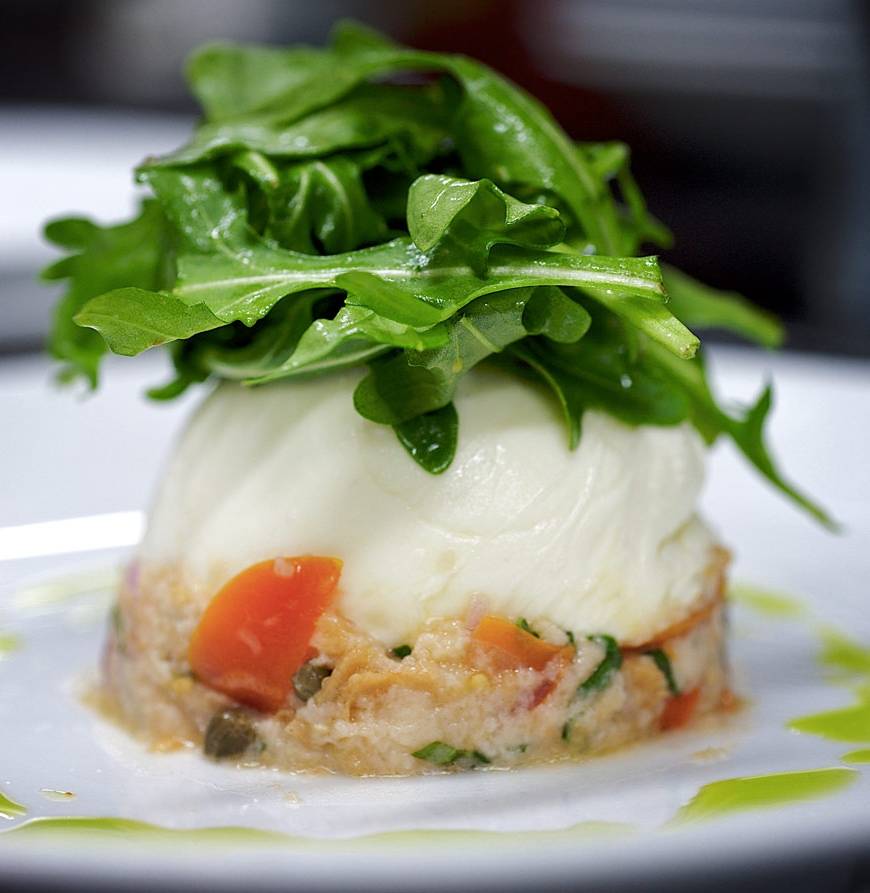 HL: What's your favorite NYC neighborhood?
AM: Brooklyn Heights or Park Slope. People are adventurous, open and curious about food…there is a dining renaissance happening in Brooklyn.
HL: What do you like to do in the city on your days off?
AM: I like to spend time with my family. I have a wife and three children, two boys and a girl (ages 9, 6, and 3 months). My wife is the guide of the family. She is very strong and, at the same time, very sweet. The boys are extremely active and love sports, especially soccer. The baby is the joy of my life. On weekends we like to visit farms, usually on Long Island. The eldest likes horseback riding. All of us enjoy the farm animals and getting out into the country.
HL: What's your favorite vacation destination?
AM: Italy, of course! It's about food and family. We love the beaches of Elba Island and we never tire of Tuscany.
HL: What's your most memorable meal?
AM: It was in Rome at Il Convivio Troiani. That meal changed my idea of food, and I was determined to work there. Il Convivio is where I really learned the craft. It influences much of what I do today.
HL: What are your five favorite ingredients?
AM: Flour from Italy, specifically double zero, organic eggs, San Marzano tomatoes, Parmigiano Reggiano, buffalo mozzarella. These ingredients reflect Italy, so I have to mention them first. Beyond the basics, I'm currently using foie gras and fresh porchini. I'm also using garlic scopes, which are in season. They have a wonderful delicate flavor and are perfect for spring.
Bevacco is located at 60 Henry St, Brooklyn Heights; (718) 624-1444.
Visit Haute Dining columnist Tracey Ceurvels' blog, The Busy Hedonist for easy + elegant recipes, plus NYC dining tips.
Like Haute Living New York? Join our Facebook page or follow us on Twitter @HauteLivingNY. Want Haute Living New York delivered to your inbox once a week? Sign up for our newsletter.
Subscribe to discover the best kept secrets in your city