The San Francisco Bay area is steeped in cinematic history but the ground breaking technology created here by  Pixar, Industrial Light and Magic, Lucas Films, American Zoetrope, The Saul Zaentz Co., PDI,  Dolby labs and  Skywalker Sound  to name a few is what illuminates the Bay Area apart from Hollywood. There are more Academy Awards here in Northern California than any other city outside of LA. Filmmakers George Lucas, Francis Ford Coppola, Philip Kaufman, Chris Columbus, along with Robin Williams, Robin Wright, Sean Penn, Danny Glover and many more choose to live and play here in this creative environment.
Where will any one of them be celebrating the 84th Annual Academy Awards on Sunday February 26th, 2012?  My recommendation is any one of the following Glamorous Charity viewing parties featured here.
Academy of Friends 32nd Annual Legacy Gala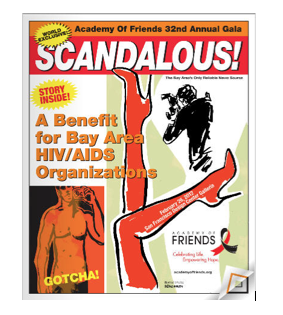 This year is SCANDALOUS! So if you want to strut the Orange carpet  dressing  glam or a little or a lot  naughty this is where you need to be. Date/Time:
Sunday, February 26, 2012


5PM On the Orange carpet with Donna Sachet, General reception featuring Bay Area's restaurants, caterer's, wineries and Silent Auction.
7PM VIP admittance,
9pm live telecast
11PM Performance by the cast of Momma Mia followed by DJ Dancing
Location:


San Francisco Design Center Galleria, 101 Henry Adams Street San Francisco, CA
Tickets: $250.00 per ticket for general admission. $750.00 for VIP Tickets
100% of the proceeds will benefit the five San Francisco charities, Huckelberry Youth program, SHANTI, MAITRI (exclusive residential AIDS Hospice), Womens HIV program at UCSF and Tenderloin HIV Health.
To purchase tickets  www.scandalous2012.com or www.academyoffriends.org
Napa Valley Chefs Team Up for Oscars Fundraising Gala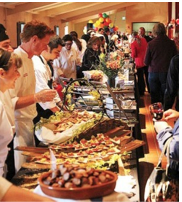 It's all about the food and wine at what repeat attendees maintain is one of the Bay Area's best parties saluting Hollywood's biggest night.
For the 24th year in a row, local chefs, caterers and purveyors have volunteered to share a wealth of taste treats with those from near and far who will be celebrating the Oscars on Sunday night.
Benefiting the Care Network at Queen of the Valley Medical Center, the annual Academy Awards viewing party is taking place once again in the To Kalon cellar of Oakville's Robert Mondavi Winery. One hundred percent of the proceeds will benefit the Care Network.
More than two dozen chefs, caterers and purveyors will be on hand to share some of their favorite appetizers and recipes with several hundred fans of Oscar.
In addition, the Robert Mondavi Winery will be pairing both new releases and library wines with the myriad of savory and sweet treats offered to guests. Winery chef Jeff Mosher will be taking part as well, pairing dishes with both white and red Mondavi wines.
Some of the valley's best-known chefs have promised to take part and will be on hand to serve savory bites and desserts, including La Toque's Ken Frank, Oenotri's Curtis Di Fede, Bouchon's Michael Sandoval, Cuvée's Jordan Mackey and Napa Valley Wine Train's Kelly Macdonald, along with popular restaurateurs Rick Enos, from Compadres Rio Grille, and Pearl's Nickie Zeller. Outstanding sushi and sashimi from Morimoto is on the menu, as well as freshly shucked oysters from Hog Island Oyster Company. Sweet treats are coming from the baking and pastry program at the Culinary Institute of America and Annie the Baker, among others.
Here's a complete list of participants and treats to be offered at the 24th annual Academy Awards viewing party Sunday, slated to kick off at 5 p.m. while those attending the Hollywood bash are still walking up the red carpet.
• Auberge du Soleil — Tuna tartare on a Japanese cucumber with hijiki, a flavorful Japanese sea vegetable.
• Bistro Jeanty — Croutons de foie blond (duck foie gras paté on croutons).
• Brix — Chef Chris Jones' shellfish terrine with toasted brioche, saffron aioli and shaved black truffles.
• Carpe Diem Wine Bar — Ahi tuna tartare with jicama, scallions, sesame soy vinaigrette, charred poblano aioli and micro greens on a wonton crisp.
• Compadres — Coctel de camarones (shrimp cocktail), plus pulled pork sliders with chipotle aioli.
• Cuvée Napa — Chef Jordan Mackey's high-country take on rock shrimp and grits, plus for dessert Fuji apple truffles, a hit with last year's crowd.
• Emily Didier, well-known Napa Valley caterer and teacher — Caviar Romanoff, galettes Bonne Maman with Whole Foods brie, grilled Caggiano sausages with a variety of mustards, plus Belgian endive with Sky Hill goat cheese and bay shrimp.
• Grace's Table — Smoked Muscovy duck rillettes with winter wild mushrooms in pâte à choux puffs.
• Hog Island Oyster Company — Freshly shucked oysters for the winery oyster bar.
• La Toque — Beef tenderloin carpaccio with grilled marinated trumpet mushrooms and smoky aioli, a miniature version of a popular restaurant dish.
• Meadowood Resort — Pear and leek soup with maitake mushrooms and celery.
• Morimoto Napa — Assortment of sashimi and sushi, plus chef Kang Kuan's black truffle bacon marmalade mochi.
• Napa Valley Wine Train — Petite filet mignon with Serrano ham and horseradish sauce, plus smoked mussels with blood orange aioli.
• Oenotri — Puntarella salad with lemon anchovy vinaigrette, walnuts and Parmigiano-Reggiano cheese.
• Pearl — New Orleans mini-muffaletta, Pearl style, the sandwich of the Big Easy with ham, Genoa salami, provolone, mozzarella and chopped olive salad on foccacia.
• Robert Mondavi Winery — Chef Mosher is serving seared Loch Dart salmon with raita and pappadam, plus red wine risotto with beef short ribs and crispy shallots.
• Silverado Resort — Mediterranean spice-dusted duck breast with kumquat marmalade.
On the dessert menu:
• Annie the Baker — Golden Oscar cookies, plus toffee milk chocolate and semi-sweet chocolate chip cookies.
• Culinary Institute of America at Greystone — chef instructor Stephen Durfee's baking and pastry program students will be on hand to serve guests a variety of sweets.
• Gillwoods — The popular "carmelita" bites, a favorite of the lunch crowd.
• Lucy Restaurant at Bardessono — Pastry chef Tedd Romero's coconut panna cotta with pineapple chip and dark rum caramel sauce.
Napa Valley Academy Awards Telecast Viewing Party 2012
• Sunday, Feb. 26, 5 p.m.
• Robert Mondavi Winery, 7801 St. Helena Highway, Oakville
• Tickets: NapaValleyAcademyAwards.com or 738-4040
Academy Awards Viewing Cocktail Party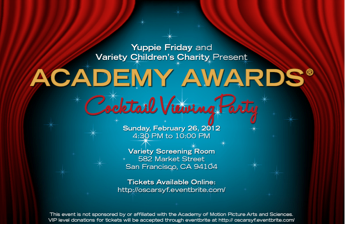 Sunday, Feb 26 4:30p to 10:00pm at Variety Screening Room, San Francisco, CA
Price: $40 Early Bird; $45 – 60
Age Suitability: 21+
Please join Yuppie Friday and Variety Children's Charity of Northern California for a Glamorous Evening Cocktail Party and Live Screening of the 2012 Academy Awards® hosted at the private Variety Screening Room. Capacity is very limited in this small intimate theater setting so please get your tickets early.
What better way to enjoy the Oscars than in a private theater and lounge. Dress up like a star and enjoy wine and beer while you meet and greet at San Francisco's best Sunday night viewing.  And best of all, proceeds will benefit Variety Children's Charity and the thousands of children served each year through the Mobility Program, Variety @ Work Program, and Compassion Fund. Tickets available on line: http://oscarsyf.eventbrite.com/  or www.yuppiefriday.com   *This event is not sponsored by or affiliated with the Academy of Motion Picture Arts and Sciences.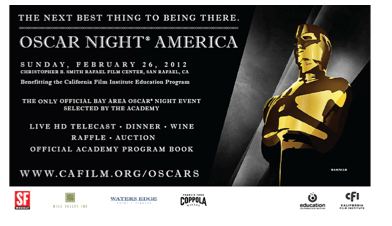 Only official Bay Area Oscar® night event sanctioned by the Academy!
• Live HD telecast in the Rafael's state-of-art theaters
• Official Oscar® program for each guest- the same one given out at the actual awards ceremony
• Stellar raffle & silent auction, including
– a signed copy by filmmaker George Lucas of Star Wars: The Complete Saga (Episodes I-VI) Blu-Ray box set

– 2 VIP tickets to a taping of the second season reality TV talent show THE VOICE (open for bidding pre-Oscar Night® America NOW on eBay- see it here)
– an Instant Wine Cellar! – a wine refrigerator stocked with a collection of 36 bottles of wine from Francis Ford Coppola Winery
– an iPad2 with a year's subscription to NetFlix streaming
and much more!
• Delicious food
• Exclusive Wine Sponsor Francis Ford Coppola Winery
Live HD Telecast
Hosted by Don Novello (Father Guido Sarducci)
Sunday, February 26, 2012
Festivities starting at 3:30 pm
Tickets
$60 General Admission ($50 CFI Members)
Reserved Sections (block of 10 seats)
Sections are limited and are available on a first come first serve basis.
To reserve a section, please email joberti@cafilm.org.
Center Reserved Section $1000
Side Reserved Section $750
Like Haute Living San Francisco? Join our Facebook page or follow us on Twitter @HauteLivingSF. Want Haute Living San Francisco delivered to your inbox once a week? Sign up for our newsletter.
Honey Brooks, "The Buzz From Honey B…"
Ms. Brooks vibrates on two frequencies. In business, she is an International Luxury Real Estate specialist who is in pursuit of creatively perfecting the art & heart of the deal. While being an Entertainment /Lifestyle, writer/ reporter, satisfies her souls creativity, together these two passions result in pure harmony.
Subscribe to discover the best kept secrets in your city