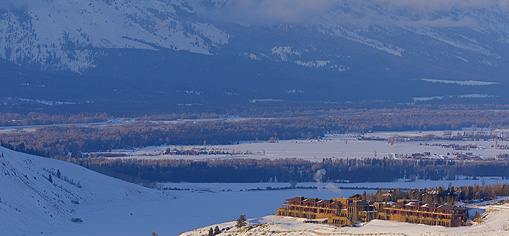 Who: Amangani Resort, an exclusive member of The Haute Hotel Network, in Wyoming.
What: Amangani or "peaceful home" Resort provides guests with luxurious lodging, majestic surroundings and panoramic views of nature. Explore the gallery, decked in art, jewelry and crafts or relax in the library for a few hours. The Grill maintains a farm to table approach to dining, and picnics lunches are available. All aspects of Amangani are peaceful and inspired by nature.
Where: Amangani Resort presents the American West at its best. Go there for exquisite views of the Grand Tetons and Snake River Valley and its nearness to Yellowstone National Park.
When: Stay at Amangani Resort during the wintertime for an unparalleled skiing experience. The alpine Teton Village (packed with restaurants, bars and shops) is host to Amangani's private Ski Lounge. Other snow activities offered include snowmobiling, dogsledding and snowshoeing. Guests also enjoy horse-drawn sleigh rides. Don't miss the Ski to Live package offered in March. Steal away from the slopes for a day and go on an exciting winter wildlife adventure.
Why: All of the above. Plus, Amangani is on the 2011 Gold List by Condé Nast Traveller UK.
How: Now you can fly direct from LA to Jackson Hole on United Airlines.