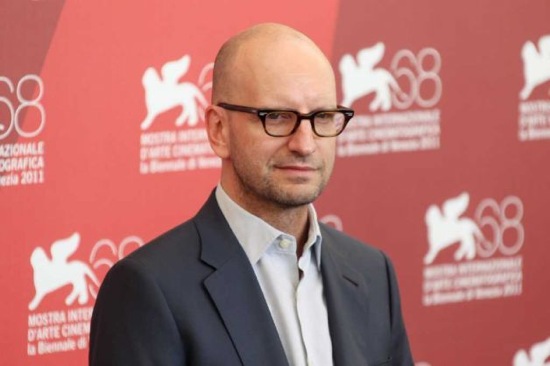 Acclaimed filmmaker Steven Soderbergh is wrapping up his film career to fulfill a long desired gig as a painter. Although some sources have said that the ambition is a full-blown retirement, Soderbergh claims it's merely a break. "It's less dramatic that it sounds – it's just a sabbatical," the 48-year-old director told reporters at the Venice Film Festival.
The director's buzzed-about new film, Contagion, hits theaters this September 9 and has been slated to be one of his final projects as a director. Actor and star of Contagion Matt Damon had previously confirmed Soderbergh's career change ambitions in an interview in December 2010, which the director skirted at this July's Comic-Con by saying the rumors had been "blown out of proportion."
Regardless of whether the stint is a retirement move or merely a sabbatical, Soderbergh recently confirmed his intentions to become a full-time painter while talking to the New York Times in his Manhattan painting studio.
"I'm interested in exploring another art form while I have the time and ability to do so," he told the Times, surrounded by his art. "I'll be the first person to say if I can't be any good at it and run out of money I'll be back making another 'Ocean's' movie."
The beloved filmmaker had hinted at retirement since 2009 and continued to amp up speculation about the future of his career when, in March, he revealed that he planned on only two more films. "When you see those athletes hang on one or two seasons too long, it's kind of sad," he added. "I feel I need to recalibrate, so I can discover something new… I'm out of ways of telling art."
Our Haute 100 list details the accomplishments of the most influential people in each of our markets. To see the entire Haute 100 Los Angeles list, click here.
Subscribe to discover the best kept secrets in your city