If you're looking for a great suggestion on how to dine in style without breaking the bank, consider moving your dinner plans up to lunch. Whether meeting for business or pleasure, or even dining for one, hitting up San Francisco's Michael Mina for lunch is a great way to enjoy fine dining for a great price.
Head over to Michael Mina for lunch and enjoy an elegantly refined three-course meal for $49 or four-course option for $59 in the dining room or for an even better deal, enjoy the a la carte menu at the bar. Since opening earlier this summer, the lunch options at Michael Mina have undergone some changes. At first, it was only offered in the bar area, then it expanded into part of the dining room. Now, guests can enjoy more space with 15 dining room tables devoted to lunch service. The reason for keeping it relatively limited is directly related to customer service – the restaurant wants to make sure that the waitstaff can maintain a high level of service even during lunch time when people are usually in more of a rush. The smaller allocated space also means diners can enjoy a quieter environment to chat with friends or close a business deal.
If you choose the four-course option, here's a sample of what you can expect.
To start, you can enjoy six oysters of three different varieties on the half shell served on ice with traditional horseradish-cocktail and classic mignonette sauces.
Next you may enjoy hand-rolled garganelli which is a silky, delicate pasta tossed with prosciutto, arugula Pecorino and a chanterelle cream sauce.
For the main course, try the ginger poached halibut. Brined in white soy sauce for 10 minutes, the fish is then poached in olive oil leaving it supple and moist. The fish is accompanied by a dashi broth and a plump thin-skinned dumpling filled with mustard greens. On top, a sprinkle of toasted panko crumbs mixed with bits of sweet-hot candied ginger.
For dessert you have four choices, including butterscotch custard with a crisp brown sugar water and a delicate touch of Chantilly cream and a small slab of pan d'epices cake decorating the top.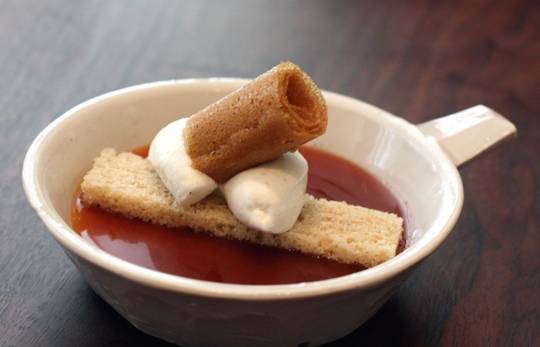 Lunch is served from 11:30 a.m. to 2 p.m.
Source and Photos: Food Gal
Like Haute Living San Francisco? Join our Facebook page or follow us on Twitter @HauteLivingSF. Want Haute Living San Francisco delivered to your inbox once a week? Sign up for our newsletter.
Subscribe to discover the best kept secrets in your city