In 2011 world events have pushed social conscience to become even more enlightened to the circumstances of those exploited or persecuted. Some companies and entrepreneurs who have recognized this appetite for 'retail activism' are leading the way for consumers to help the plight of many. One luxury fashion label that has come onto the radar is Beulah London, through the provision of an opportunity for young women to break free from the toxic cycle of sexual exploitation and trafficking. For every garment that is produced by Beulah, a positive effect is made on someone who has been devastated by the effects of this illegal but widely occurring trade.
Beulah was founded by friends Lady Natasha Rufus Isaacs and Lavinia Brennan who were profoundly affected after a visit to the Indian slums in 2009 and spent two months in the southern slums of Delhi, Lado Sarai, working with an aftercare home called "Atulya", literally meaning "woman without price; immeasurable; unique." The girls were motivated to make a difference through the creation of Beulah, which currently employs 150 former sex workers, empowering them in their new role. They said, "We wanted to create a luxury brand that was naturally elegant and easy to wear. Our designs are simple, with a strong philosophy behind them – to provide stunning fashion with a conscience."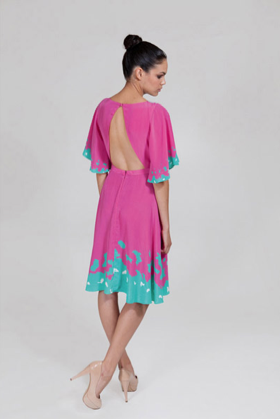 The garments are exquisite; Bold hues in lightweight cotton and silk are tempered with floaty silhouettes, perfect for evening wear or a day out. A bold butterfly print also features; symbolic of the transformation of the girls who find a new purpose in this high-end label that is giving back… Alongside every purchase of Beulah, a canvas bag is given which has been made by women victims of trafficking in India through a project based in Kolkata. The women are provided with fair wages, health insurance, and training schemes creating a stable and safe environment to flourish.
Dubai will be treated to a preview of the latest collection aptly named 'Amazing Grace' during The British Polo Day Princes Cup held at Dubai Polo and Equestrian Club on March 18.
Like Haute Living Dubai? Join our Facebook page or follow us on Twitter @HauteLivingUAE. Want Haute Living Dubai delivered to your inbox once a week? Sign up for our newsletter.
Subscribe to discover the best kept secrets in your city