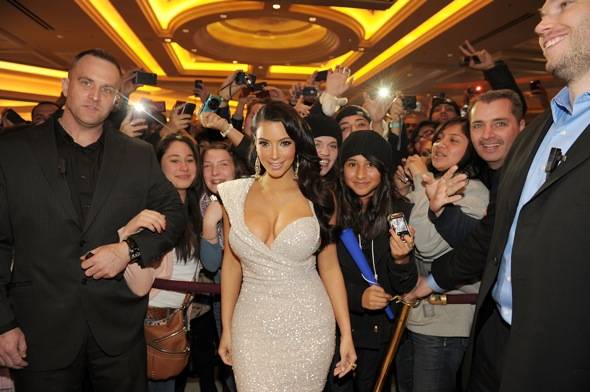 Kim Kardashian celebrated the new year at her favorite place, Tao at the Venetian. She arrived in a silver hand-beaded asymmetric draped dress that was custom made by Marc Bouwer as well as signature Christian Louboutin heels.
The evening started with dinner at Tao, where Kardashian enjoyed Chilean sea bass and many other signature dishes. After dinner, she craved dessert so she indulged into the Tao's fortune cookie that promised her with a future of happiness, love and success. She enjoyed her cookie and had another bite of dessert from her brother's plate.
Rob Kardashian, Brittny Gastineau, famed video director Hype Williams and many other friends helped Kardashian ring in the new year at Tao Nightclub after dinner. She arrived at Tao with mic in hand as she addressed the screaming crowd, "I did my 30th birthday here a couple months ago. I am happy to be back! Later tonight I have a surprise for you!" She then made a toast to her friends, "To a great and amazing new year ahead, I love you guys!"
The party began and included lots of dancing and laughing with close friends. Kardashian stated that her resolutions are "to spend more time with family and have more ME time. I also want to step it up in the gym. I have been doing so good in 2010 being dedicated to health and fitness. I want to keep it up. Actually, it's a life resolution for me."
"Our entire family made a resolution to each other to get out of  our comfort zone and push the envelope and be open to all challenges, which my sisters and I have a new announcement coming up."

As 2010 ended, Kardashian led Tao into the final countdown from the stage. As midnight struck, balloons and confetti fell in an explosion of energy as the crowd cheered, "Happy New Year!" Kardashian finished the countdown with "Let's party, Vegas!"
Later in the evening she moved to the dance floor as she unveiled her surprise for the guests. The deejay played her new song, which is still untitled. Tao guests were the first to hear the new track. She sang along as the crowd danced to her new song. Hype Williams was on scene to shoot club scenes for Kardashian's new music video. Fans screamed and snapped photos of Kardashian as she partied to her new song.
She ended her night around 2 a.m. and headed back to the Piazza Suite at the Venetian for a Girls Only slumber party for all her closest friends.
Like Haute Living Las Vegas? Join our Facebook page. Want Haute Living Las Vegas delivered to your in box once a week? Sign up for our newsletter.
107793221DT009_Kim_Kardashi
Kim Kardashian
107793221DT014_Kim_Kardashi
Rob Kardashian and Kim Kardashian celebrate New Year's Eve at Tao.
107793221DT044_Kim_Kardashi
Kim Kardashian
107793221DT002_Kim_Kardashi
Kim Kardashian celebrates New Year's Eve at Tao.
107793221DT025_Kim_Kardashi
Rob Kardashian and Kim Kardashian at Tao Asian Bistro.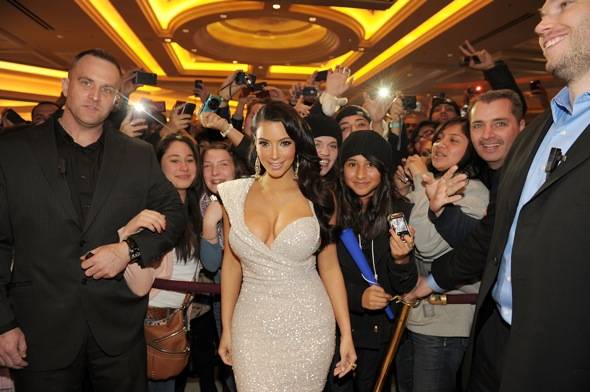 107793221DT030_Kim_Kardashi
Kim Kardashian with her fans at Tao.