Highpoint Bistro & Bar
Perhaps the cutest and quaintest dessert in the city. There is something so quizzical and charming about creme brulee in an eggshell in a tiny clay pot. As for taste, delightful. For the full scoop on Highpoint Bistro & Bar check out my recent review: Haute Eats NYC.
Highpoint Bistro & Bar is located at 216 Seventh Avenue, New York, NY 646.410.0120
Momofuku Bakery & Milk Bar
With two locations, one in East Village and one in Midtown you can always have a sugar crack fix when you need one at Momofuku Bakery & Milk Bar. Indulge in the Crack Pie, toasted oat crust and gooey butter filling and reminisce  over childhood days. Order a slice for a solo or a 10inch pie to share. Play like an adult and wash it down with a Kopparberg Pear Cider.
Momofuku Bakery & Milk Bar is located at 207 Second Ave., New York, NY 212.254.3500
Gnocco
I recently commented on this East Village hotspot's Cantucci di Prato e Vin Santo. However, the ultimate sugar shock perfect dessert for sharing is their Calzone Nutella, a pizza dough filled with hazelnut chocolate spread and ricotta cheese. A unanimous ahhh… across the table.
Gnocco is located at 337 East 10th Street, New York, NY 212.677.1913
Steve's Authentic Key Lime Pie
For a Key Lime pie experience you may never forget, head to Red Hook. Steve's Authentic Key Lime Pie is just that … authentic. Forget pre-made crusts and bottled juice, because the owner Steve, a former Florida Keys resident, make his homemade pies with only the freshest ingredients. Made in batches of only 12 at a time using a hand mixer, a whisk and a ladle, this is a luxury item worth writing home about.
Steve's Authentic Key Lime Pie 204 Van Dyke Street Brooklyn, NY is located at 718.858.5333
The Standard Grill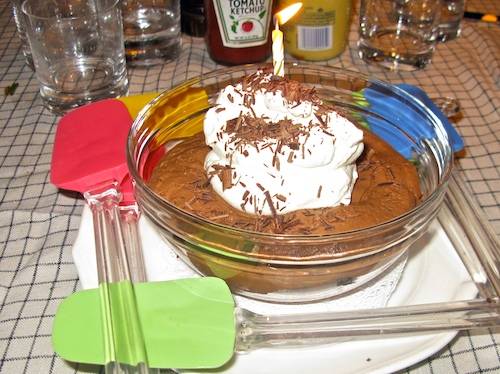 Though I may have reserves about the Standard Grill, the Deal Closer is an ultimate dessert to be reckoned with amongst the best of them. Eat with a spatula and enjoy flashbacks to childhood memories. Enjoy with groups and fight to the scrape the bowl of the last brownie bits or just enjoy solo for an ultimate chocolate coma.
The Standard Grill is located at 848 Washington Street, New York, NY 212.645.4100
Subscribe to discover the best kept secrets in your city