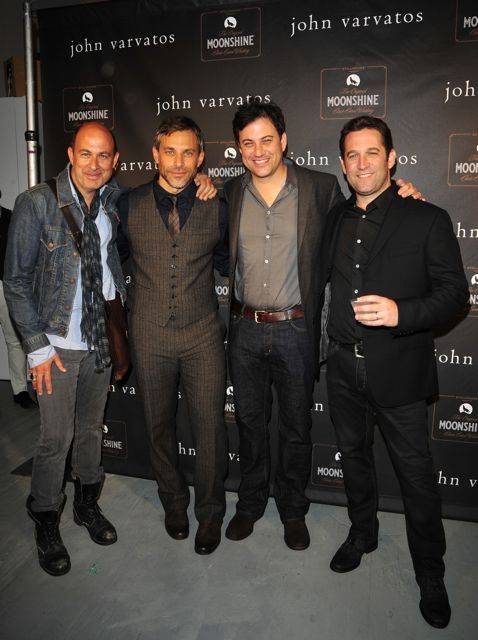 Moonshine + Jimmy Kimmel + 11 acts in 5 hours culminating with Alice Cooper = a mighty fine time.
Celebrity guests and VIPs lined the block to enjoy an evening celebrating a decade of John Varvatos and the launch of Stillhouse Original Moonshine. The event hosted by Stillhouse Co-Founders Brad Beckerman and Adam Perry-Lang, welcomed special guests including Jeremy Piven, Jim Moore of GQ, Mario Batali, Wilmer Valerrama, Detroit Pistons' Ben Gordon, New York Ranger's Brendan Shanahan, Michael Raymond-James of True Blood, Mike Myers, Sarah Charness and many more.
Late Night Talk Show Host Jimmy Kimmel welcomed the crowd with a remembrance of the history of Moonshine and ending with a cheers for more. The set list rocked 315 Bowery late into the night with eleven performances, including the Darling Stilettos, Billy Gibbons and Dusty Hill of ZZ Top, Alica Cooper and Perry Farrell.
*Alice Cooper, Photo by Nick Hunt*

Leave it to celebrity chef Rachel Ray to sum up a night on the town, "Moonshine and Rock and Roll are an unbeatable combination—people who love good food love good 'Shine!"

Lead Photo: *John Varvatos, Brad Beckerman, Jimmy Kimmel, Adam Perry-Lang, by Chance Yeh*

moonshine

JVarvatosBBeckermanJKimmelAPLang-byChanceYeh

*John Varvatos, Brad Beckerman, Jimmy Kimmel, Adam Perry-Lang, Chance Yeh*

JohnVarvatosParty_photocredit GerardoSomoza

John Varvatos

Jeremy Piven-Photo by ChanceYeh

Jeremy Piven

ACopper_091110_117-NickHunt

Alice Cooper, Photo by Nick Hunt