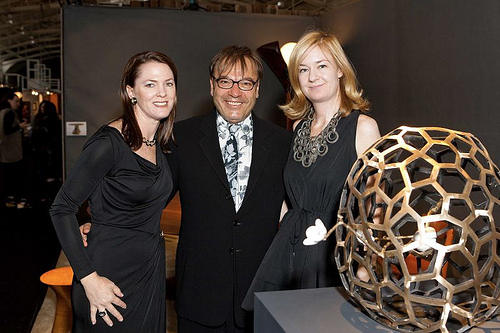 SF20 Co-Chairs Allison Speer, Stanlee Gatti and Katie Schwab
San Francisco 20th Century Modernism Show & Sale (SF20) will return on September 16-19, 2010, to Festival Pavilion, Fort Mason Center.
The fantastically popular event will open with a Preview Gala from 6 to 9 p.m. on Thursday, September 16, 2010, benefiting the San Francisco Museum of Modern Art (SFMOMA). Proceeds from the Preview Gala will help underwrite the museum's education and exhibition programs that engage residents of the Bay Area, including over 55,000 children, teachers, and families, each year.
Carla Emil and Rich Silverstein will serve as honorary chairs of the 2010 event, and Katie Schwab, Allison Speer, and Stanlee Gatti are co-chairs. Douglas Durkin will serve as the Designer Forum Chair. Elaine McKeon served as honorary chair last year, and Helen and Chuck Schwab were honorary co-chairs in 2008.
SF20 features 45 of the most prominent 20th century decorative and fine arts dealers from across the United States and Europe, including R 20th Century and Hostler-Burrows from New York, Hedge from San Francisco, The Silver Fund and Robert Bowman Gallery from London, Dragonette and Reform Gallery from Los Angeles, among many others.
Furniture, fine art, and objects,representing all design movements of the past century, will be presented in dramatic room settings creating the effect of a decorator show house tribute to classic 20th-century design.
New to the show this year are several contemporary art and design dealers including The Fraenkel Gallery, Altman Siegel Gallery, and Silverman Gallery of San Francisco, and Meier Ferrer of West Hollywood.
A panel discussion on 20th century design, sponsored by Bonhams & Butterfields, will be held at 1 p.m. Friday, September 17, 2010, inside the show. "Preserving the Legacy: The Post-War Studio Craft Movement of Marin County" will feature panelists Tripp Carpenter (son of Arthur Espenet Carpenter),Mariah Nielson (daughter of J.B. Blunk), Henry Urbach, the Helen Hilton Raiser Curator of Architecture and Design at SFMOMA. and co-moderators Katie Nartonis of Bonhams & Butterfields andGerard O'Brien of Reform Gallery. The panel will discuss the life work of master Northern California woodworkers J.B. Blunk and Arthur Espenet Carpenter as well as the unique and pressing challenge of preserving their respective studios for future generations.
Corporate sponsorship for SF20 is provided by 1st dibs, Bonhams & Butterfields and Grey Goose Vodka. Antiques & Fine Art, California Home & Design, 7X7, Modern and Modernism magazines are media sponsors of the event. SF20 is organized by Dolphin Promotions, Inc., which also produces modernism shows in Chicago, Los Angeles, Miami, and Palm Springs.
For more information, visit www.sf20.net
Subscribe to discover the best kept secrets in your city