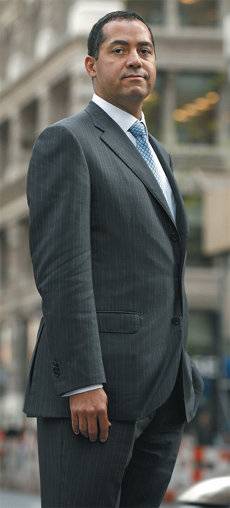 Our Haute 100 list details the accomplishments of the most influential people in each of our markets—Miami, New York, Los Angeles, and San Francisco. These people continue to make moves, so rather than waiting for the next Haute 100 issue to come out, we thought we'd provide you with regular updates on those Haute 100 members who are making headlines. On our Haute 100 Miami list is R. Donahue Peebles, a force in South Florida and now, Sin City real estate.
R. Donahue Peebles
Category: Originators
Company: The Peebles Corp.
Industry: Real Estate
What Makes Him Haute: As the CEO and chairman of the Coral Gables-based Peebles Corp., R. Donahue "Don" Peebles is the owner of the largest African-American real estate development firm in the country. The Peebles Corporation has a $4 billion portfolio of luxury hotels, condos, high-rises, and commercial properties in Washington, D.C., Las Vegas, San Francisco, and Miami Beach. He is also a noted author and motivational speaker, which could stem from the time he spent in high school as a page in the U.S. House of Representatives. It resulted in a lifelong love of politics, and there was talk this year he would run for mayor of D.C., but it didn't come to fruition. In the meantime, he does serve on President Obama's National Finance Committee.
What Makes Him Haute Now: Peebles Corp. has teamed up with Mardi Gras Hotel and Casino and the JV, renaming themselves Mardi-Gras Inn Ltd. to develop a $2 billion hotel and resort development project in Las Vegas. The joint venture is comprised of 4.35 acres to the 13 acres purchased by Peebles from seller SNIP Las Palmas LOP, in addition to the previously acquired 13 acres approved for a 4.5-million-square-foot non-gaming resort also purchased by the mogul.
Located east of the Wynn Las Vegas Golf Course on Paradise Road and just half a mile from the Vegas Strip, the property will become the site of the Las Palmas Resort and Casino. The Las Palmas is planned as a fully operational convention center resort with two hotels.
Subscribe to discover the best kept secrets in your city