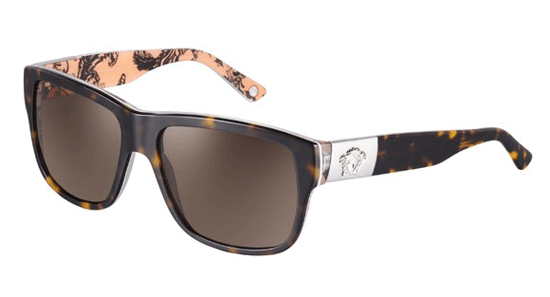 As the weather heats up, many of our designer faves are releasing sun & swim appropriate goods.  From beach chic tote bags to skimpy swimsuits and sun blocking shades, there are plenty of options for hitting the sand in style.
Donatella Versace does not disappoint with her latest collection of sunglasses. Inspired by Maison and Alice in Wonderland (everyone from Tom Binns to Stella McCartney has used Tim Burton's latest film adaptation as a focal point for accessories collections), the sunnies are emblazoned with swirly designs on oversized wayfarer style plastic frames. If that's not enough, each pair features the raised bas-relief technique Versace Medusa on the arms.
The cool stunners come in a variety of color combos including purple/black on black frames; yellow/black on tortoise frames; orange/black on dark tortoise frames; and black/white all over. While others are all black with the fancy design printed on the inside of the arms.
Available in Versace boutiques now, and for just $190 they are a great addition to any fashionista's summer wardrobe.
Via Luxist