Michele S. Green M.D., FAAD., is a Board-Certified Cosmetic Dermatologist, Fellow of the American Academy of Dermatology, and has been an international leader in cosmetic dermatology for over 25 years. Upper East Side patients and those around the globe flock to her practice for cosmetic dermatology treatment. A graduate of Yale University, with an MD and Chief residency from The Mount Sinai School of Medicine in NYC, Dr. Green treats some of the most discerning, demanding women and men in the world, with issues ranging from premature skin aging to hyperpigmentation, rosacea, wrinkles, acne, skin laxity, hair loss, and sun damage.
Photo Credit: Courtesy of Dr. Michele Green
What are facial fillers?
Facial fillers are cosmetic products designed for injection into the soft tissue to produce an anti-aging effect, create contour, or enhance a facial feature. Dermal fillers come in a wide variety of formulations and styles, allowing Dr. Green to design a treatment plan that best suits the various cosmetic needs in the different areas of the face. Whether a patient is seeking to volumize a naturally thin lip, reduce the appearance of smile lines or the nasolabial fold, treat the look of acne scars, or create a more youthful cheek or defined jawline, treatment with dermal facial fillers can help. Dermal fillers and Botox injections are excellent non-invasive cosmetic treatments. 
What are facial fillers made of?
Facial fillers rely on FDA-approved active ingredients and have been shown to enhance collagen production within the body. Popular active ingredients include hyaluronic acid, calcium hydroxylapatite, poly-L-lactic acid, and polymethyl methacrylate. These substances are all synthetic versions of naturally occurring substances in the body or have been proven safely broken down within the body's metabolic processes. Additionally, many dermal fillers contain a small amount of lidocaine (a local anesthetic) to prevent any pain at the injection site for the patient. When coupled with a topical numbing cream during the cosmetic procedure, this inclusion helps prevent potential patient discomfort.
Many of the facial fillers Dr. Green uses in her private New York City office are composed of hyaluronic acid. Hyaluronic acid is a naturally occurring component in the skin that supplies suppleness and youthfulness to the complexion. By injecting hyaluronic acid dermal fillers, such as Juvederm, Restylane, and Belotero, into the soft tissue, Dr. Green can effectively restore lost facial volume, smooth fine lines, and deep creases, enhance or create facial contour, and augment key facial features. Hyaluronic acid dermal fillers provide a natural-looking yet phenomenal facial rejuvenation without the need for invasive plastic surgery or significant downtime. Other common dermal filler products used by Dr. Green are composed of substances such as poly-L-lactic acid, in Sculptra, and calcium hydroxylapatite in Radiesse. Both of these substances have been shown to induce natural collagen production within the skin in the area into which they are injected, resulting in a restoration of volume and a youthful, refreshed appearance.
Which areas of the face can you inject facial fillers into?
Nasolabial folds

Marionette lines

Jawline enhancement/ contour

Under Eye area/ tear trough

Frown lines

Cheek augmentation

Lip augmentation

Chin augmentation

Acne scars

Smokers lines/ lip lines
Photo Credit: Courtesy of Dr. Michele Green
Who's a good candidate for dermal fillers?
Dermal fillers are a versatile cosmetic treatment option for individuals seeking to enhance their facial appearance without undergoing surgery. They can effectively address various concerns such as textural irregularities, facial contouring, wrinkles, and facial feature enhancement. However, it is important to note that not everyone may be an ideal candidate for dermal filler treatment.
A good candidate for dermal fillers is typically someone who meets the following criteria:
Age: Individuals aged 21 or older are suitable candidates for dermal fillers. This age requirement ensures that facial development is complete before undergoing the treatment.

General Health: Candidates should be in overall good physical health, free from any significant medical conditions that may interfere with the healing process or pose risks during the procedure.

Realistic Expectations: It's essential for candidates to have realistic expectations about the outcomes of their dermal filler treatment. Openly discussing goals and expectations with a qualified medical professional can help ensure satisfaction with the results.

Specific Concerns: Dermal fillers can address a range of concerns, including textural irregularities, facial contouring, and mild to moderate wrinkles. Candidates who are looking to treat these issues or achieve natural enhancement of facial features, such as lip augmentation, are typically good candidates.

Allergies and Skin Conditions: If you have allergies or pre-existing skin conditions, it is crucial to discuss them with a medical professional before undergoing dermal filler treatment. They can evaluate your specific situation and determine the best course of action.

Pregnancy and Breastfeeding: Dermal fillers are contraindicated for individuals who are pregnant or currently breastfeeding. It's important to delay treatment until after these periods to ensure the safety of both the mother and the child.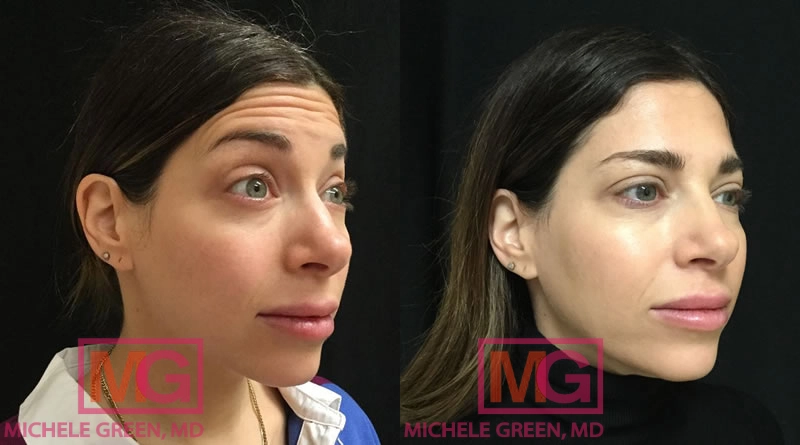 Photo Credit: Courtesy of Dr. Michele Green
How are dermal fillers used to treat acne scars?
Acne is a common condition that can leave residual scarring and redness that can make a person feel self-conscious and anxious. While acne scarring has been quite difficult to treat, modern-day dermatological treatments mean that there is a wealth of techniques and procedures open to the individual. One modern technique that is used to treat acne scarring is through the use of dermal fillers.
A dermal filler is a soft tissue filler that is injected into the skin and is designed to help give the skin a smoother appearance by 'filling' in the gaps left by collagen depletion which is the side effect of acne that causes scarring. Typically, dermal fillers are composed of hyaluronic acids such as Restylane, Juvederm, or Belotero.
The dermal filler is used to 'fill' depressions and is best suited for individuals with atrophic scars. Many ice pick, box car and even rolling scars can be improved. One of the benefits of using dermal fillers is that they are compatible with all skin types and that there is virtually no downtime after the procedure has taken place. A patient may experience some minor redness around the treatment area but this should clear up in a few days. Another key benefit is that the results are immediate with the acne scars improved in minutes.
However, dermal fillers are not a permanent solution to acne scars. However, results from the dermal filler will last between six months and one year, and over time will enable your own natural collagen to be produced. Some new fillers such as Bellafill are more long-term in fact. In most cases, it is possible to use dermal fillers along with other treatments such as laser resurfacing to maximize the collagen regeneration in the skin. In this way, using a two-step combination approach maximizes the benefits and the new collagen formation.
Photo Credit: Courtesy of Dr. Michele Green
What are the types of dermal fillers?
Various dermal fillers are available on the market, each offering unique benefits. Though hyaluronic acid fillers are perhaps the most well-known, poly-L-lactic acid, calcium hydroxylapatite, and polymethylmethacrylate fillers are all varieties of facial fillers that can be used to meet specific rejuvenation goals and provide wondrous effects.
Hyaluronic Acid Fillers
HA fillers are long-lasting, non-invasive injectables that have become popular due to their seamless integration into the skin and their reversible nature. The most popular varieties of HA filler are Juvederm, Restylane, and Belotero Balance. Juvederm and Restylane each offer a variety of formulations that are tailor-made to treat different areas of the face and hands.
Juvederm Hyaluronic Acid Fillers 
The Juvéderm® collection of fillers was developed by Allergan, the maker of Botox Cosmetics. Juvederm is a smooth injectable gel that is injected into the mid to deep dermal layer of the skin. Each different Juvederm dermal filler has its own unique properties and is targeted to treat different areas of the body to provide various treatment options. Juvederm is a hyaluronic acid dermal filler, that restores the body's own natural hyaluronic acid that is currently being depleted. The injection of hyaluronic acid into deep facial wrinkles, creases, and folds adds volume and fullness and enhances the moisture content of the skin. Juvederm was FDA approved in 2006 for the treatment of moderate to severe facial wrinkles and folds, such as the smile lines or nasolabial folds.
Restylane Family of Dermal Fillers
Restylane is one of the most popular dermal fillers, composed of hyaluronic acid, which Dr. Green has been utilized as an expert injector for almost two decades. Restylane is an injectable, non-surgical facial dermal filler that has been designed not only to "fill in" lines and wrinkles in the face, but also add moisture to the skin. The effect of this added moisture makes the skin feel younger and fresher.
Restylane is a biodegradable dermal filler gel that is composed of hyaluronic acid, which occurs naturally in the body. The Restylane family of fillers offers a similar array of tailored formulations to that of Juvederm products, though the particle size of each brand differs somewhat. Restylane offers formulations custom-designed for rejuvenation, volume, and facial enhancement, including: Restylane and Restylane-L, Restylane Lyft, Restylane Contour, Restylane Defyne, Restylane Volyme, Restylane Kysse, Restylane Silk and Restylane SkinBoosters each delivering different results.  
Tear-trough Fillers 
The goal of tear-trough fillers is to address the cosmetic concerns associated with the under-eye area, specifically the tear trough. This treatment aims to provide volume and improve the appearance of under-eye hollows, dark circles, and under-eye bags. Tear troughs can be caused by genetic factors or the natural loss of collagen that occurs with aging.
Tear trough fillers typically consist of hyaluronic acid dermal fillers like Belotero, Restylane, and Juvederm. These fillers help to correct the tear trough deformity by restoring lost volume and stimulating collagen production. Hyaluronic acid is a substance naturally found in the body that aids in collagen synthesis and contributes to a more youthful complexion.
By injecting dermal fillers into the tear trough area, the visibility of underlying blood vessels is reduced, resulting in a diminished appearance of dark circles. Additionally, dermal fillers can help smooth out fine lines, reduce puffiness, and provide a natural-looking restoration of volume to the under-eye area.
Restylane dermal fillers, in particular, are commonly used by Dr. Green to effectively improve the look of under-eye hollows and under-eye bags. When age-related volume loss or small pockets of fat contribute to a tired appearance in the under-eye area, Restylane can help reduce their visibility. It can also address fine lines and wrinkles in the treated area, helping to achieve a more youthful and aesthetically pleasing look.
Sculptra Fillers 
Sculptra is an FDA-approved injectable collagen stimulant that consists of poly-L-lactic acid. It is widely recognized as an exceptional facial volumizer, surpassing the longevity of typical hyaluronic acid dermal fillers. By stimulating the production of new collagen in your body, this injectable treatment enhances the quality, volume, and elasticity of your skin, resulting in a natural and youthful appearance.
Sculptra injections are highly effective in improving various concerns such as wrinkles, depressions, scars, skin folds, stretch marks, and hollows on both the body and face. With each treatment session, the stimulated collagen production leads to increased fullness, smoothness, and lift, gradually revealing the final results of Sculptra.
How Can You Get Started with Dermal Fillers Today?
If you're seeking to volumize a naturally thin lip, reduce the appearance of smile lines or the nasolabial fold, treat the look of acne scars, or create a more youthful cheek or defined jawline, Dr. Green in NYC can help. Dr. Michele Green is an internationally renowned board certified cosmetic dermatologist and is known to be one of the best Botox injectors in New York. Dr. Green has been consistently voted as one of the "Best Doctors" by Castle Connelly, New York Magazine, Super Doctors, and The New York Times as a pioneer in the field of cosmetic and medical dermatology. Please call the office today at 212-535-3088 or contact us online to schedule a consultation to discuss if you are a candidate for dermal fillers.
For more information, visit Dr. Michele S. Green's social media: