Photo Credit: Courtesy of Erik Kellar
A lot of heart goes behind the success of Naples Heart Rhythm Specialists (NHRS). Have you seen the team of physicians they have on-site? Today, we took a deeper dive into Dr. Louis Wasserman, a quadruple board-certified, non-invasive cardiologist who spent most of his professional career in Syracuse, New York until he relocated to Naples, Florida to establish a full-service outpatient nuclear cardiology laboratory alongside Dr. Ryan Houk. Here's a timeline of Dr. Wasserman's successes.
When It All Began
Dr. Wasserman attended New York University as an undergraduate and graduated from Georgetown University for his Medical School. It wasn't until his fourth year of medical school that he realized his true interest in matters of the heart through cardiology. His mentors at that level of training were Dr. Proctor Harvey and Dr. James Ronan, both outstanding clinical cardiologists.
Not until being under the direction and supervision of Dr. Ami Iskandrian, the current Editor of the Journal of Nuclear Cardiology, for a cardiology research project, did Dr. Wasserman become interested in nuclear cardiology. Dr. Wasserman went on to do his Internal Medicine training at the Brown University Medical School Internal Medicine program and completed it at Thomas Jefferson University Hospital in Philadelphia, Pennsylvania. He then accepted a cardiology fellowship at The Likoff Cardiovascular Institute-Hahnemann Hospital in Philadelphia, Pennsylvania.
Photo Credit: Courtesy of Erik Kellar
Personal Successes
Dr. Wasserman has been married for 49 years to his wife Tikva. In the summer of 1971, Dr. Wasserman was selected to go to Israel to observe and learn the practice of medicine in Israel. While in the program, he met his wife who has helped him raise their four sons who have each become successful in their respective professions, stayed in close proximity to their Jewish identities and who have brought them their greatest blessings, 10 grandchildren soon to be 11).
His four sons include Dr. Daniel Wasserman who is a Dermatologist in Naples, Ronald who is the VP of Signature Bank, NYC, Michael who heads the Cloud Computing Division of Oracle, and Ariel who is a Credit Analyst for Bank of the West with plans for merging with the Bank of Montreal on the first of 2023.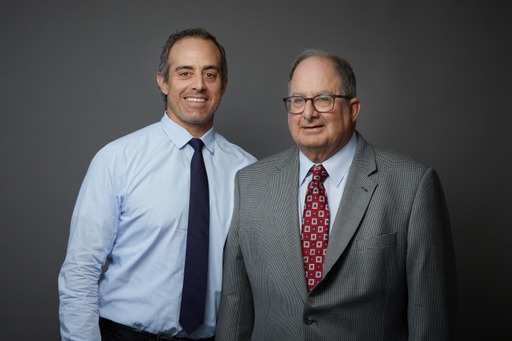 Photo Credit: Courtesy of Erik Kellar
Professional Successes
Dr. Wasserman's professional successes are too numerous to count. To mention a few, he is a Fellow of the American College of Physicians as well as a Fellow of the American College of Cardiology. Dr. Wasserman is quadruple Board Certified, with Board Certifications in Internal Medicine, Cardiovascular Disease, Nuclear Cardiology, and Echocardiography. In addition, Dr. Wasserman is RPVI credentialed (Registered Physician in Vascular Interpretation). He is also an authorized user of radiopharmaceuticals and has all of the required credentials to serve as a Radiation Safety Officer for a functioning nuclear cardiology laboratory.
During his professional career, Dr. Wasserman served as Chief of the Division of Cardiology at Community General Hospital in Syracuse, New York, for 24 years. He was President of the Medical Staff of Community General Hospital for two years, and he served on the Board of Directors of Community General Hospital, of the Upstate New York American Heart Association, and of the Syracuse Jewish Community Center.
Dr. Louis Wasserman is an exemplary cardiologist, with a long track record of exceptional cardiac care. The Naples community is lucky to have Dr. Wasserman as a cardiologist with Naples Heart Rhythm Specialists, as he brings his many years of expertise to the bedside and advanced nuclear cardiac imaging, including the latest and greatest, Cardiac PET. If you are interested in learning more about how Dr. Louis Wasserman can bring your heart to its ultimate health, book a consultation today at Naples Heart Rhythm Specialists by calling (239) 263-0849.
For more information, visit Naples Heart Rhythm Specialists's social media: