With promises of glowing skin, luscious locks and stronger nails, it's no surprise why beauty supplements are easing their way into our everyday routines. Whether they're in pill or powder form, these highly effective supplements are proving to its users that we are, essentially, what we eat. Haute Beauty rounded up five of the best supplements in the market and put them to the test, here's what we found:
Photo Credit: HUM Nutrition
HUM Skin Heroes Pre + Probiotic
This skin supplement promises to clear up pesky acne by using pre + probiotics for smooth, flawless skin. "Beauty supplements are extremely effective if you are deficient in the vitamins and minerals you are taking," says board-certified Dr. Michele Green. By targeting gut health with pre and pro biotics, good bacteria that nurtures the guts microbiome, HUM's Skin Heroes clears skin from within. The major benefit with this supplement is that it targets skin issues throughout the whole body, so you can kiss those unsightly back breakouts goodbye.
Results:
Taking the daily recommend amount of two capsules on an empty stomach can ensure results within 4-6 weeks.
Quick Facts:
- 60 capsules
- 2x daily
- 30-day supply
(Shop now at HumNutrition.com)
Moon Juice Superhair
If you're seeking for longer hair, thicker brows and enviable lashes, then Moon Juice's SuperHair is for you. Because our bodies require a certain number of vitamins and minerals to keep us healthy and functioning, according to Dr. Green, the potent blend of vitamins, minerals, plant extracts and hair essentials like horsetail, saw palmetto, biotin and more, aid in helping hair growth by targeting stress and replenishing nutritional deficiencies.
Results:
To maximize results, it's recommended to take four capsules a day without food.
Quick Facts:
- 120 capsules
- 4x daily
- 30-day supply
(Shop now at MoonJuice.com)
Vital Proteins Collagen Shot
In case you haven't heard, the secret ingredient to shiny hair, firmer skin and stronger nails is collagen. Vital Proteins Glow Collagen Shot is the perfect beauty boost for those on the go. This tiny packed shot has the perfect amount of hyaluronic acid, biotin, vitamin c and collagen peptides ideal for supporting skin hydration, elasticity and hair and nail health.
Results:
With daily recommended use, users can see a glowing difference within weeks.
Quick Facts:
- 2 fl oz
- 1x daily
- 12 count case
(Shop now at VitalProteins.com)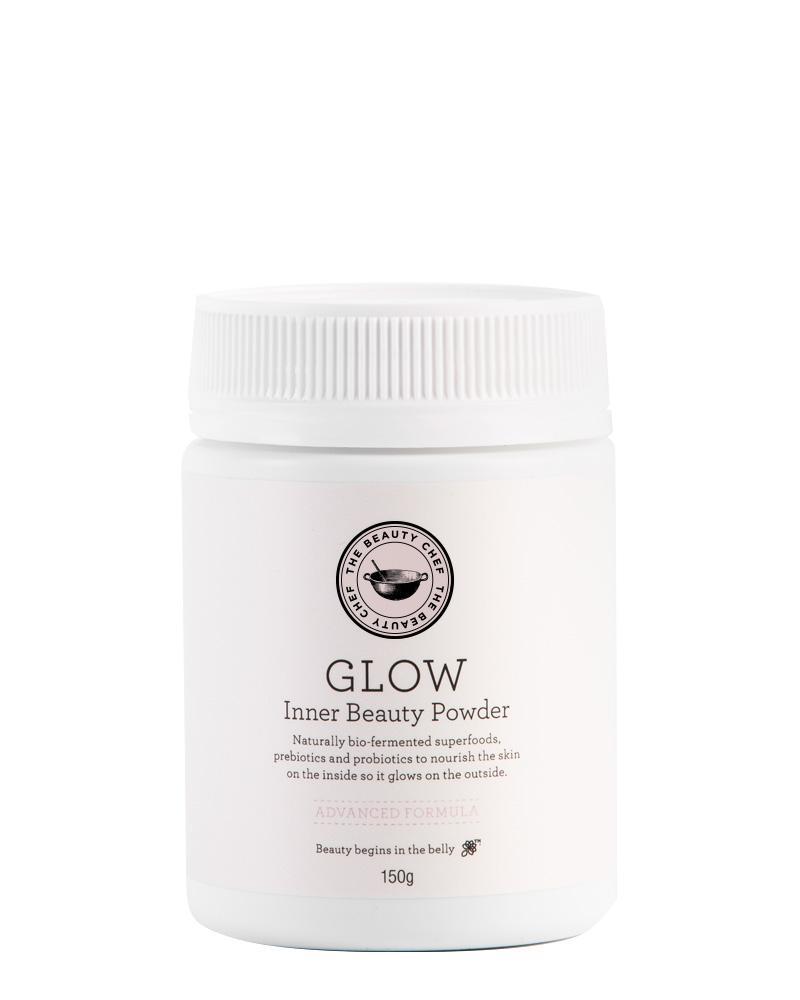 BeautyChef Glow Powder
BeautyChef's award-winning GLOW powder is the essential daily beauty blend ideal for gut health, luminous skin and gorgeous hair and nails. Working from the inside out, this probiotic-rich formula enhances skin texture, clarity and hydration all while delivering optimal taste in a broad-spectrum of flavors including the cult favorite Delicious Berry. "Vitamins and supplements are best taken in powder or liquid form for maximum absorption," says Dr. Green, which makes Beauty Chef's Glow powder ideal for mixing into your favorite beverage.
Results:
Amplified results can be seen by adding one tsp daily to your preferred beverage with the recommendation of pairing other Beauty Chef products for the ultimate glow.
Quick Facts:
- 5.3 oz
- 1 tsp daily
- 30-day supply
(Shop now at TheBeautyChef.com)
WelleCo Immune System Support
What good is glowing skin if your too sick to show it off? WelleCo's Immune System Support is formulated with bioactive ingredients like Vitamin C from Kakadu Plum and Acerola Cherry to aide in targeting immune system health. This power packed ingredient powder helps stimulate a healthy immune system response and improves weariness and fatigue.
Results:
By dissolving one vial in water or smoothies for seven consecutive days results can be seen (and felt) within days.
Quick Facts:
- 12.1 grams per vile
- 1x daily
- 7-day supply
(Shop now at WelleCo.com)