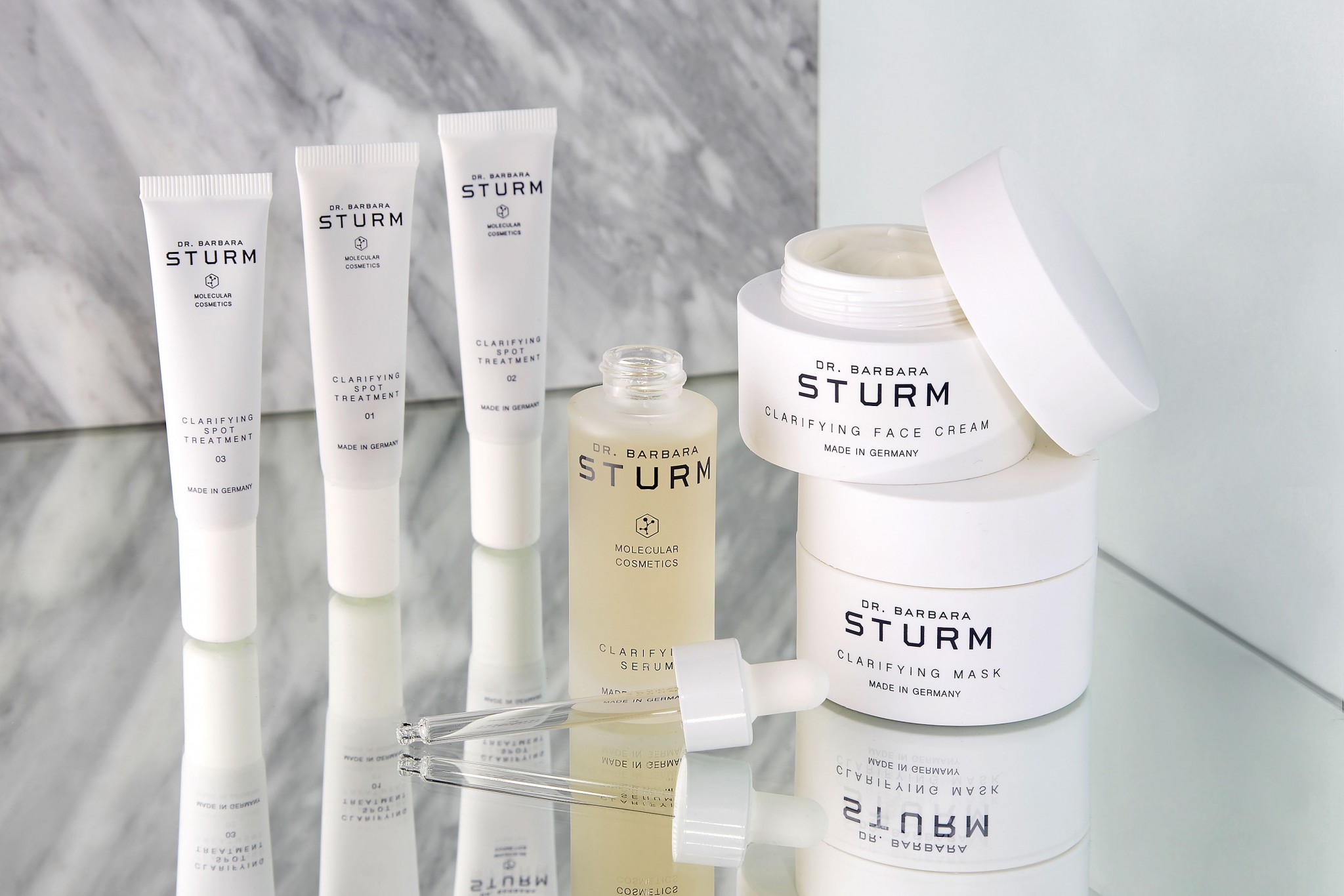 Further adding to her line of science-based, effective skincare products, Dr. Barbara Sturm has just launched the Clarifying Collection—a range of products that targets blemish and breakout-prone skin. Included in the new line is a Face Mask, Serum, Face Cream and Spot Treatment in three different shades to color match the wearer's skin tone. All of them also visibly reduce the appearance of fine lines and wrinkles, while also addressing blemishes on the face.
Clarifying Mask
With Balloon Vine, Viper's Bugloss and Sunflower Seed Oil, the mask helps balance the skin's pH levels and improve its moisture barrier, while Zinc and Kaolin mattifies the skin texture by absorbing excess sebum. The skin is left hydrated while the look of wrinkles and fine lines is decreased.
Clarifying Serum
The serum is preventative by nature, using anti-oxidative act compounds and calming ingredients to protect the skin, as well as Hyaluronic Acid to hydrate it and Albatrellus Ovinus Extract to reduce redness and help even out the skin's tone.
Clarifying Face Cream
This anti-aging moisturizer targets skin with blemishes, with its main ingredients of Balloon Vine, Viper's Bugloss and Sunflower Seed Oil, all of which help the skin regain its natural balance. In addition to Zinc to target blemishes, Bistorta Root Extract gives a nice glow, and with continued use, fine lines and wrinkles are visibly diminished, while the complexion becomes more even-toned.
Clarifying Spot Treatment (Tinted)
Available in three shades and made with Macular Biovaflonoids, Tea Tree Oil and Zinc Oxides, the spot treatment does just that—treats spots. Concealing blemishes, breakouts and redness, Dr. Sturm is currently increasing the product offering by way of additional tinted shades.
Clarifying Spot Treatment (Clear Formula)
Made with the same active complex of its tinted counterpart, the clear version is appropriate for all skin tones.
All products are now available. Visit Dr. Barbara Sturm's website for more information. All images courtesy of Dr. Barbara Sturm