When you're a celebrity (whether a budding starlet, screen siren or Hollywood legend), beauty is part of the job. And if you ask a leading lady about the makeup and skincare they can't live without, odds are at least one of these will be on their list.
The cult favorite: Crème de la Mer
The celebrity fans: Kate Moss, Jennifer Lopez, Chrissy Teigen, Sofia Vergara, Nicole Kidman
If there were ever a skincare product synonymous with celebrities, it would have to be La Mer. Part of the attraction may lie in the super-high price point, but a more realistic reason for the celebrity obsession is more likely the main ingredient: Miracle Broth. Developed by physicist Dr. Max Huber after he was badly burned in the lab, this potent blend of fermented sea kelp and other natural ingredients has become the luxurious go-to for fighting inflammation, irritation and visible signs of aging.
The cult favorite: Clé de Peau Beauté Concealer SPF 25
The celebrity fans: January Jones, Kate Hudson, Lily Collins
You'll be hard-pressed to find a makeup artist without this concealer stick in their kit (unless a celeb stole it), and it's been the secret for flawless skin in magazines and on the red carpet for more than two decades. Despite its devoted following, the formula recently got a facelift in the form of SPF 25 and fresh packaging, but the look and feel is virtually identical to the original.
The cult favorite: Elizabeth Arden Eight Hour Cream
The celebrity fans: Kourtney Kardashian, Natalie Portman, Marilyn Monroe, Brooke Shields
Beyond its continued popularity more than 80 years after its debut, the beauty of Elizabeth Arden's legendary Eight Hour Cream is its versatility. In addition to hydrating, protecting and soothing skin, this spectacular salve is ideal for sunburn, chapped lips, jagged cuticles and any other dry spots from head to toe. But its more creative uses make it a staple for celebs and makeup artists alike. From taming eyebrows and creating on-trend glossy lids to giving legs a super-sexy sheen, there are no limits to what a drop (or dollop) can do.
The cult favorite: Shu Uemura Cleansing Oil
The celebrity fans: Katy Perry, Liv Tyler, Jennifer Aniston
The concept of cleansing our faces with oil wasn't mainstream until relatively recently (at least here in the U.S.), but those in the skincare-know have been using Shu Uemura cleansing oil since it debuted in Japan in 1967. Inspired by an oil-based cleanser called Unmask that Mr. Uemura discovered while working as a makeup artist in Hollywood in the 1950s, he set out to create a product that could remove stubborn stage makeup without irritating the skin—and the rest is celebrity (and mere mortal) beauty history. Today, the brand offers variations of the original tailored for specific skin concerns such as discoloration, environmental damage, oiliness, dryness, sensitivity and more.
The cult favorite: L'Oreal Elnett Satin Hairspray
The celebrity fans: Gigi Hadid, Taylor Swift, Emmy Rossum, Emma Stone
This hairspray has been a stylist and celebrity favorite since it came onto the scene more than 50 years ago—but it was unavailable in the U.S. from the mid-1980s until 2008 due to a ban on ozone-damaging chlorofluorocarbons (during which time it was smuggled by the suitcase-load). American hairstylists rejoiced upon its return, mainly because it provides unbeatable hold that can be easily brushed out without leaving flakes or residue behind.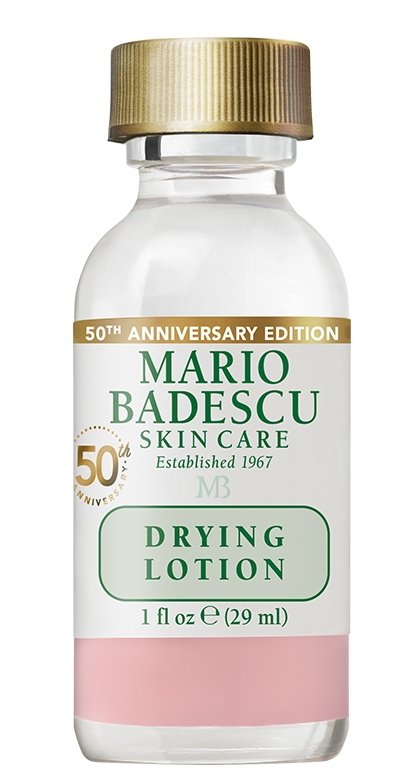 The cult favorite: Mario Badescu Drying Lotion
The celebrity fans: Kylie Jenner, Gwyneth Paltrow, Kate Bosworth
Let's face it… Zits happen whether you're a celebrity or not—but this spot treatment has been blasting breakouts since Badescu opened his eponymous New York City salon in 1967. Featuring a relatively simple blend of salicylic acid, camphor and sulfur, just a dab of the sediment that settles at the bottom of the bottle is enough to clear up a blemish overnight.