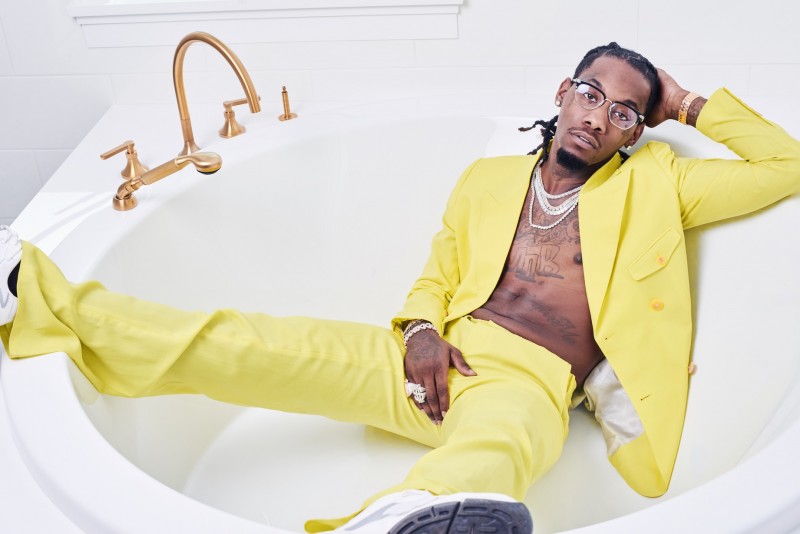 Photo Credit: Mark Squires
Photography: Mark Squires
Styling: Taylor Bretchel
Hair: Erinn Thornton
Make-up: Juanita Lopez
Shot on location at 1000 N Norman Place Los Angeles, CA, by Architecture West – Listing Agent Haute Residence member Fiora Aston – Coldwell Banker Global Luxury
Offset, more formally known as Kiari Kendrell Cephus, is wise beyond his 27 years of age. After experiencing a decade of fatherhood and a whirlwind of a career come-up, he's been through the highs and lows of life, and he's still learning along the way.
Together with his cousin Quavo, and Quavo's nephew Takeoff, the three Georgia-born men formed the hottest rap group around—Grammy Award-winning band, Migos. They were catapulted into instant fame. Offset was thrown into a new spotlight that he'd never been in before, all the while balancing his new stardom with fatherhood. And he admits that it was a tough balance.
Photo Credit: Mark Squires
"I had my first child at 17, so the journey of fatherhood was kind of tough for me at first," the rapper shares. "I was trying to find myself. I didn't have much direction on what it meant to be a father. I definitely made some mistakes, but I have no regrets. It's challenging when you have a career like this and you're constantly on the road. It makes it tough to see your kids, especially when they're young."
Traveling to different cities around the world and being faced with an ever-changing, demanding schedule, he felt it was tough to remain present in his children's lives as much as he would've liked. "Now that I'm older, though, I'm learning my way. Us fathers sometimes don't always take the best routes. I feel that pain. Hearing you're a bad father is the worst thing you can hear, and people throw that around so much. It's like someone spitting in your face," he shares candidly. "But my children are everything to me. And now that they're getting older, I get to bring them around with me on the road much more, which is amazing. Whenever I get a few days, I bring them with me because I need to spend that time with them."
This precious father-son bond is palpable during our shoot with Offset. The rapper saunters onto set freshly groomed, hand in hand with his 3-year-old son Kody. An adorable "mini me" to his father, the toddler rocks the same hairdo along with a trendy adidas sweatsuit and black boots. They remain side by side throughout the day. The connection between the two is captivating. Kody is undoubtedly his own star-in-the-making, just like his dad, as he playfully models in front of the cameras, mimicking the same poses as his father and sporting some flashy jewels around his neck. "I want to wear a chain like Daddy!" he exclaims.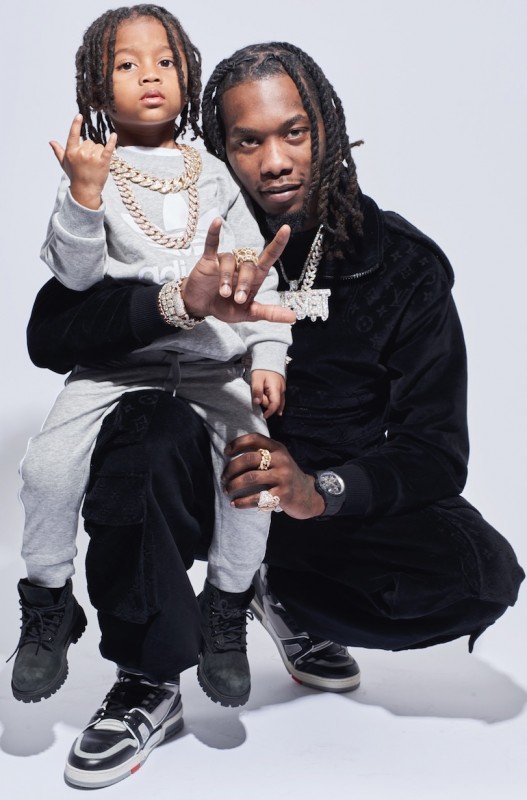 Photo Credit: Mark Squires
This exact moment is one of the greatest and most moving lessons Offset has learned during fatherhood. "The influence you have on your kids is incredible, so you have to be very aware of the example you're setting and make sure you're influencing them in the right way because they watch you," he says. "My kids are very entertaining. They already want to entertain everyone around them. I just want them to have a choice—I don't want to force them into anything, so I never tell them what to do. I just want them to be kids. And that's the best thing about it—inspiring your kids, and being inspired by your kids."
Offset's inspiration from his children was a major driving force into his new solo album. The album, he shares, is a compilation of his life story. "I talk about my transition from a young age until now—about being a more focused human being and leveling up to become a better person," he shares. "I go into depth with many different topics, a big one being fatherhood and my four kids."
Like his evolution as a father, Offset's music has grown in the same, great way. "My music has evolved tremendously. Everything is about timing and how much you put into something, and I've been putting more time into my music to focus on my craft and become a better artist," he explains. "With this album, I wanted to talk about relatable subjects—about things going on in the world because our country is going through a bad time right now. [The album] is not too political, but it's just about issues that we're all dealing with—real-life situations."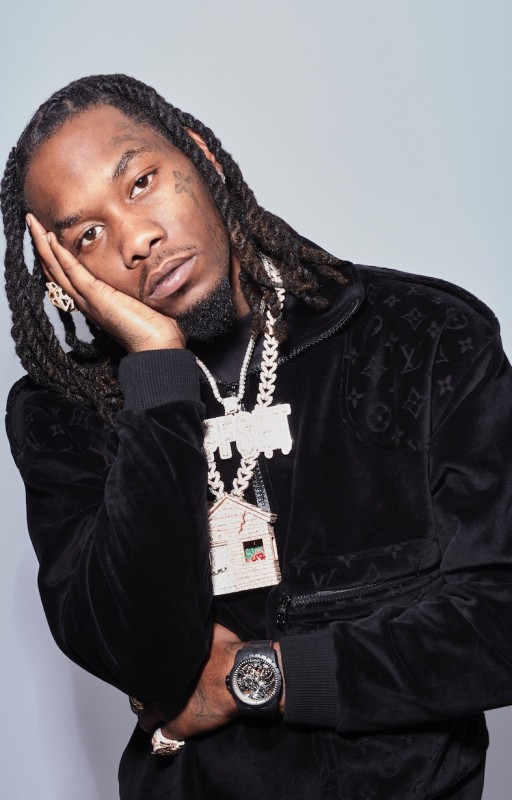 Photo Credit: Mark Squires
And like our current state of the world, Offset wants his fans to relate to him and understand his imperfections—to know things aren't always as they seem. "People go through bad times, and you don't always hear about it," he says. "Me being an artist is letting people know I've got my flaws, and I'm not perfect, and I have things to work on also. So, through my music, I open up to my fans and explain this to them because I'm getting older now. I'm still young, but I'm getting older and maturing as an artist."
He reflects back on his old self and the early stages of his career and wants his fans to see a new side to him that they've never experienced. "Before, I didn't pay much attention to what was going on in the world and the issues we're faced with," he notes. "I was just focused on my life—but I've learned that it's bigger than that, and I've got a vision on it. You'll hear it all on my album."
Aside from music, Offset has also been making his mark in the fashion world. At the time of the interview, he's coming off his Paris Fashion Week debut walking in Virgil Abloh's acclaimed Off-White runway show. "Paris Fashion Week was incredible, I had a great time," he declares. "I feel like men's fashion right now is poppin' off, and I feel like I killed it when I was there—I was everywhere. Walking in the Off-White show was one of the greatest parts."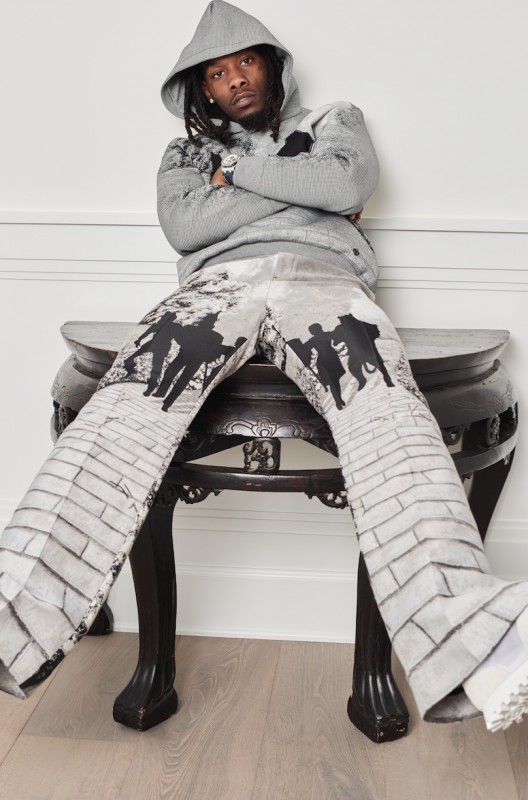 Photo Credit: Mark Squires
He shares his deep admiration for his friend Abloh in terms of what he's doing in the fashion world right now, and how the alignment between his style and Virgil's Collection was a perfect match. "He's so creative, and everything he's doing right now shows that 100 percent. I respect it so much," he says. "He's got a big plate, and the best part is that he stays humble."
In addition to his signature drip, another one of the rapper's passions is watches. He loves to flaunt what's on his wrist, and throughout his success, he's amassed a collection of more than 32 timepieces featuring brands like Richard Mille, Audemars Piguet and Patek Philippe, which are some of his favorites.
"Since I've started collecting watches I got rid of a lot of pieces and added new ones because as time went on, I started to understand that watches are an investment," he explains. "Some of my favorites are my White Skeleton Audemars Piguet, my Richard Mille RM-11 and my Audemars Piguet Tourbillon, which goes for $200K. It doesn't have diamonds on it—it's an incredible timepiece. It took me a while to understand why certain pieces are priced each way, but the more I buy, the more I learn—and I've bought a lot and learned a lot. You have to know what's going to be 'throwaway' money and what's an investment."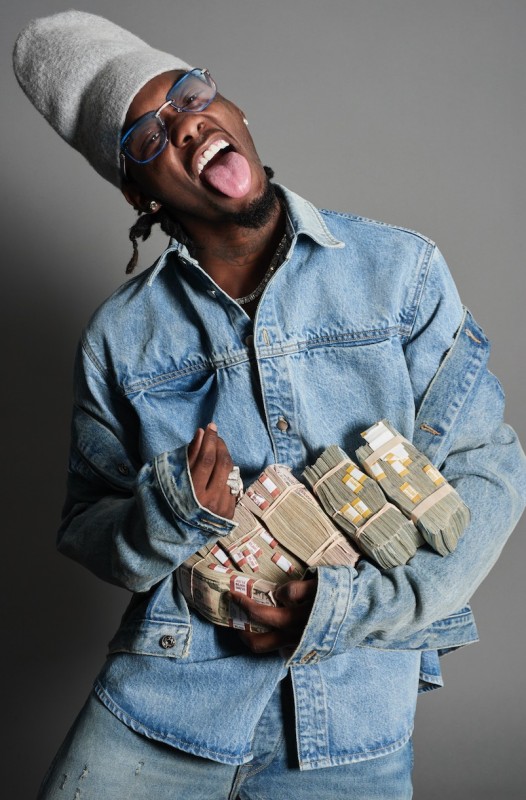 Photo Credit: Mark Squires
He shares that while some artist look to what others are wearing, he's learned to look at the value and the complication over the flash. "When you start to understand watches, you'll know it's a piece of art on your wrist," he says. "And it starts conversations. When I have my Tourbillon on, people see it and they're impressed. You meet some of the most successful people through the watch industry."
With a keen eye for fashion and what's hot at the moment, Offset is finally taking his talents to his own brand and focusing it on something that merges the loves in his life together—children's fashion. Coming out this year, he shares that he'll be launching his first children's clothing line. "Aside from my album, I have a baby line coming out—it'll be fashionable but affordable, and I'm focusing on little boys because I feel like there's not enough of that out there in the market right now," he explains.
Photo Credit: Mark Squires
Offset is no doubt destined for even greater mega-stardom in both music and beyond. But he acknowledges that it's taken some time to get there and doesn't take it for granted for a second. Achieving success in the music industry is hard, and it comes with highs and lows along the way. But he does have some advice to share to musicians who long to follow in his footsteps.

"Master your craft. Whatever it is you're doing, make sure you know everything about it because if not, it's never going to come," he notes. "Know there's not just one way to do something. Don't ever let anybody tell you, 'No, you can't do this,' because everybody's book tells a different story. If you think there's another way to do something, then do it. Go with your plan and never be just a talker—be a worker."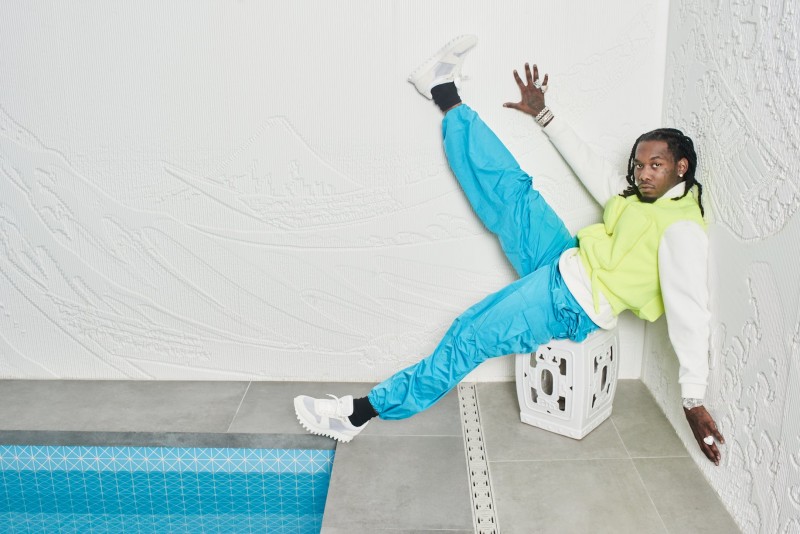 Photo Credit: Mark Squires
Offset doesn't shy away from his mistakes but rather confronts them and works to grow through them in the process.
"And most importantly, don't be afraid of your mistakes," he says. "Your mistakes put you in the place you're supposed to be."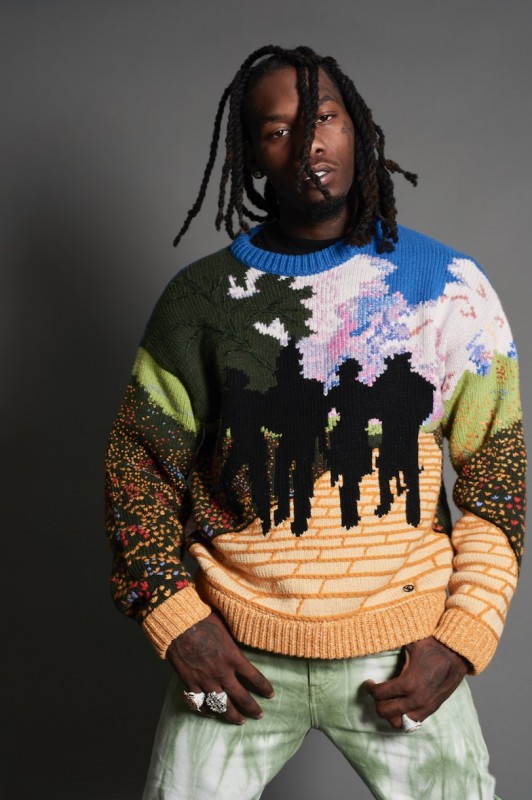 Photo Credit: Mark Squires
Subscribe to discover the best kept secrets in your city