Photo Credit: G-Star
From its humble beginnings in workwear to its rise as a street style staple, it's safe to say denim has been around the block. Now, the iconic textile struts into new horizons once again with master milliner Stephen Jones's innovative headwear collection for G-Star Raw. The cutting-edge capsule will feature five Haute Couture hat pieces and two ready-to-wear limited editions.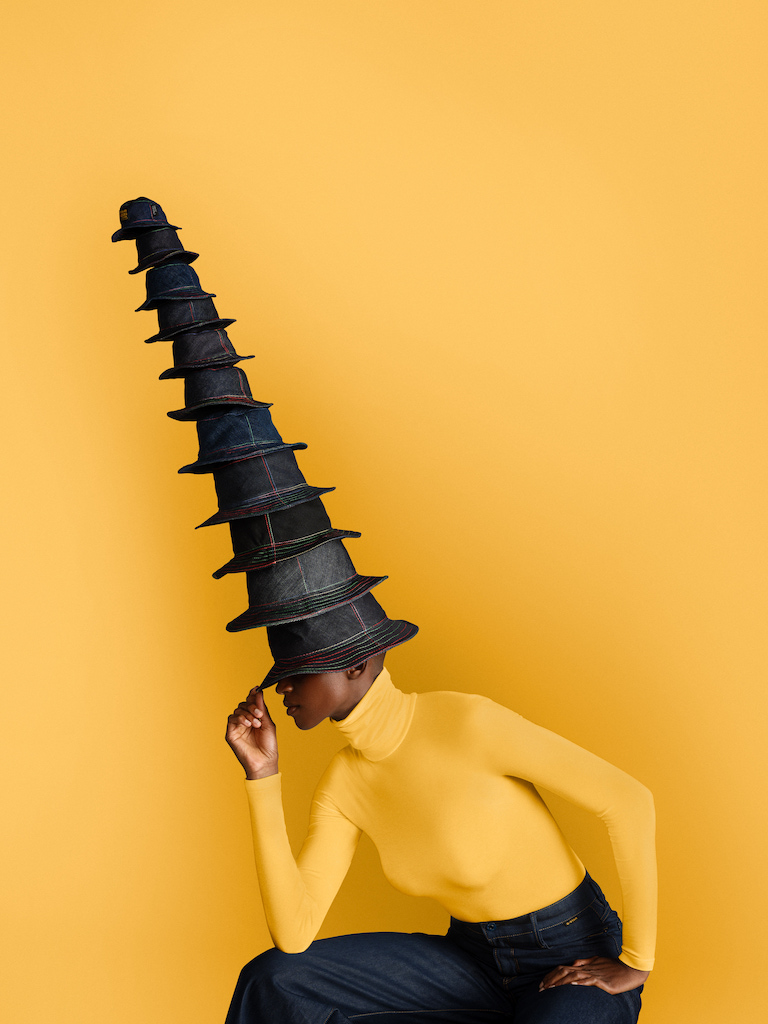 Photo Credit: G-Star
Marking the intersection of Haute Couture and crafted denim, the exclusive couture pieces presented by G-Star x Stephen Jones exhibit the fine craftsmanship of both collaborators, making for a uniquely informed collection. Each haute hat is created with sustainable Cradle to Cradle Gold Certified denim fabric and embodies Jones's flare for pushing the modern edge. Two ready-to-wear renditions, featuring a bucket hat and baseball cap, empower the uni-sex collection with evolutionary twists on streetwear classics. 
Photo Credit: G-Star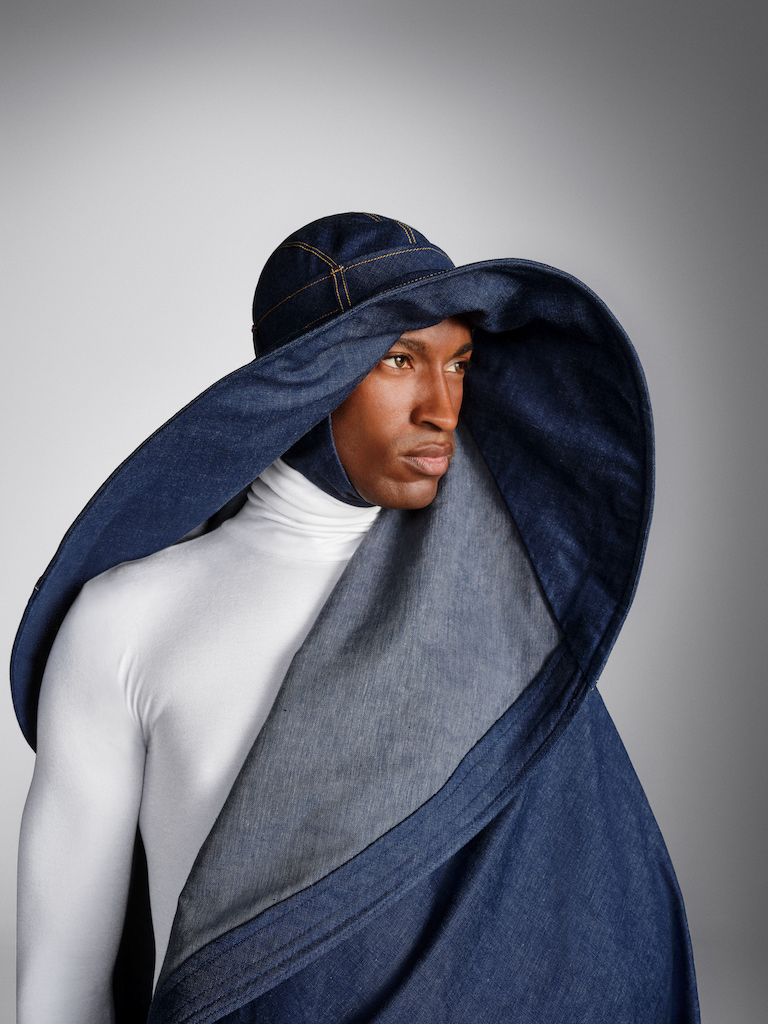 Photo Credit: G-Star
Jones has always stayed ahead in the glamor game pairing the expertise of high fashion with the inventive air of streetwear, and the G-Star RAW x Stephen Jones collection is no exception. Emblazoned by his foundations in womenswear design, Jones conceptualizes each hat piece in the context of a whole outfit and begins each new design with a line drawing of a person's back. The result is a revolutionary collection, organically sinuous and geometric, with each hat embracing the statement-making power of luxe fashion and the functional aesthetic of street-style denim. 
"Everybody around the world knows what denim is and what denim signifies. I took denim out of its comfort zone and made it what it wasn't. G-Star gave me complete carte blanche," says Jones.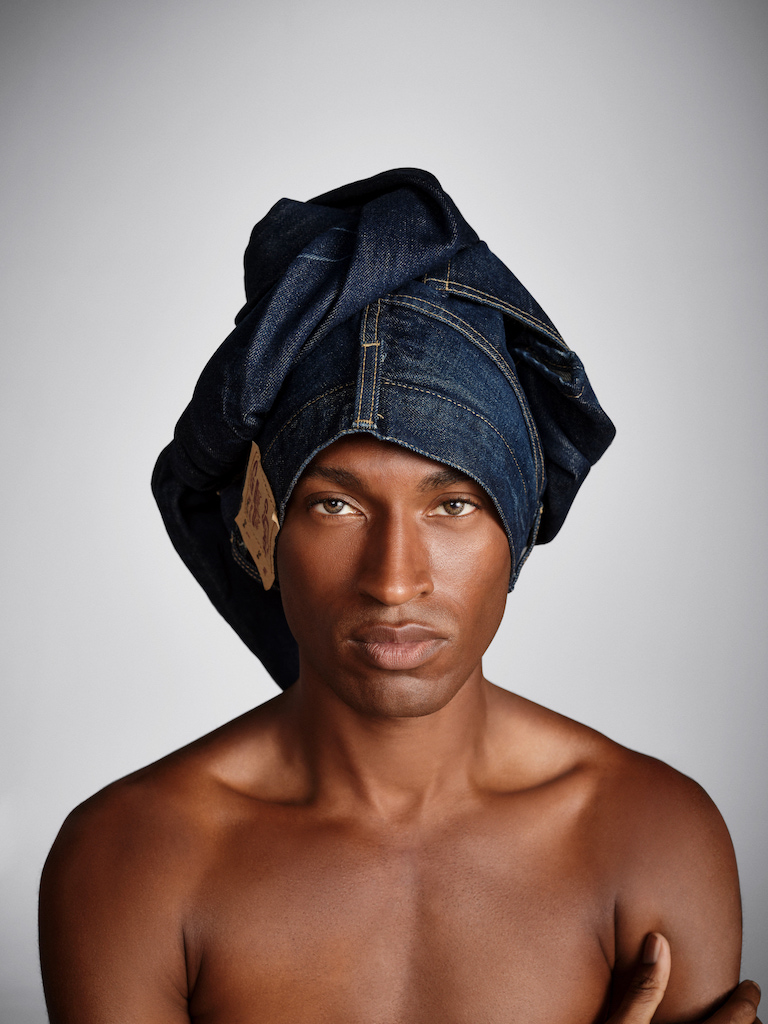 Photo Credit: G-Star
A hallmark of the recent capsule, the sculptural essence of Jones's work sets him apart time and again in the whirl of the fashion world. His structural savvy takes center stage in collaborations with iconic houses like Christian Dior, Vivienne Westwood, and Marc Jacobs. Over the years, trendsetters from rock stars to royalty have celebrated Jones's unconventional edge, with pieces worn by Rihanna, Mick Jagger, Lady Gaga, and Diana, Princess of Wales. The distinguished designer continues to push the boundaries of fashion, and it seems he won't slow down anytime soon. 
The G-Star RAW x Stephen Jones collaboration launched on November 22, 2022, and the two limited edition ready-to-wear hat pieces will be available from December 1, 2022, at g-star.com. The G-Star x Stephen Jones Double Bucket hat is priced at $240.00. The G-Star x Stephen Jones Winged Baseball Cap is priced at $220.00. 
Hear what Stephen Jones has to say about the breakthrough collaboration in this short documentary:
Subscribe to discover the best kept secrets in your city