While the summer is heating up in Miami, it's the perfect time to cool off and wind down at some of Miami's most beloved spa destinations. Throughout the months of July and August, more than 40 participating spas will take part in the limited-time spa offers, starting at just $109. From full body massages to innovative facials, unique treatments and couples' offerings, guests can choose from an incredible assortment of spa treatments at some of the city's top-rated spas for a discounted rate. Here, we round up some of the most luxurious spas to pamper yourself at throughout Miami Spa Month this summer.
ACQUALINA SPA BY ESPA 
Photo Credit: Acqualina Resort & Spa on the Beach
The Forbes Travel Guide 5-star rated, luxurious Acqualina Spa by ESPA is one of our can't-miss spa month locations each year. And for good reason—it's easily one of the most luxe and innovative spas in all of South Florida. With an impressive array of unique amenities—including crystal steam rooms, refreshing Arctic ice fountains, Finnish saunas, experience lounges, Himalayan salt walls, as well as a co-ed outdoor sun deck where guests can hang in the jacuzzi, receive spa treatments, and even enjoy lunch—it's hard to rival a spa day at this location. And of course, the treatments are just as outstanding. For spa month, they're offering a 50-minute Soothing Swedish Massage with essential oils of sandalwood and rose geranium for $139; and a 50-minute Summer Firming Facial that pays particular attention to the delicate eye area, alleviating fine lines and sun damage, as well as a relaxing scalp massage, for $109. For more details, please its website here.
TIERRA SANTA HEALING SPA AT FAENA HOTEL
Photo Credit: Nik Koenig
The ultra-luxurious Tierra Santa Healing Spa at Faena is another must-try Miami Spa Month destination. Known for its stunning design and award-winning services, the spa offers everything guests could need for a day of indulgence—and lucky enough, during Miami Spa Month, guests can enjoy this at a special rate. Head to the acclaimed Rossano Ferretti Salon, helmed by celebrity hairstylist Marco Norma and his expert team, to enjoy a special Moisturizing Hair Treatment + Blow Dry + Meditation for $109. The 60-minute treatment hydrates and leaves hair soft and silky after undergoing a beauty hair mask treatment and professional blow dry. Afterward, guests will transition to the Twin Hearts Meditation, leaving your chakras clean and aligned. Additionally, Faena is offering the Faena Customized Facial + Meditation ($139), the Sacred Warrior Swedish Massage ($199) + Meditation or the Thai Massage + Meditation ($199). Before or after treatments, guests have access to the wet spa, which features their signature hammam.
ÂME SPA & WELLNESS COLLECTIVE AT TURNBERRY
Photo Credit: JW Marriott Miami Turnberry Resort & Spa
The beautiful âme Spa & Wellness Collective at JW Marriott Miami Turnberry Resort & Spa offers luxury and relaxation to guests with cutting-edge treatments, facilities and services. Embodying the pillars of fitness, beauty, body therapy and health, the spa addresses each area with unique offerings such as nutritional consultation, integrative medicine and holistic rejuvenation, state-of-the-art spa technology, a full-service salon, aromatherapy, color therapy and so much more. Head over to the resort for Spa Month and enjoy the wet spa features, such as the Himalayan Salt Suite, Aroma Chroma Therapy Steam Room or the Swiss Shower before or after your treatment. Indulge in the 50-minute Electro Lymphatic Therapy for $109, which utilizes gentle, high-frequency sound pulses to loosen stagnation and decongest the lymphatic system, boosting the immune system and detoxifying the body. Other unique offerings are the "Chill Out CBD Facial" by award-winning Dr. Babor, or the CBD Oil Massage, which both utilize CBD oil and massage techniques to relax the body and muscles—both for $139.
LAPIS SPA AT THE FONTAINEBLEAU MIAMI BEACH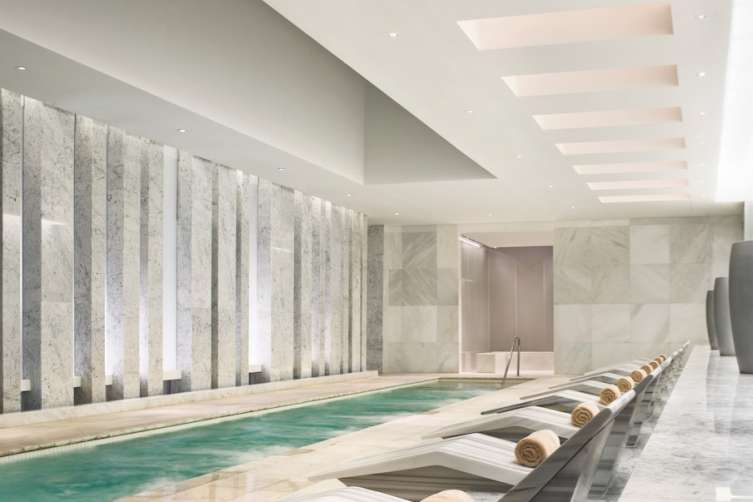 Photo Credit: Lapis Spa at the Fontainebleau Miami Beach
Fontainebleau Miami Beach is one of the Magic City's most iconic resorts for good reason. The extravagant hotel boasts state-of-the-art amenities that allow guests to soak up the sun, relax and unwind during their stay. During Spa Month, the resort's highly-renowned Lapis Spa will offer guests a variety of treatment packages including the new Aromatic CBD with lavender massage, Total Bliss Massage, Fab Four and the Hydrating Collagen Facial and Blooming Gardenia Pedicure that will regenerate and refine your skin. All Spa Month treatments will grant spa-goers the complete Fontainebleau experience with access to the resort's iconic pools, fitness center, nail and hair salon and more. 
THE SPA AT THE SETAI BY THÉMAÉ
Photo Credit: Ken Hayden
The ultra-zen Spa at the Setai by Thémaé is a one-of-a-kind spa experience that offers all-encompassing luxury treatments by utilizing natural products. The unique, Paris-based cosmetics and spa "Thémaé" brand is a line of luxury products created using extracts of natural ingredients and four different teas (red, white green and black), which are applied through various treatments to nourish the body and mind without any harmful ingredients. The boutique-style spa ensures guests can indulge in uninterrupted relaxation, with only four private spa suites, all featuring room for up to two guests that boast soothing ocean and pool views. Inside the locker rooms, guests can take advantage of pre or post-spa rituals, utilizing the private bath and steam room, sauna and more. Try the Brilliance Facial ($139), a delicate, yet effective treatment that revitalizes tired and dull skin through the use of Ridokis massage tools, cleansing and exfoliation. Or, make it a day for two and book the romantic Bali Fusion Couples' Massage ($139/person).
THE SPA AT THE MIAMI BEACH EDITION
Photo Credit: Miami Beach EDITION
The beautiful Spa at the Miami Beach EDITION boasts nine treatment rooms, a detox room with a steam shower and infrared sauna and beautiful facilities specializing in a range of unique services. For Spa Month, they're offering a special 60-minute CBD Oil + Sticks & Stones massage for just $139, which aims to alleviate muscle tension, as well as anxiety relief on a physical and cellular level. The trained masseuse will use the sticks and stones to work out knots and tension as the CBD oil relieves the body and mind. The spa also offers the C+ Collagen Facial with Microcurrent Lift ($109) that will leave your skin dewy and glowing with renewed elasticity, as well as scalp massages, manicures and pedicures + more. Additionally, on the day of treatment, guests can receive a complimentary beach chair (during the week), on a first-booked, first-served basis.
THE SPA AT MANDARIN ORIENTAL – MIAMI
Photo Credit: Mandarin Oriental – Miami
The Spa at the Mandarin Oriental on Brickell has long remained one of Miami's most sought-after spa destinations. From its tranquil location on Brickell Key, boasting waterfront views and the picturesque Miami skyline, to state-of-the-art facilities and treatments, the spa ensures that guests get the most out of their relaxing visit. During Spa Month, they'll be offering a handful of treatments, including the MO Destress Massage—a customizable full body massage utilizing aromatherapy—to the "Tranquil Delight," a full body salt and oil scrub that rejuvenates dry and tired skin, as well as facials and manicures + pedicures. We suggest elevating the experience with the $50 add-on for the Barcelona-based haircare guru Miriam Quevedo's luxurious hair and scalp ritual for shiny, lush locks.
BAMFORD HAYBARN SPA AT 1 HOTEL SOUTH BEACH 
Located at the wellness-oriented 1 Hotel South Beach, Bamford Haybard Spa is offering the luxurious 24 Karat Gold Facial for just $139 during Miami Spa Month. The chic spa focuses on nurturing the mind, body and spirit based on a heartfelt connection with nature. Guests will leave the treatment feeling recharged with glowing skin after the nourishing treatment, which focuses on anti-aging powers of gold, reducing the appearance of fine lines, inflammation and puffiness.