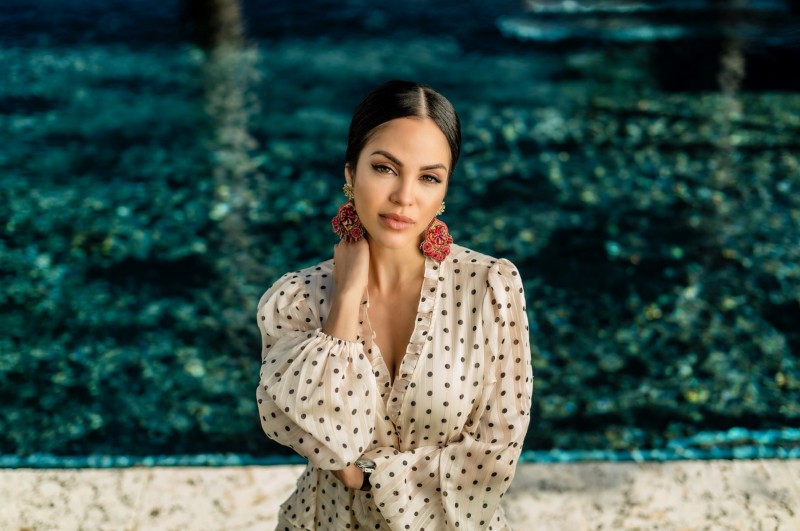 Photo Credit: Nick Garcia
Photography: Nick Garcia
Styling: Jhon Jairo Santos
Hair & Makeup: Cesar Ferrette
Shot on location at 3080 Munroe Drive, Coconut Grove, Fla. — via Haute Residence member Lourdes Alatriste, Engel & Völkers Miami 
Natalia Alexandra Gutiérrez Batista—aka Natti Natasha, female superstar—has had the come-up of a lifetime. Hailing from the Dominican Republic, music has been in her blood since she was born. Looking up to idols and music legends like Lauryn Hill and Bob Marley, she has strived for greatness for as long as she can remember.

Fast-forward to 2019: She's the most-watched female artist on YouTube for 2018, receiving over 4.52 billion views—surpassing top female artists like Ariana Grande, Dua Lipa, Taylor Swift and Cardi B. Natti is also entering into the Premio lo Nuestro 2019, the Spanish awards show honoring the very best in Latin Music, presented by Univision, with an astounding 15 nominations. Not only is that the most nominations for any female at the award show this year, it's the most in over a decade. Natti Natasha has become the icon she's always dreamed of one day being, making history for women all over the world.

As the gorgeous singer makes her way onto set for her Haute Living photoshoot, she's all smiles but also all business. She is a pro, and that is the only indication of the power that lies within, as one would never guess by her humble, gracious demeanor and easygoing attitude. Her tip? "Hard work," she shares. "If you really want something as big as this, you have to work day in and day out—25-hour days and nights in the studio, working to make everything perfect, striving to be heard."

When asked about the upcoming award show on the horizon, she grins from ear to ear. "It feels like a dream come true," she says. "We [females] have always made good music—it was just a matter of time for people to actually be able to hear it."

The struggle of being heard has been the ultimate challenge for Natti throughout career. Over the years, she's struggled as a female artist, constantly being compared to her male counterparts in the highly male-dominated industry and feeling inferior. "Being recognized as a professional by other males is the hardest thing that women have been able to do," she notes.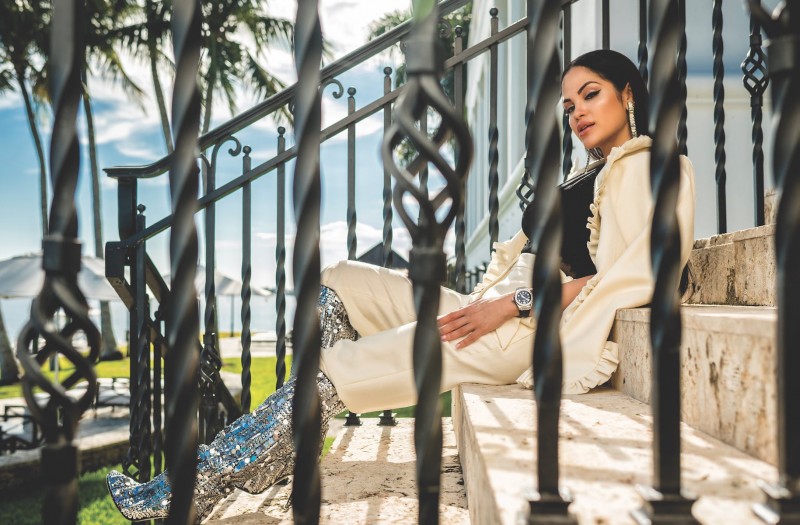 Photo Credit: Nick Garcia
Luckily for Natti, the advance of social media and the digital era has revolutionized her career, skyrocketing her to mega-fame. Now, she can reach fans globally with the simple a click of a button. Boasting over 10.9 million followers on Instagram (at the time of publication) and streaming 4.52 billion views on YouTube, Natti's audience reach is limitless. And that's been her greatest tool for success. "The hardest part about the music industry for anyone is getting into the ears of the world. It was not easy starting out and saying, 'Hey, I want my music to get out there, what can we do?'" she explains. "They'd respond—well no, girls don't sell. But now, because of the incredible digital world that we're in, with tools like Instagram and YouTube, people can decide what they want to listen to. It doesn't depend on just one person; it's everyone out there listening across the world. Music is so wide, and it's a perspective, and this gives me so much more opportunity to get my music out to everyone, which I'm so grateful for."

Another drastic impact on her career—and those of females around the world—was the 2018 "Time's Up" movement and the advance of female empowerment throughout the entertainment industry. When asked how the awakening to the Harvey Weinsteins of the world has led to a trickle-down in the music industry, most recently with music producer R. Kelly on blast for years of grossly mistreating women, Natti responds, "It changed my career completely. Before then, it was much harder to be heard as a woman. Now, everything is changing, and it's for the better. Women have a voice; they're empowered and they're heard. The future is bright—very bright."

Photo Credit: Nick Garcia
This brings us to the next chapter of Natti's life—brightness—also referred to her as IlumiNATTI, the title of her latest (and first) solo album. Gaining the moniker from when she first began her career, but eventually dropping it due to its often-mistaken negative connotation, Natti decided to pick the name back up in honor of the launch of her first album. "I got a little bit scared to use the name because I didn't want people to associate it with something negative," she admits, "but if you actually look up the world illuminati, it translates to enlightenment—and that's what I want to do. I want to bring light to my music, to women all over the world. I want to illuminate them with power and a voice, to feel special."

The album launch is perhaps coming at one of the most exciting times in the superstar's life, with the Premio lo Nuestro taking place just a week after its launch. After much time, sweat and tears, she's ready to release her masterpiece to the world. The opus is a compilation of all different genres of music, strategically arranged to intensify different feelings, moods and emotions. IlumiNATTI features the Dominican-born bachata genre, as well as reggaetón, trap and some ballads, which are especially personal for Natti.
"This is my first album after so many years, and I'm really anxious but very excited," she declares. "I want people to love it, to connect with it and to enjoy it—the lyrics, the music, everything.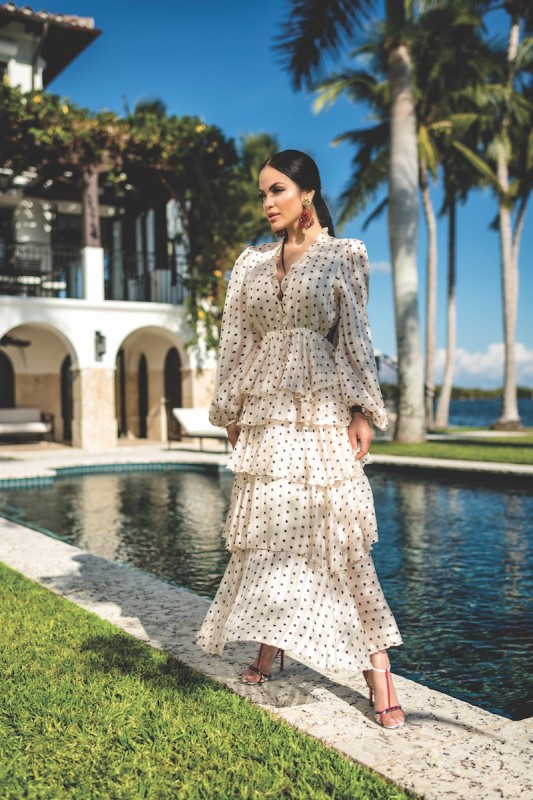 Photo Credit: Nick Garcia
"The album is very much about women's empowerment. In my music, I'm uncensored, which has helped me stand out as a female artist. I want to sing whatever is on my mind—whether it's being in love, going through a breakup, struggling, wanting to feel sexy—I speak what I'm feeling without censoring my lyrics because that's an important example to set for young girls," she notes. "Talking about taboo subjects has always been important to me because I believe that women want to feel that it's okay to talk about these things—in the past we've been censored, but now we're not. Girls being strong shouldn't have a bad context—being great doesn't mean you're crazy, it means you're going to be on your sh**," she declares with a laugh.
Growing up, Natti's devoted idol was the legendary Lauryn Hill, but now she serves as that same icon for girls all over the world. "Lauryn Hill inspired me so much. She had that whole women's empowerment vibe in all of her songs back when that didn't even exist. I felt very identified with her songs and lyrics and her attitude as a whole. She was my inspiration," she shares. "I really hope I can do this for other girls just like she did for me. I hope I keep doing what I love and they keep loving it."
Her greatest advice to those looking up to her? "To be proud of yourselves," she answers immediately. "It's all about loving yourself first so you can actually give that love to others. Own what you have, be happy, love your family and be sure of yourself no matter what passion you are chasing. If you want to be big and great, you have to believe in what you do. Especially if you love what you do, you'll never work—you'll always be playing like a little girl. That's why you never stop dreaming—keep dreaming bigger and bigger!"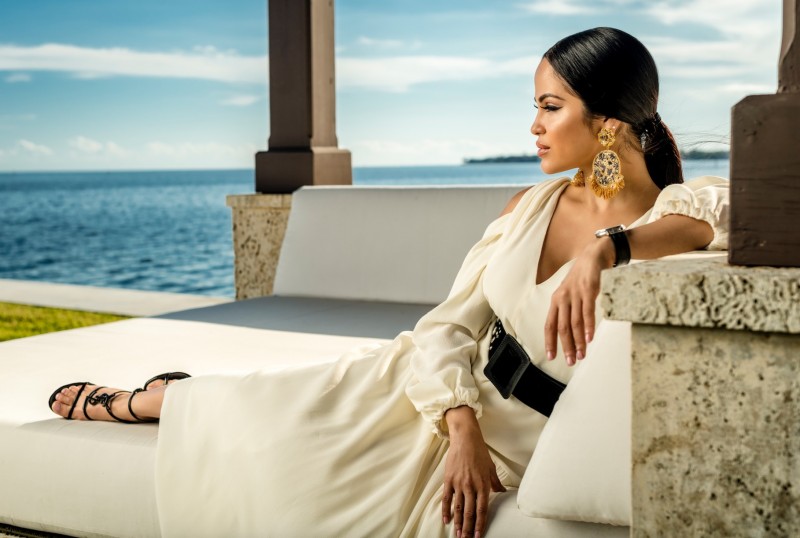 Photo Credit: Nick Garcia
It's clear that 2019 is Natti's year—but what else does that hold for the female powerhouse? Aside from launching her new album and heading into the record-breaking Premio lo Nuestro awards, Natti will keep dreaming and keep moving. "I really do feel that this is my year," she says. "But sometimes you have to stop and take a little pause to understand everything that's going on around you. What I really want is consistency—to keep working, for God to keep blessing me with all the amazing people in my life, to keep making good music and to keep representing females out there.

"It's important for me to keep getting into people's hearts—that's one of the main things I love," she adds. "When you get onstage and you actually feel that connection all over, that's one of my biggest prizes—I want to keep that going and make music; music that everyone loves."
Photo Credit: Nick Garcia