The Intercontinental Century City is a bit of an anomaly in L.A.—it's that rare hotel that is quiet, luxurious, convenient, relatively traffic-free and beloved by agents and actors alike. As anyone that's spent any time in Los Angeles knows, quiet, convenient and traffic-free are not words that are typically found in the same sentence.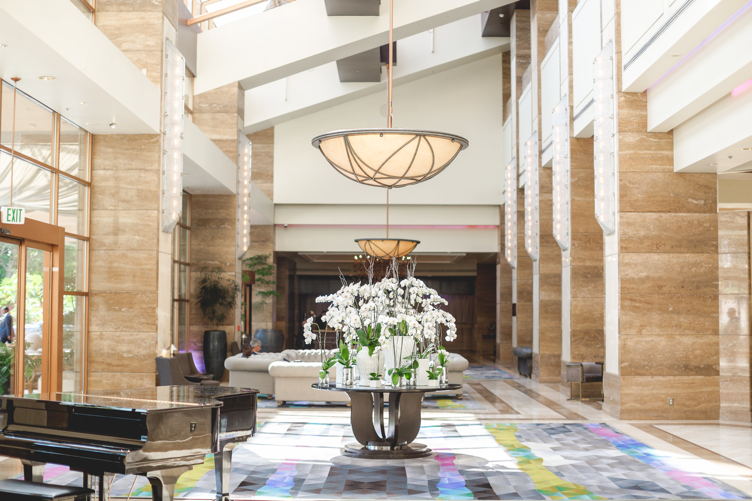 The location really can't be beat. There's none of the headache that can accompany driving around Beverly Hills, though you can still be ferried around the 90210 (or within 1.5 miles of the hotel) in the Intercontinental's house car, a sleek, stylish Tesla Model X The hotel is just minutes away from Century City's major entertainment studios—you can actually see most of Fox's back lot from your balcony—and CAA is just down the street, making this a prime location for wheeling and dealing over lunch at its lobby bar, Copper Lounge.
Guests will discover that all of the hotel's 363 guest rooms and suites offer balconies or terraces with panoramic views spanning the nearby Hollywood Hills, downtown LA skyline or the west side beaches, from Santa Monica and Venice to Manhattan and Hermosa, a great way to take in sunrise or sunset with a glass of wine while winding down from the workday, making it a great place to mix business and pleasure.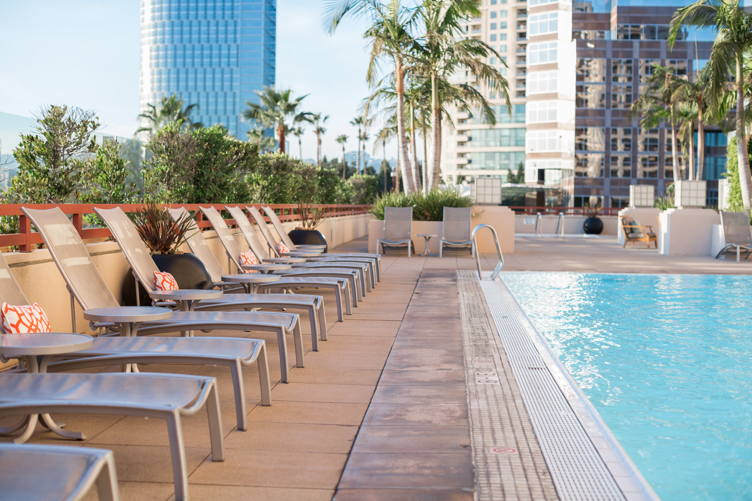 Given its location, this hotel is best beloved by the film set—writers, actors, producers and more, most of whom are in town to make a deal (or try to make one). As such, convenience is the Intercontinental's tag word. In addition to location, there's a 24-hour fitness center with a steam room to sweat out your daily stress, an outdoor pool with a sun deck (because who's going to know if you aren't working from your room?), valet parking, a business center, dry cleaning, packing and unpacking assistance, complimentary shoeshine, a VIP concierge lounge, 24-hour room service and even luxury car rental services provided by Black & White Rental/Beverly Hills Rides, INC.
The most discerning of travelers (OK, let's face it, VIPs), will want to book the Royal Suite: an elaborate, two-bedroom, two-and-a-half bathroom affair located on the hotel's top floor. Within the 3,300 square feet of space, you'll find a  full kitchen, library, wet bar, a luxurious living area and a wraparound balcony with epic view of the City of Angels.
And although the Royal is by far the largest, all are elegant and tasteful with Italian marble bathrooms with in walk-in showers and separate soaking tubs, plush Italian down bed linens, bathrobes and slippers, flat screen televisions, Agraria lemon verbena toiletries and work desks (though we highly suspect you won't be needing it if you're lounging poolside, computer in hand). 
And last but not least, this haute hotel has some sublime culinary options. Pastry Chef Gail Romulo, who has studied under James Beard Award winner Richard Leach and worked at James Beard's Best New Restaurant nominee Chinatown Brasserie, is a master with fondant and icing, crafting cupcakes, cakes and pastries that visually astound. The hotel's signature eatery, Mari, is a great partner to Romulo's patisserie work, serving up organic, sustainably sourced cuisine that just screams "SoCal."
All photos courtesy of the Intercontinental Century City at Beverly Hills