New Year, new you. It's time to keep your 2019 resolutions going strong by maintaining a healthy diet. Lucky for us, these Miami eateries make it easy to satisfy all of your cravings while still maintaining your diet. Here, we look at the top health-conscious eateries in the Magic City that are the best places to kickstart 2019.
PLANTA 
The Toronto transplant brought to the Magic City by Groot Hospitality is the perfect fusion of healthy eating in a sexy ambiance. Planta proves that you can eat plant-based cuisine in a variety of forms for any occasion—whether it be lunch, brunch or dinner. Some of the signatures include the "Frenchie" vegan pizza, cauliflower tots, "sushi" and the truffle plant-based burger that will make you feel as if you're eating the real thing. And don't forget to pair it with one of their fruit or vegetable-based healthy libations for the ultimate dining experience.
DELICIOUS RAW
Photo Credit: Gary James
The new Sunset Harbour gem is one of Miami's hottest new vegan eateries. The innovative menu offers a range of creative vegan dishes that magically mimic the taste of non-plant based plates with fresh superfoods, vegetables and fruits. Everything is made in-house from scratch including core ingredients like nut butters, nut milks, nut flours, superfood pastas made of sweet potatoes or black beans, dehydrated fruits and vegetables, vegan yogurts and dressings and so much more. The signatures include the Buddha Bowl—made with homemade sweet potato pasta, chickpeas, kale, beets and other veggies—the Nobl Veggie Burger highlighted by a truffle-infused garlic dijon; and for a sweet but healthy treat, the Righteous Waffle, based on energy sustaining ancient grains and accented with natural jam and syrups. Exemplifying the brand's ethos of sustainability and utilizing natural ingredients, the chic interior design incorporates reclaimed wood, bare-bulb pendant lighting and an abundance of greenery.
SOUL TAVERN 
Photo Credit: Soul Tavern
Located in the quaint Sunset Harbour neighborhood, Soul Tavern brings plant-based cuisine to a cozy, gastropub environment. Highlights of the menu include a truffle mac n cheese with black truffle "cream," Jackfruit Gyoza, Housemade Gnocchi and the Miso and Caramelized (Earth) Pizza. Also signature to the spot is their homemade elixirs, targeted at healing the mind, body and spirit through different concoctions.
PLNTHOUSE 
Photo Credit: plnthouse
Plnthouse, known as the "Good Kitchen" for its use of organic and local ingredients, prides itself on having extensive healthy options for every discerning palette including those with paleo, keto, vegetarian and vegan diets. Tasty menu items include the "Keto Cobb" salad, the protein-rich Curry + Cauliflower Sweet Potato, the truffle Fig + Pear flatbread and more. Also be sure to experiment with the lengthy Cold-Pressed Juice, Smoothie or Shot programs that all target different areas of your body and mind's well-being.
PLANT MIAMI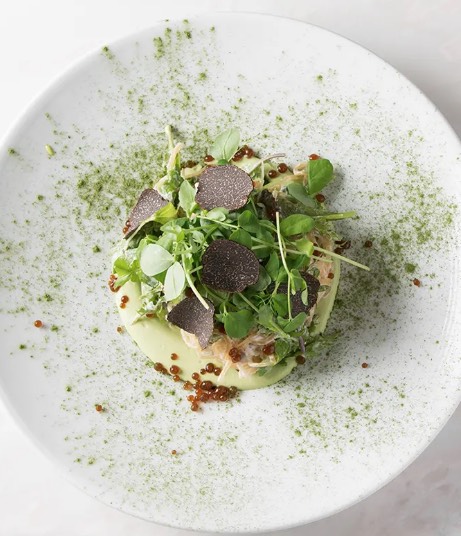 Photo Credit: www.sacredspacemiami.com
The beautiful Wynwood restaurant, Plant Miami, located at the Sacred Space Miami offers a completely vegan menu with delicious and innovative plates. From a vegan Cacio e pepe to a flavorful vegan Caesar or Kimchee dumplings, each menu item will leave you wanting for more. And it doesn't get more special than dining in the breathtaking garden of the Sacred Space for a peaceful al fresco lunch or dinner.
CHEF CHLOE AND THE VEGAN CAFE – ST. ROCH 
Photo Credit: www.miami.strochmarket.com/chef-chloe-and-the-vegan-cafe/
The New York-favorite Chloe, by chef Chloe Coscarelli, has been a hit ever since its debut in the Miami Design District's St. Roch Food Hall. The small but tasty outpost serves up delicious homemade vegan treats including cakes, cookies and pastries, as well as a Truffle Avocado Toast, cashew cheese nachos and coconut-matcha vegan soft serve, allowing diners to feel as if they're indulging in their favorite treats without any guilt.
JOE & THE JUICE 
Photo Credit: Haute Living
The globally beloved cafe, Joe & The Juice, has quickly made its entrance to the Magic City with multiple locations serving up their signature juices, smoothies, shots and signature bites such as the Spicy Tuna Sandwich crafted with the brand's signature power bread. Load up on veggies and immunity-fighting ingredients with their wellness shots and juices and hang out in the chic, millennial-inspired cafe.