With the 2018 holiday season fast approaching, many have a lot to look forward to, including Scott Conant and his restaurant Scarpetta in Miami Beach. This holiday season, Conant and his brand are celebrating 10 successful years in business beginning this November.
Fontainebleau Miami Beach will also celebrate a successful 10 years after reopening following years of closure and millions of dollars worth of renovation. Scarpetta arrived with the emergence of the brand-new, stunning Fontainebleau Miami Beach.
To celebrate the milestone, Scarpetta will be offering a series of food specials, which will be available every night from 6 p.m. to 11 p.m. beginning this November through December 21st. Reservations are highly recommended.
Here is what Scarpetta will be offering:
A Taste of 10 Prix Fixe: During nights, Scarpetta will be offering a four-course prix fixe to celebrate a decade of serving great food. It features 10 of Scarpetta's most iconic dishes, such as spaghetti with tomato and basil and creamy polenta with fricassee of truffled mushrooms. The menu costs $55 per person (exclusive of tax and gratuity).
$10 Pours: As another celebration of a decade of serving Miami Beach, Scarpetta will offer $10 wines by the glass every evening. It includes a selection of red, white and sparkling Italian wines.
Anniversary Dinner with Scott – On Wednesday, November 7, Scott Conant with host a dinner on the terrace to showcase and show guests through the stories of his favorite dishes from the past decade. The dinner will feature a family-style prix fixe menu priced at $55 per person (exclusive of tax and gratuity), with a pre-selected wine tasting option for an additional cost.
Sunday Supper: For this, Scarpetta is taking the "family meal" concept, with a weekly Sunday night feast that pays homage to the Italian-style tradition. Designed for sharing between family and friends, the family-style feast requires a minimum reservation of three guests per table and priced at $45 per person (exclusive of tax and gratuity). For this, parking is complimentary and each table gets the full menu with portions adjusted to fit table size. The menu is as follows:
APPETIZER 
CREAMY POLENTA
fricassee of truffled mushrooms
INSALATA CAPRESE
heirloom tomatoes, basil, balsamic & arugula
PASTA
SPAGHETTI
tomato & basil
SUNDAY SAUCE PAPPARDELLE
meat ragu, pecorino & herb breadcrumbs
ENTREE
ROASTED BRANZINO
cauliflower, salsify puree & dehydrated grapes
OSSO BUCCO
parsnip puree, charred carrots & salsa verde
DESSERT
ZEPPOLE
cannoli cream, pomegranate, pistachio gelato
TIRAMISU A FFOGATO
mascarpone, almond sponge, vanilla & espresso gelato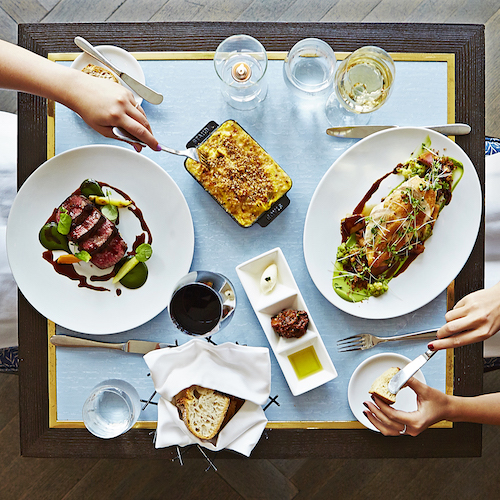 Scarpetta is located at 4441 Collins Avenue, within the Sorrento Tower, at the Fontainebleau Miami Beach. To schedule a reservation and for more information, visit www.fontainebleau.com/Scarpetta or call 877.326.7412.
Images courtesy of Brustman Carrino PR