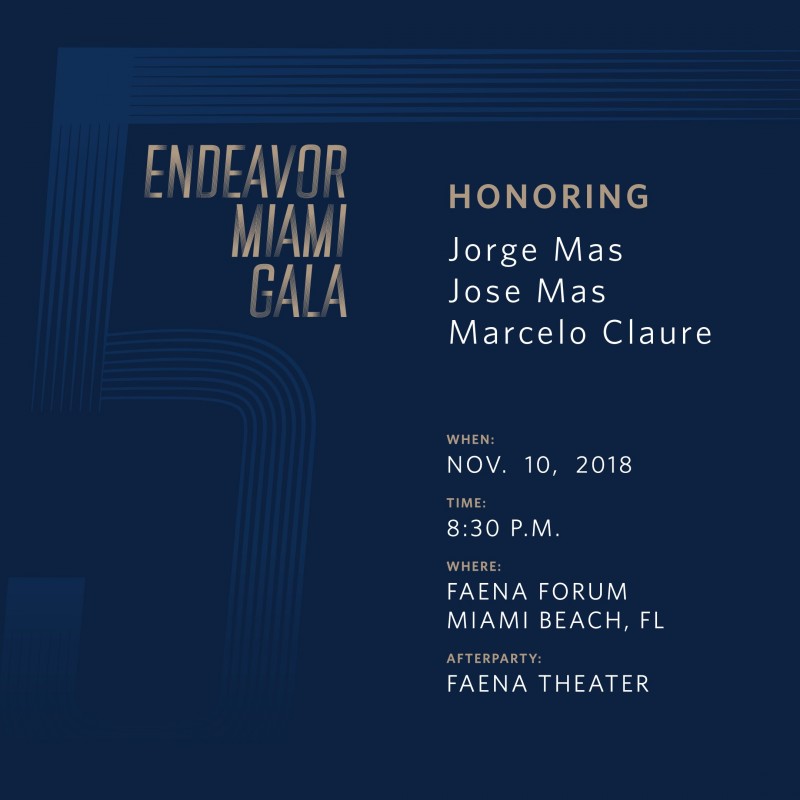 Photo Credit: Endeavor Miami
Endeavor Miami, a leading high-impact entrepreneurship movement in South Florida, will be hosting its Fifth Anniversary Gala on Saturday, November 10th in Miami honoring Marcelo Claure of SoftBank & Sprint and Jorge and Jose Mas of MasTec. The guests of honor will receive Endeavor Miami's prestigious Impact Award during the event, which will take place at the opulent Faena Forum in South Beach.
The gala will unite more than 350 business leaders, entrepreneurs, investors and international influencers to come together under one roof and celebrate South Florida's high-impact entrepreneurship movement. Each year, the group honors special guests with the award for their impact on the community and abroad through their entrepreneurial success. This year, Marcelo Claure, who serves as the CEO of SoftBank International, and Chief Operating Officer of SoftBank Group and Executive Chairman of Sprint, Jorge Mas, as well as Co-Founder and Chairman of MasTec Jose Mas, all fit the bill for the award due to their wide range of accomplishments in tech, banking, sports and more.
It's an exciting week for the Mas brothers, as additionally, their MLS Stadium for Miami that they've partnered with David Beckham on was officially approved for the city of Miami.
Photo Credit: Endeavor Miami
The night will be full of celebration and excitement, followed by the after-party taking place at the Faena Theatre with DJ Hannah Bronfman. For event details and to register please visit www.endeavormiami.org. Proceeds from the event directly support Endeavor Miami's mission to select, mentor and accelerate high-impact entrepreneurs in South Florida.