Del Frisco's Double Eagle Steakhouse has just opened a second location in Boston (the first city in the country lucky enough to have two restaurants from the Texas-based restaurant group). Joining its sibling in the Seaport District, this spacious 18,000-square foot Back Bay haute spot located on the street level of the Prudential Center offers one of the most luxe dining experiences in town.
We recently stopped by to see what the buzz is all about. The general manager told us they were excited to open this spot for its ideal location adjacent to the Hynes Convention Center and close proximity to nearly four million square feet of office space, including Copley Place, 3,500 nearby hotel rooms, and 875 luxury residences. With more than 12,000 bottles of wine and caviar service as well as offering one of the best and most coveted cuts of beef (the impressive long bone ribeye), along with dry aged and Wagyu hand cut steaks, this chic modern steakhouse delivers Bostonians an unforgettable dining experience.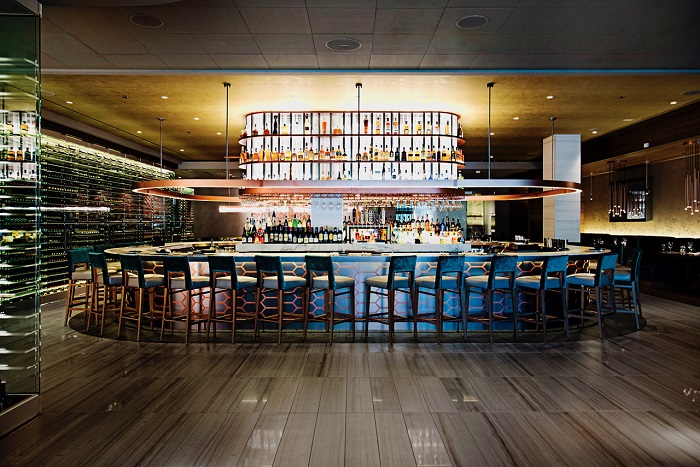 Photo Credit: Del Frisco's Back Bay
The interior of this glistening space offers seating for up to 450 guests and sparkles with glass walls, stone accents, warm wood finishes and shimmering metals. We recommend starting off your visit here by bellying up to the hip bar and trying a VIP cocktail, their signature drink made with Svedka clementine vodka infused with pineapple (trust us, it's as good as it sounds) or a nice strong martini (shaken not stirrred, please).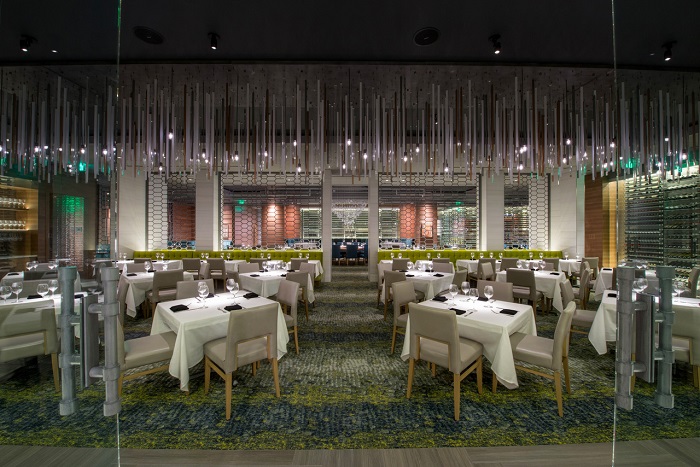 Photo Credit: Del Frisco's Back Bay
From there, request to be seated in the main dining room or outdoor patio (during the warmer months) for quieter conversations. The lively bar area (which can get loud during peak dinner service) is adjacent to private and semi-private dining rooms as well as their temperature and humidity controlled wine cellars, which hold more than 12,500 bottles from over 2,000 selections around the world.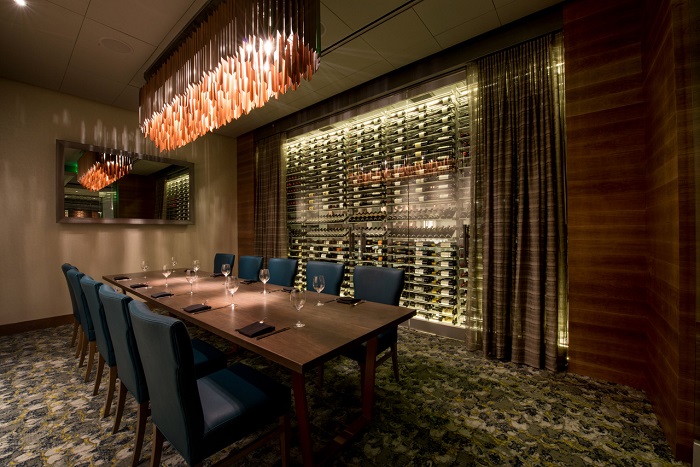 Photo Credit: Del Frisco's Back Bay
If you think bacon is just bacon, you haven't tried Del Frisco's thick-cut Nueske's bacon au poivre starter. This perfectly seasoned appetizer is topped with a deliciously sweet bourbon molasses glaze heated up with the addition of spicy peppers on top and cut tableside. One of our favorite appetizers was the Del's jumbo lump crab cake served swimming in a rich Cajun-lobster cream sauce – large enough to share, but so good you won't want to.
 
Photo Credit: Del Frisco's Back Bay
Instead of opting for tradition with an order of shrimp cocktail, we recommend indulging in the beautifully presented chilled shrimp tasting served with remoulade, garlic marinade and spicy cocktail sauce.
Because no one was certainly counting calories the night we visited, we sampled the decadent uptown Del's potato. Their creative take combines the flavors of a baked, twice baked and mashed potato made even bettter when smothered with melted fontina cheese and shaved truffles. Other a la carte side dishes portioned large enough for table sharing include sauteed wild mushrooms with pearl onions, Brussels sprouts with smoked bacon, caramelized onions and lemon butter, as well as gooey lobster mac and cheese, creamed corn with blistered shishito peppers and creamed spinach with smoked bacon, egg and mushrooms.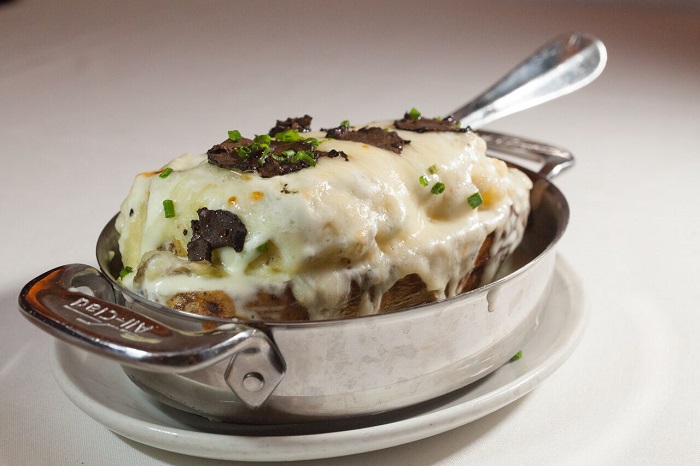 Photo Credit: Del Frisco's Back Bay
Be sure to save some room for what you came here for – the mouthwatering massive hand cuts of beef. Our friendly server recommended we try the bone-in filet mignon, a melt-in-your-mouth 16-ounce uber tender indulgence. The hailed winner of the table was the jaw-dropping longbone. This behemoth's perfectly marbled 32-ounces features a 45-day dry aged double bone-in prime ribeye and is available in limited scale-tipping quantities, so be sure to get here early to ensure this hefty cut's availability. Trust us, you'll be glad you did.
Photo Credit: Del Frisco's Back Bay
If you can save room for dessert, which we unfortunately didn't, their standout six-layer lemon cake is always worth every decadent calorie as well as their butter cake with butter pecan ice cream served atop a rich caramel sauce.
Photo Credit: Del Frisco's Back Bay
Del Frisco's Double Eagle Steakhouse in Back Bay is located at 888 Boylston Street in Boston.