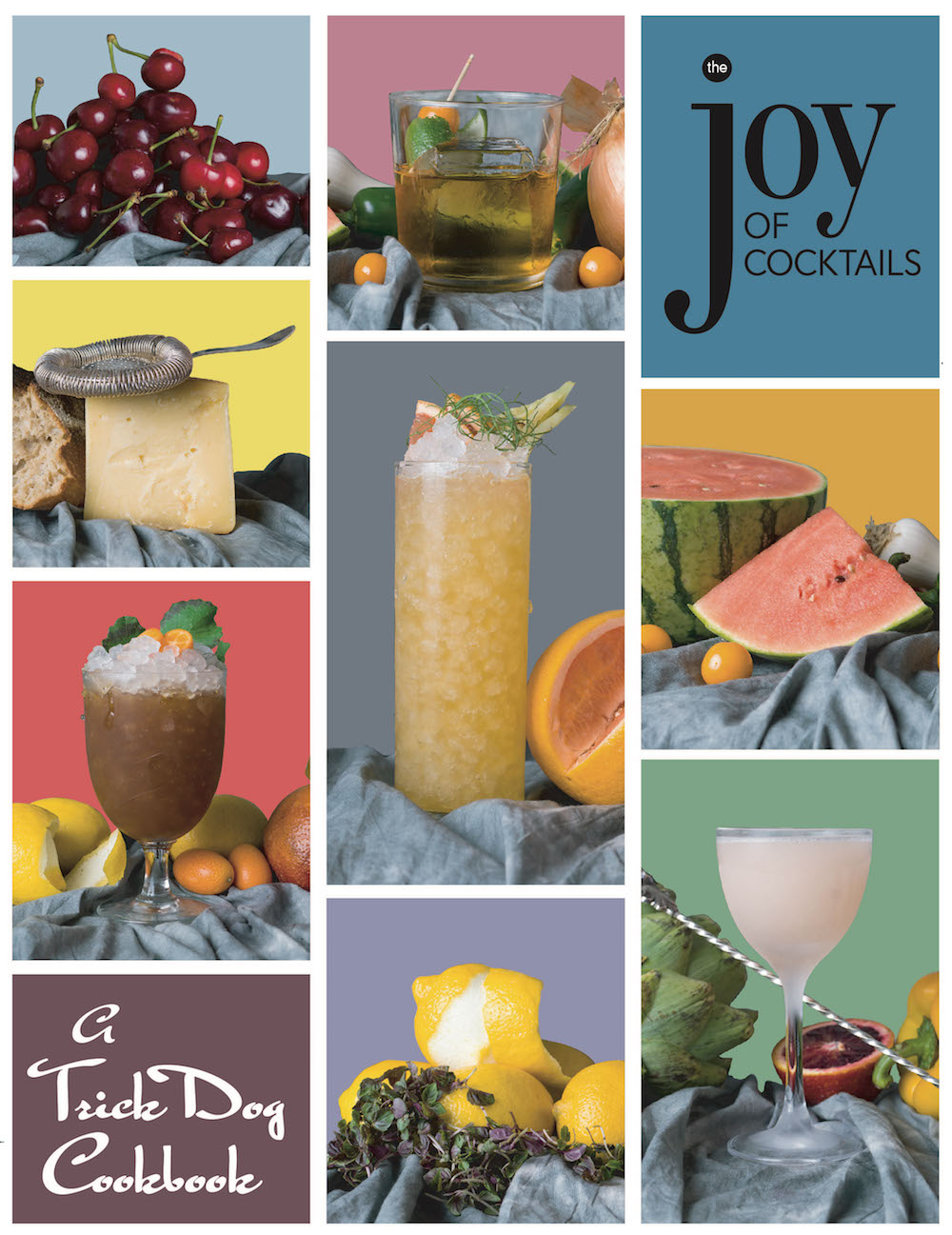 Photo Credit: Sonya Yu
Trick Dog, the game-changing Mission-district bar from the Bon Vivant's has announced their new menu, a cookbook called The Joy of Cocktails. Every six months, the team debuts a full list of new drinks inspired by an entirely different theme—the last menu was a playful take on air travel. Other menus include a Mural Project that involved local artists and a "Trick Dog for President" politically-inspired menu.
Photo Credit: Sonya Yu
The Joy of Cocktails: A Trick Dog Cookbook took over a year to make. Each drink recipe was made in partnership with a chef from San Francisco's top restaurants such as Nightbird, Che Fico, and Atelier Crenn. Trick Dog tapped 16 different chefs, and they all agreed to partake in the project. In an Instagram post announcing the new cookbook, Trick Dog co-owner Josh Harris said: "we are pretty floored that when we asked this small army of some of San Francisco's baddest chefs to collaborate on the project with us, that they all said yes!!" The menu, which is a cookbook, is for sale at the bar. Proceeds will be donated to La Cocina, a beloved local nonprofit that supports low-income food entrepreneurs.
Photo Credit: Sonya Yu
In the forward of the book, Harris explains the thought process behind the menu. "The bar and the kitchen, the bartender and the chef, have forged a bond in recognition that good food and good drink share a common cause," Harris says. "To create the menu, we engaged in a conversational working process with each chef (some as duos), with the end goal being to create a cocktail which reflects the sensibility and the philosophy of their food and their restaurants." For example, chef Traci Des Jardins was classically trained in French cuisine. However, her cooking style is influenced by her Mexican heritage. This is reflected in her Jardiniere cocktail which features a mixture of French and Mexican ingredients: duck fat-washed tequila, Calvados, sherry, tomatillo, and passion fruit and chili bitters.
Trick Dog's new menu is available now through the end of the year.