If your typical travel itinerary looks a lot like Aspen, St. Barts, Cannes and repeat, it's time to branch out, get adventurous and make that journey you've only ever dreamed of happening. There's no time like the present, right? So get ready, get set and go to these glorious, far-flung locations and start living your best life, one plane ticket at a time.
Gaze At The Northern Lights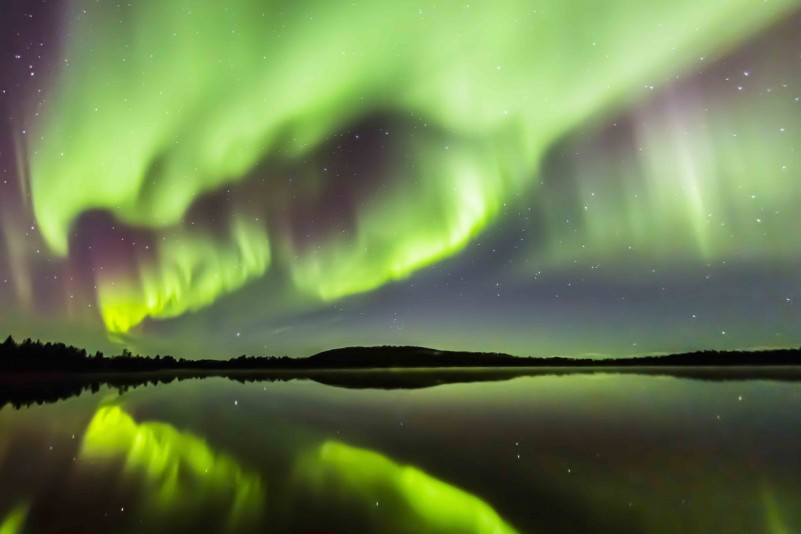 Photo Credit: Shutterstock.com
One of the best places in the world to see the aurora borealis—aka the Northern Lights—a phenomenon where electrically charged particles from the sun enter the Earth's atmosphere—is Finnish Lapland.
Stay: Kakslauttanen Arctic Resort
If you've ever fantasized about seeing nature's own EDM light show, there's no better way to do so than from an (insulated) igloo. At the Kakslauttanen Arctic Resort, you have not one but two luxury options: an igloo made of thermal glass that traps heat inside, and Kelo-Glass Igloos, which up the ante by including a private sauna, bathroom and fireplace. During the day, make the short trek to one of Finland's largest national parks, Urho Kekkonen National Park, and at night, return to the resort to watch the night light action unfold. At Kakslauttanen, you'll also find a glass igloo bar, one of the biggest log restaurants in the world and the world's largest smoke sauna.
Kiilopääntie 9, 99830 Saariselkä, Finland
Swim In The Dead Sea
Photo Credit: Kavram
The Dead Sea, bordering Israel, the West Bank and Jordan, is one of the saltiest bodies of water in the world with a concentration that fluctuates around 31.5 percent. It is impossible to sink—anyone who enters this hypersaline body of water will float. As a bonus, it's mineral-rich black mud is famously used for high-end cosmetic and therapeutic treatments.
Stay: Kempinski Hotel Ishtar Dead Sea 
The Kempinski, one of the area's only true five-star properties, also happens to be the only luxury hotel in the area with views of the sea. The haute way to stay at this hotel is to book one of the Royal Villas, which have hosted heads of states, royals and celebrities alike. Think private infinity pools, a private beach, complimentary massages, a personal butler and personal driver (with your very own luxury car as well for the entirety of your stay). Take advantage of that healing Dead Sea mud at the Ishtar Spa by Resense, one of the largest spas in all of the Middle East at over 100,000 square feet that also features the largest hydro-pool in the Dead Sea and Tepidarium heated lounges.
Swaimeh, Amman, Jordan
Find Inner Peace At The Taj Mahal
Photo Credit: Sergeev Kirill
This immense mausoleum of white marble, built in Agra between 1631 and 1648, is the crown jewel of Muslim art in India and one of the universally admired masterpieces of the world.
Stay: The Oberoi Amarvilas
The Oberoi Amarvilas is located just .3 miles from the Taj Mahal, one of the world's most beloved monuments, making it a great place to eat, pray, love… and relax. Spread over nine acres of elaborate gardens, terraced lawns, fountains, reflection pools and pavilions, the classical design of the luxury hotel is a tribute to the legacy of Moorish and Mughal architecture. Its interior is an elaborate maze of intricate filigree and marble inlay work, jali (screens), gold thread and bead embroidery, woodcarvings and hand-woven tapestries, all of which display the rich arts and crafts of the region. The hotel's most opulent suite is the Kohinoor, 900 square feet of space with a private, open-air terrace, white marble and granite bathrooms, and a bird's-eye view of the Taj Mahal.
Taj East Gate Road, Agra – 282001, Uttar Pradesh, India
Bathe In The Blue Lagoon
Photo Credit: The Retreat at Blue Lagoon
The Blue Lagoon is an otherworldly Icelandic oasis where geothermal water and lava meet. 
Stay: The Retreat at Blue Lagoon
This newly opened property is as cool as they come. The hotel itself is built into the volcanic frontier. Floor-to-ceiling windows, terraces and balconies beckon guests to the natural wonders beyond at this 62-room property, which include an underground spa carved into an 800-year-old lava flow and use of a completely private lagoon. For a truly VIP experience, rent out the self-contained Hidden Cove, a private area that comes with an on-call chef, a butler and a private masseuse.
Nordurljosavegur 11, 240 Grindavík, Iceland
Climb Machu Picchu
Photo Credit: Sara BiancardI
It's about the journey and the destination when you climb this 2,139-foot mountain set in the Incan citadel high in the Andes Mountains of Peru.
Stay: Belmond Sanctuary Lodge
There is one very, very good reason to stay at Belmond Sanctuary Lodge: Because of its proximity to Machu Picchu (it's just steps away), staying at the hotel allows guests first access when the gates open at 6 a.m., a truly magical hour considering that Machu Picchu is often still veiled in a diaphanous petticoat of mist. Having the place virtually to yourself for that moment of sunrise, which itself was a hugely significant time of day to the Incas, is priceless. For the truest bucket-list experience, make sure to hike the Salkantay Trail.
Carretera Hiram Bingham KM 7.5, Machu Picchu, Peru
Helicopter Into Middle Earth (AKA MILFORD SOUND)
Photo Credit: Robertson Lodges
Milford Sound is a fjord in the southwest of New Zealand's South Island. It's not only one of the most beautiful places in the world, it's one of the wettest, hardest to get to, and can only be accessed by boat or helicopter. While the fjord and its surrounding home of Queenstown is thankfully real, it also served as the primary shooting locations for the fantasy world—otherwise known as "Middle Earth"—created by Lord of the Rings scribe J.R.R. Tolkien and immortalized on film by Oscar-winning director Peter Jackson.
Stay: Matakauri Lodge
As can be expected, it isn't easy getting to Middle Earth (especially when the part of Middle Earth in question is Milford Sound), but for a taste of what it's like that's far more accessible, stay at Queenstown's luxurious alpine retreat, Matakauri Lodge. Make like former guests the Duke and Duchess of Cambridge and stay in the Owner's Cottage, which, in addition to its 5,000 square feet, boasts open fireplaces, a bathtub and infinity edge hot tub overlooking the lake, an outdoor courtyard and a kitchen fully equipped for a master chef if private dining is preferred. However, we highly recommend heading to the resort's dining room for a Kiwi-style five-course dinner. This luxury lodge also does one of the best minibars we've ever seen: Mini bottles of local wines from the Otago region are gratis.
569 Glenorchy Road, Queenstown, Closeburn 9371, New Zealand
Take A Hot Air Balloon Ride In Cappadocia, Turkey 
Photo Credit: Museum Hotel
This fairytale-like locale, home to a magical hot air balloon extravaganza, is known for its "fairy chimneys"—tall, cone-shaped rock formations created over time by erosion of volcanic ash.    
Stay: Museum Hotel
If you've ever fancied staying in a hotel that's thousands of years old and built into a cave, Museum Hotel is the right hotel-stay experience for you. No two rooms are alike here. Located in Uçhisar at the pinnacle of this UNESCO World Heritage site, the hotel offers 30 completely unique rooms and suites, built with lovingly restored original structures including dovecotes, stone columns and secret tunnels. Make sure not to miss the absolutely spectacular panoramic views of the area's famous sunrise hot air balloon launches… and cross something else off that list of yours and go up in one yourself.
Tekelli mah. No.1 Uçhisar 50240 Nevsehir, Cappadocia, Turkey
Scuba Dive In The Great Barrier Reef
Photo Credit: Lizard Island, Australia
The Great Barrier Reef is the largest living thing on Earth—and it happens to be visible from outer space. The 1,430-mile ecosystem off the coast of Queensland in northern Australia is made of thousands of reefs, hundreds of islands and 600 types of coral, plus an amazing array of fish, dolphins, turtles, starfish and sharks.
Stay: Lizard Island 
If you want to see all aforementioned species, head to this intimate, 40-room luxury lodge off the coast of Cairns. With 24 private beaches on the property, it's possible to have a day of fun in the sun exploring the reef and taking in the incredible nature around you without ever seeing another person. In a world of over 7.5 billion people, this experience is truly luxurious because it's only designed for two. Book The Pavilion, which creates a sense of being "one" with nature thanks to sliding glass doors that only surround three walls of the suite; you'll also have your own private gazebo and plunge pool.
Lizard Island, Cairns QLD 4871, Australia
Trek Alongside The Great Wall of China
Photo Credit: TheEverywhereMan/Shutterstock.com
This World Heritage site is almost 2,700 years old, over 13,000 miles long and is the only man-made object visible from space.
Stay: Commune by the Great Wall
Commune by the Great Wall is a private collection of contemporary architecture designed by 12 Asian architects and is comprised of 40 villas with 175 suites and 11 Presidential Suites, three restaurants, an indoor/outdoor pool and a tennis court. For a truly authentic experience, stay in one of two villas designed by Chinese architects: The Cantilever House, by Antonio Ochoa, is built into the slope of the mountain, while the Split House by Yung Ho Chang,  is "split" down the middle in order to bring the mountain and water into the building—there is literally a creek running through the glass-floored entrance room. Best yet, those who stay in any of the structures are afforded private-path access to an untouched portion of the Great Wall of China, which is only a 10-minute walk away.
Yanqing, China
Have A Wildlife Adventure On An African Safari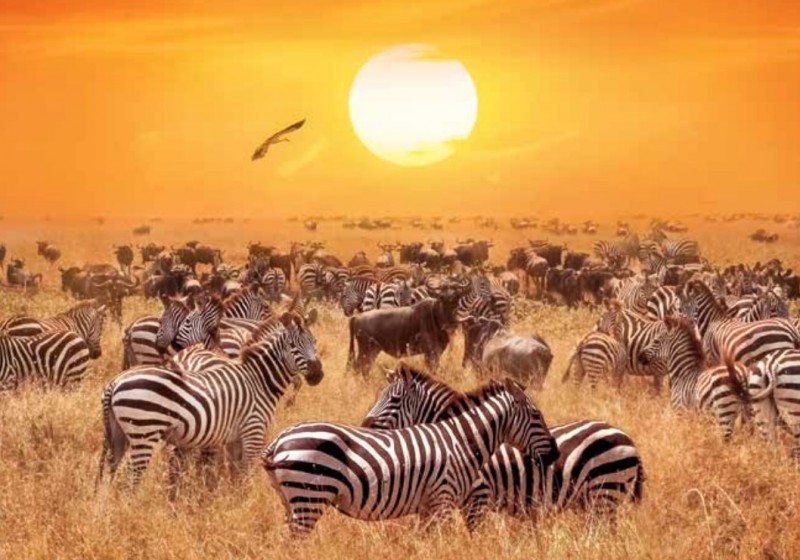 Photo Credit: Shutterstock.com
See Africa's wildlife—elephants, zebra, gorillas, giraffes and more—in their native habitat while staying in the comfort of a luxury lodge.
Stay: The Fairmont Mount Kenya Safari Club
This luxurious, five-star retreat set in the foothills of Africa's second-highest peak, Mount Kenya, looks like it's something from a film set—which is apt considering that its former owner was Hollywood film star William Holden (whose friends, such as Sir Winston Churchill, President Lyndon B. Johnson and Bing Crosby, were frequent visitors and members). The most sought-after of its 120 rooms is the Equatorial Suite, which is actually split in two by the equator—meaning that guests straddle both the Northern and Southern Hemispheres at the same time; the resort also offers the only golf course in Africa to bisect the equator. And while the Mount Kenya Wildlife Conservancy, a nonprofit organization focusing on the re-introduction of the bongo, an endangered Mount Kenya antelope, is directly across from the property, reserves where you'll see all of the wildlife imaginable: giraffes, buffalos, lions, cheetahs, zebras, leopards, colobus monkeys and even a rhino-breeding sanctuary are all a short drive away.
Mount Kenya Road, Nanyuki, Kenya
Subscribe to discover the best kept secrets in your city