Photo Credit: Four Seasons
Although it doesn't officially debut until early 2019, the Four Seasons has revealed exciting new details about its upcoming opening in Napa Valley. Construction of the Calistoga resort and residences is well underway and 15 of the 20 homes have already been sold. Only five remain—priced at $4.5 million—and prospective Napa Valley homeowners should not wait to be a part of the Four Seasons community.
Photo Credit: Four Seasons
Made to look architecturally like a luxe farmhouse, the small-scale, low-rise one- and two-story villas are nestled in between mountains and vineyards. Each three- and four-bedroom residence has multiple master bedrooms, walk-in closets, dining and entertaining spaces, a two-car garage, and a 90+ bottle wine appliance. Designed by John Hill, the homes are uniquely Napa, but with the Four Seasons excellent standards and amenities.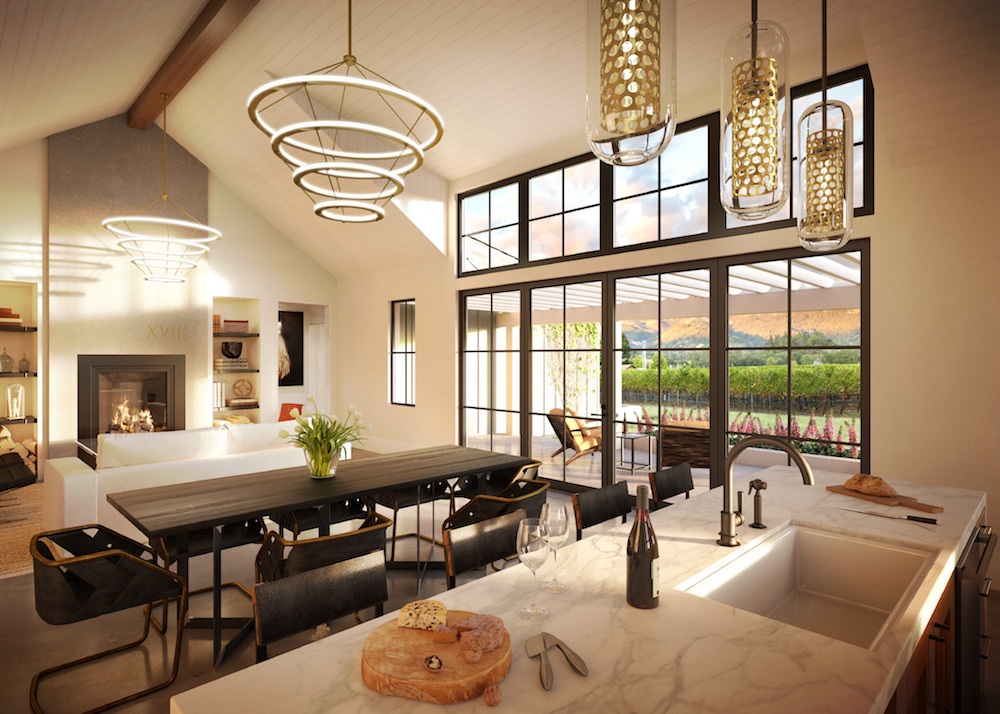 Photo Credit: Four Seasons
Located at the northern end of Napa, off the Silverado Trail, the property features a vineyard and winery overseen by renowned winemaker Thomas Rivers Brown. Homeowners will have the chance to collaborate with Brown on a custom crush, blend, and bottling. The Four Season residents can work with Brown throughout the process and participate in everything from the harvest to the label design. A private wine room, exclusive to homeowners, will store wine in a temperature controlled cellar.
Photo Credit: Four Seasons
The Four Seasons offers plenty of options for interested homeowners. Residents can choose to place their home in the short-term rental program with the resort. They can also select to purchase it completely furnished with a design package by local interiors expert, Erin Martin. Plus, there is VIP access to the resort's amenities and activities that include a restaurant, spa, indoor and outdoor fitness centers, and proximity to the nearby Vine Trail.
Photo Credit: Four Seasons
As for the hotel, the resort will have 85 guest rooms in single- and two-story villas scattered among the property's vines and oak trees. There will be an event barn and grand lawn, so expect the space to become a hot spot for weddings. Two pools, one for adults and another for families, plus a grill with outdoor dining, fire pits, and bocce make it a place to hang out before or after wine tasting. A restaurant, bar, and general store provide other dining options. The Four Seasons Napa's executive chef has not been named, but the food will celebrate the bounty of Napa Valley with local, seasonal ingredients on all the menus. Stay tuned for more information.
Subscribe to discover the best kept secrets in your city