Photo Credit: Dante
The summer is here and you've booked your getaway, updated your wardrobe, picked out the perfect non-toxic, paraben-free, gluten-free sunscreen – but do you know where to grab the freshest aperitifs in NYC? Well, to help you out, we've made a list of six of the best city bars that will aid in taking the edge off the day before even thinking about dinner.
We have some of the world's greatest bars on the list, also a few that we're not exactly supposed to talk about (see PDT below). They all have pre-dinner drinks that will either transport you to Europe, a different era, or as far away from your problems as possible.
PDT (Please Don't Tell)
Photo Credit: @jeffreymbell Instagram
Why It's Special: You enter through a phone booth, pick up the phone, then see if you can get a reservation. It's a speakeasy considered to be a pioneer in the cocktail world, thanks to nationally acclaimed mixologist Jim Meehan— think infused popcorn. Also, PDT was named one of the best bars in the world.
What Drink to Order: The Shark by PDT bartender John deBary.
Location: 113 St Marks Pl, New York, NY 10009
Bemelmans
Photo Credit: Don Riddle, Bemelmans
Why It's Special: If you're looking for a quintessential NYC bar set in the Roaring 20's this is it. Restored in 2002 by designer Thierry Despont, the bar maintains its Art Deco legacy. Named in honor of the legendary artist, Bemelmans is a classic New York watering hole that has drawn socialites, politicians, movie stars, and moguls for more than five decades.
What Drink to Order: The Passion Royale. Made with X Rated Passion Fruit Infused Vodka a splash of Canard Duchene Champagne, and lime. This refreshingly bubbly drink is served in a chilled martini glass.
Location: The Carlyle 35 E 76th St, New York, NY 10021
Dead Rabbit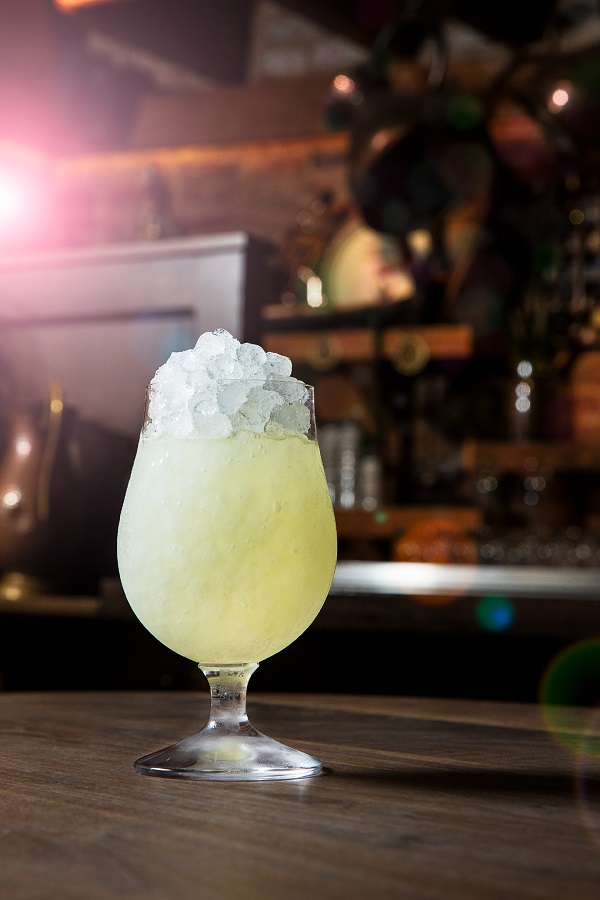 Photo Credit: Dead Rabbit
Why It's Special: It won the honor of The World's Best Bar in 2016 and it's also home to the largest Irish whiskey collection in America. It's cozy, upscale, but unpretentious, and serves quenching vintage cocktails. Dead Rabbit is a three-storied bar located in the Financial District, inspired by John Morrissey, the leader of the Dead Rabbits (an Irish-American gang from the 1850s).
What Drink to Order: The Song and Dance, originated by Harrison Ginsberg. Made with a dash of eucalyptus tincture, yuzu syrup, lime, and cucumber juice, fennel seed syrup, shiso infused dry vermouth, and  Green Tea Tanqueray.
From Dead Rabbit Beverage Director, Jillian Vose: "Shiso is such and aromatic & herbaceous herb and I really wanted to highlight it in a bright clean cocktail. I infused the Shiso into dry vermouth and added some green tea infused London dry gin as a base. Keeping bright clean flavors in mind I added fennel and Yuzu, rounding everything out with cucumber and lime juice. A dash of eucalyptus really ties everything together. I think I was really trying to think clean flavors for the new year. People really like to reset and cleanse and detox. "Green cocktails" are a huge trend this year, right ;)…Welcome to 2018!"
Location: 30 Water St, New York, NY 10004
Pegu Club
Photo Credit: peguclub_nyc Instagram
Why It's Special: This is Audrey Saunders' (she created the drink list at Bemelmans) pioneering cocktail lounge known for both classic and uniquely creative drinks. Zagat reviews call it the "SoHo temple to the "science of haute cocktails"."
What Drink to Order: The Green Beast created by legendary London bartender, Charles Vexenat. It's made with Pernod Absinthe, cucumber, lime, and water – it's as refreshing and cool as it sounds.
Location: 77 W Houston St, New York, NY 10012
Dante
Photo Credit: Dante
Why It's Special: This legendary bar is a revamp of the 1915 Caffe Dante. The decor is an ode to the era with original structures and art, including a pressed-tin ceiling and green-leather banquettes. Here you'll want to not only grab your pre-dinner drinks, but also stay for the mouthwatering dinner menu.
What Drink to Order: The Al Fresco Spritz. It's the perfect drink to order for a group. It serves 4-6 people. Made with Bombay Sapphire, St. Germain, bianco vermouth, lime, prosecco, and green stuff (as per Dante).
Location: 79-81 Macdougal St, New York, NY 10012
George Washington Bar
Photo Credit: Eric Medsker, George Washington Bar
Why It's Special: It's one of the hottest bars to open in the Flatiron district. Set inside the former Library Room of the original George Washington Hotel, it's one of two new bars at the Freehand Hotel. The bar is led by Ben Rojo (formerly at Angel's Share) and gives off a cool kid vibe – laid-back, but proper. The drink list is quite impressive.
What Drink to Order: Nothing Gold Can Stay.
From George Washington Bar head bartender, Ben Rojo: "The first drink I penned for the aperitif menu…. It's a blend of Dolin dry French vermouth, Umenoyado plum sake, dried sakura blossom, and a spritz of Benedictine. Sakura shiozuke is made during the heart of cherry blossom season each year by packing flowers at peak bloom in fine sea salt. It's then steeped as tea throughout the year to evoke scents of spring. The pairing of this time capsule ingredient with aromatized wine serves tribute to the ephemerality of all things, like the poem for which the drink is named. It's served up, in a Nick and Nora glass, with a single sakura blossom."
Location: 23 Lexington Ave 2nd floor, New York, NY 10010