Photo Credit: Courtesy of SFFILM
Charlize Theron. Jason Sudakis. Bill Hader. Gus Van Sant. These are a few of the celebrities who will be in town next week for the 61st annual San Francisco International Film Festival (SFFILM). The event, which takes place April 4 through 17, features screenings, parties, musical performances, enhanced Q&As, and so much more. SFFILM is a community-connecting festival that highlights the values that make the Bay Area unique. "This year feels very much like the world is coming to the Bay Area," Noah Cowan, the executive director of SFFILM told Haute Living over the phone earlier this week. "The values that we hold dear here in the Bay Area, the kind of stars and ideas that we like, seems to attract the right people to come and join us."
Photo Credit: Courtesy of SFFILM
The films cover a wide variety of topics, but showcase the values—diversity, inclusion, creativity, innovation, social justice, political awareness, curiosity, and internationalism—that are championed in the Bay Area. The opening night film, A Kid Like Jake, starring Claire Danes and Jim Parsons, is directed by Transparent's Silas Howard. The movie is about a little boy who prefers Cinderella over GI Joe and his parents who are facing the possibility that their child might be trans. "The opening film is this beautiful social drama about two parents whose young son is showing non-gender conformity," Cowan explains. "We're always looking to better understand our audience and what they get excited about and really find the very best films for this city and this area of the world. There's commitment to social justice, an interest in technology, and films that sort of experiment with those ideas, as well as kind of a curiosity about life on the rest of the planet."
Photo Credit: Courtesy of SFFILM
Another theme is strong females and how they are willing to change the world. There is a bio-pic on Ruth Bader Ginsburg, a documentary about Joan Jett, and a film about the first American women who trained to become astronauts. The poster child for this movement? "Charlize Theron, who we think is just the fiercest badass actress out there," Cowan says. "I mean Mad Max, which you know, to many people is a great feminist epic." Theron's film, Tully, is an ode to the unglamorous world of motherhood.
Photo Credit: Courtesy of SFFILM
Other highlights? "We're doing a live performance with Kronos Quartet, which are just so important locally with us," Cowan says. "Bill Hader, the comedian, as well as Jason Sudeikis, are with us. I think they're kind of the epitome of liberated guys." Screenings take place all over the city at beloved theaters like the Castro and the Victoria. It promises to be a thrilling two weeks of films.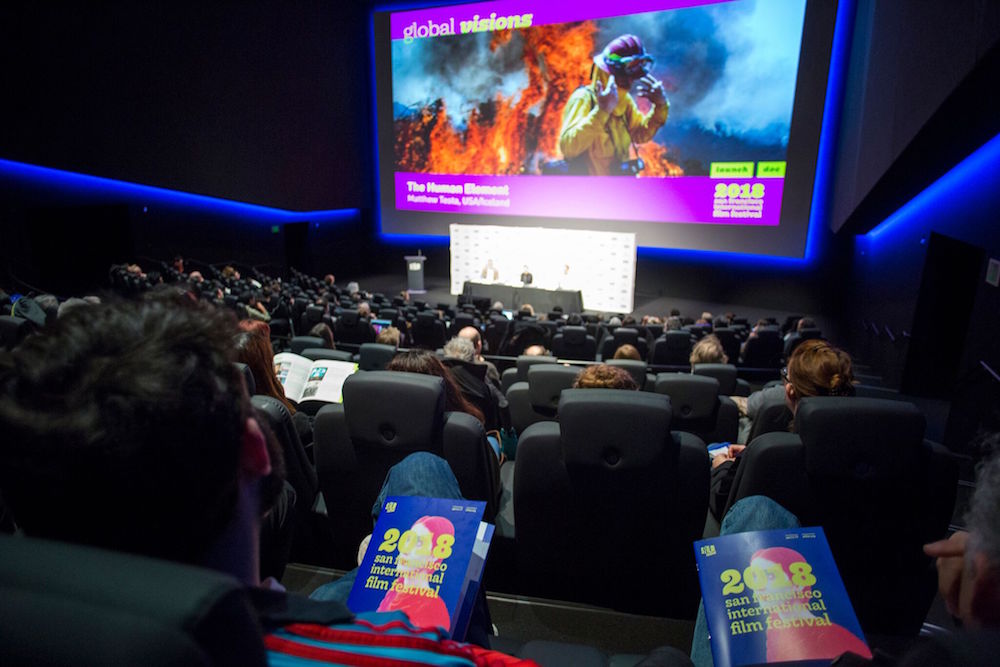 Photo Credit: Courtesy of SFFILM
Cowan stresses that the festival is for everyone and invites all walks of life to view one of the movies. "Film festivals allow everyone who responds to films to come in, have their own experience, and share that experience of loving movies with sometimes friends, sometimes random strangers," he says. "We think it's one of the few opportunities in the year where people from all parts of San Francisco, and all ages, and all economic levels get to actually gather at one event and just really enjoy being together."
Get tickets to the SFFILM now.