There's almost quite nothing Miamians love more than a fun-filled Sunday brunch. And let's face it—between the waterfront views, endless champagne and decadent food specials, not many places can compare to the dynamic brunch scene that Miami offers. While it's tough to narrow down the very best, we've rounded up some of our favorite spots that offer something bigger and better than anywhere else in town.
ZUMA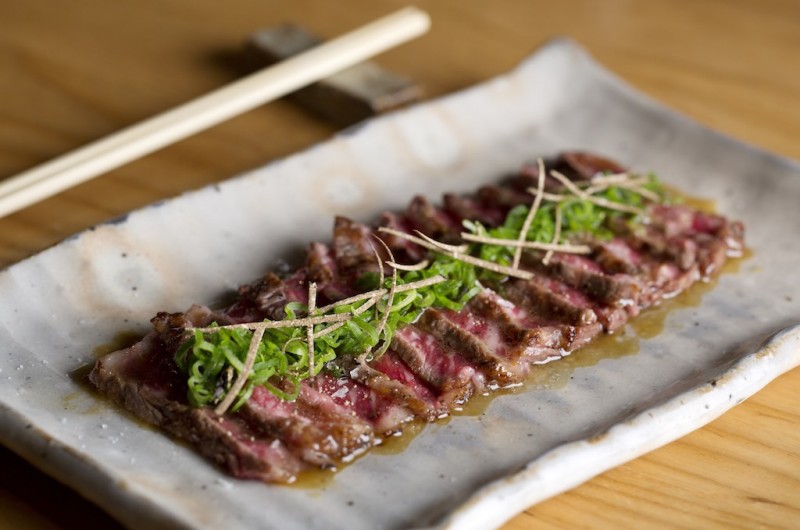 Photo Credit: Zuma
Zuma is one of the original places in Miami doing brunch in a grand way. Between the all-you-can-eat buffet with robata, raw bar, sushi specials and more, as well as bottomless drinks and selections of some of their greatest offerings for an entree—like the Beef Tenderloin, Salmon or Lamb—and the unbeatable waterfront views of Biscayne Bay, it's hard to get much better. Zuma is not only one of the most delicious brunches in Miami, but also one of the hardest to snag a reservation, so be sure to plan early. Brunch starts at $95/person.
ST. REGIS 
Photo Credit: St. Regis Bal Harbour
The iconic St. Regis Bal Harbour Resort recently launched a special Sunday Rosé Brunch, and as can be expected of the five-star hotel, the brunch is nothing less than extraordinary. With choices of unlimited rosé, champagne, bellinis, mimosas or Bloody Marys, the grand dining experiences also includes a selection of gourmet delicacies at the buffet station complete with caviar, oysters, mini burgers, tuna tartare, fresh burrata, an omelet station, meat station and so much more. And most noticeably, there is an extravagant and very Instagrammable dessert display—highlighted by a giant, edible Eiffel Tower statue created out of rainbow macarons. Set with the backdrop of the bright blue ocean and sounds of the live band in the background, it is the perfect oasis for a relaxing and luxurious Sunday. Brunch runs at $95/person.
Cecconi's 
Photo Credit: Cecconi's Miami
The exclusive Soho Beach House Italian restaurant has become famous for its Saturday and Sunday brunches.  Dress to impress and head over to the cozy restaurant courtyard to indulge in five-star, home-style Italian cuisine from a gourmet buffet. Highlights include Soho Beach House's signature frosé, a very cheesy Cacio e Pepe pasta bowl, cured meats and the spot's famed pizza. If you are a member, brunch is $55/person; for non-members, it's $65/person.
Forte Dei Marmi 
Photo Credit: Forte Dei Marmi
For a truly authentic Italian brunch, head to South of Fifth's quaint Forte Dei Marmi restaurant, helmed by Two Michelin starred-chef Antonio Mellino and his son Raffaele. Here, diners can enjoy a gourmet spread of the restaurant's famed delicacies like fresh-cured meats, flavorful tartares, pasta dishes, grilled vegetables and a can't-miss raw bar selection of oysters, langoustines, prawns and more. The brunch is priced at $55/person, which includes an all-you-can-eat buffet in addition to one of the spot's acclaimed entree dishes with an optional $35/person add-on for the Raw Fish Bar—which is an absolute must. With that, guests will receive a gorgeous platter of the freshest oysters, red prawns and scampi around decadently presenting the fish with caviar on top with light seasoning.
Leynia
Photo Credit: sbe
The hip, Argentinian-Japanese fusion restaurant's Sunday brunch is another can't-miss destination in Miami. Taking place on the gorgeous poolside patio of the restaurant complete with live music and Cuban cigar-rollers, the atmosphere exemplifies what living in Miami is all about—fun, sunshine and rich culture. And the food offerings are all one better than the next—outside, guests can choose from a delicious Argentinian meats selection, or inside, they can opt for the Japanese side of the menu with a sushi and sashimi buffet, as well as other delectable brunch specialties. Must-try entree plates include the spot's famed empanadas, pesto artichoke toast and chorizo. Brunch is $70/person, with an additional $15/person for unlimited Mimosas and Bloody Marys.
Nautilus 
For another fun outdoor brunch spot, the Nautilus Hotel's "Rosé Sundays" is a fantastic option. The Mediterranean brunch concept boasts a vibrant menu paired deliciously with rosé, with dishes like Mussels Marocain, eggs benedict, a meat station, Greek Tzatziki, the Nauti Burger and sweet desserts for $55/person. Nautilus brunch is complete with the incorporation of live music and picturesque pool and oceanfront views.