As of today, The Garment District is getting two new residents under one roof: The Rag Trader and Bo Peep Cocktail & Highball Store courtesy of FOX Lifestyle Hospitality Group. Together both establishments have worked to preserve the nostalgic architecture of what was once an old garment factory and tailor's office.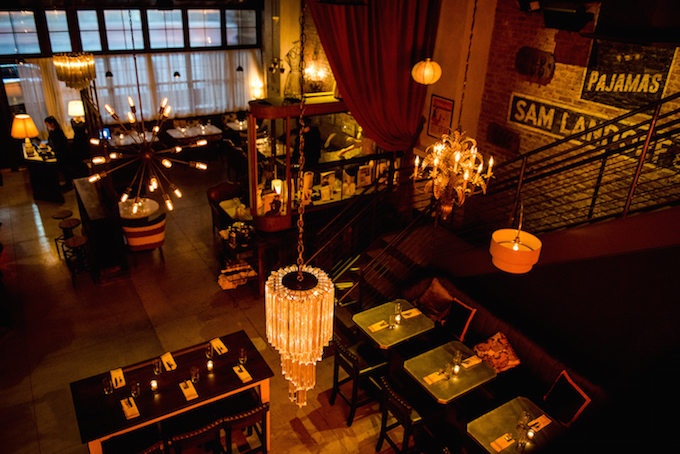 "Underneath the layers of walls and flooring that had amassed over time, the building had a hidden story to reveal from when the neighborhood first flourished as a creative fashion haven," said Mark Fox, restaurateur and founder of FOX Lifestyle Hospitality Group. "I imagined the seamstresses and tailors working on this very floor 70 years ago and wanted the decor to pay tribute to just that."
The Rag Trader features an underground piano cocktail bar, Bo Peep Cocktail & Highball Store, inspired by the mid-20th century heyday of the neighborhood when the area boasted the highest concentration of garment manufacturers in the world.
At The Rag Trader, guests will be offered a creatively designed menu by Executive Chef Justin Ottervanger. Showcasing a selection of raw bar options, snacks, authentic pizzas, and plates ranging in size, the menu features signature dishes such as Sea Scallop Crudo, Rogue Smokey Blue Salad, Fried East Coast Oysters, Crispy Skin Salmon, Cauliflower 'Steak' and the 14oz Bone-in New York Strip.
"The menu focuses on refined comfort food and is designed to allow multiple types of dining experiences. Whether looking for a bite or quick drink with friends, a romantic dinner, or late-night pizza after a crazy night out, we have something for everyone," said Ottervanger.
Head downstairs to the intimate and opulent Bo Peep Cocktail & Highball Store, which pays homage to what was once a tailor's fitting room. The menu draws inspiration from the '40s and '50s, and consists of over 30 cocktails divided into fun and thematic categories.
Beverage Director Evan Hawkins also expertly created the drink program, which boasts a selection of classic and modernly crafted cocktails, craft beers, as well as a thorough wine program.
"For Bo Peep, I wanted to take it back to a time when drinking was sexy and adventurous. Piano keys dancing across the air, guests were dressed to impress and the perfect drink was in hand," says Hawkins.
The Rag Trader is open for lunch and dinner daily, plus brunch on weekends:
Sun-Thurs: 11 a.m. – 2 a.m.
Fri-Sat: 11 a.m. – 4 a.m.
Bo Peep Cocktail & Highball Store is open daily:
Sun-Thurs: 5 p.m. – 2 a.m.
Fri-Sat: 5 p.m. – 4 a.m.
Location: 70 W 36th St, New York, NY 10018