The most important food holiday of the year is just two short weeks away. If cooking a turkey and all of the fixings seems like a daunting task, why not let the professionals handle the heavy lifting? At the following restaurants you can sit back, relax, and really be thankful—for not having to wash any dishes.
Photo Credit: Aubrie Pick
The Cavalier's wildly popular Thanksgiving is back and available on Thursday, November 23 from 11:30 a.m. to 8 p.m. The menu is a four-course choose-your-own adventure feast with decadent options like foie gras torchon with charred bread and pear and persimmon mostarda and angus ribeye with red wine-marrow jus. Of course, the classic slow-cooked turkey with all the sides—potato puree, cranberry sauce, and winter vegetable salad—is also a selection. Finish the meal with a blood orange creamsicle, gingerbread, or frozen eton mess.
The executive chef of Americano, Josua Perez, has curated a menu that features traditional and modern Thanksgiving offerings. The three-course menu has four options for each savory course and three items for dessert. There's something for every palate—from warm butternut squash panzanella with goat cheese and pomegranate to black cod with manila clams and fennel chowder. Heritage turkey is an option and it comes with sausage stuffing, glazed carrots, cranberry sauce, turkey leg confit, and gravy. Delish!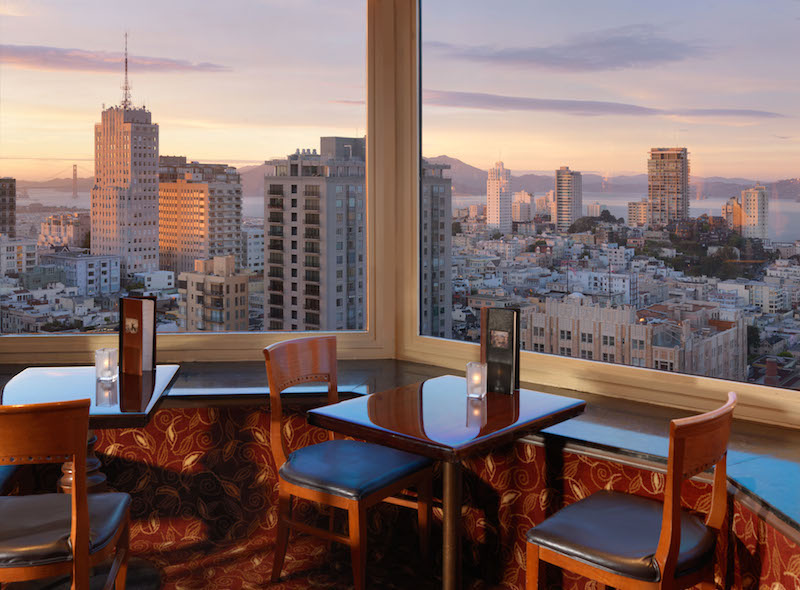 Grab the whole family and head to the InterContinental Mark Hopkins rooftop restaurant, the Top of the Mark for an extravagant dinner buffet from chef Michael Wong. There will be roasted acorn squash soup, citrus glazed turkey, raw seafood like oysters, caviar, and clams, cheese, cured meat, and more. There's also a pasta station and a variety of desserts including a bananas Foster station.
In Marin, at El Paseo the new chef Todd Shoberg is serving a meal in a classic setting that's been the backdrop to many a celebratory occasion over the past 70 years. Shoberg's making green bean casserole, wild mushroom stuffed turkey leg, root vegetable stuffing, pumpkin bolognese, and 28-day dry-aged ribeye.
Further north in Napa, Chris Cosentino is making a three-course menu at Acacia House. The first course and dessert are plated, but the main course will be served family style and includes turkey breast with confit roulades, sausage oyster staging, Joël Robuchon mashed potatoes, duck fat roasted carrots, and orange cranberry jelly.
Photo Credit: Allison Tong
Want to step up your culinary game? Learn to make pie with one of the city's best pastry chefs, Lori Baker, of Bluestem Brasserie. She's hosting a pie making class as part of Airbnb Experience . There are two two-hour classes—one tomorrow, Friday, November 10 and the second on Friday, November 17, from 3 to 5 p.m at the restaurant. Students will learn Baker's technique for perfecting pie dough and crafting a balanced fruit filling.
Hosting at home, but want to outsource the cooking? There are plenty of delicious options. Rustic Bakery in Marin has a selection of made to order savory sides and sweet finishes. Pick up a quart of roasted butternut squash and Fiji apple soup or foraged mushroom soup. Order cocktail gougeres, buttermilk biscuits, cornbread, and rolls. Pie options include maple bourbon pecan pie, pumpkin pie with brandy and fresh ground spices, or old-fashioned cinnamon streusel apple pie. In the South Bay, Manresa Bread is baking apple galette, gluten-free pumpkin cake, cranberry pistachio babka, and miniature pecan and pumpkin pies. Here in the city, my favorite bakery, Le Marais, has got you covered. Pear frangipane, pumpkin macarons, chocolate tarts, carrot cake—you name it they have it! While you're at the bakery why not pick up a batch of croissants to have for breakfast the day after Thanksgiving?