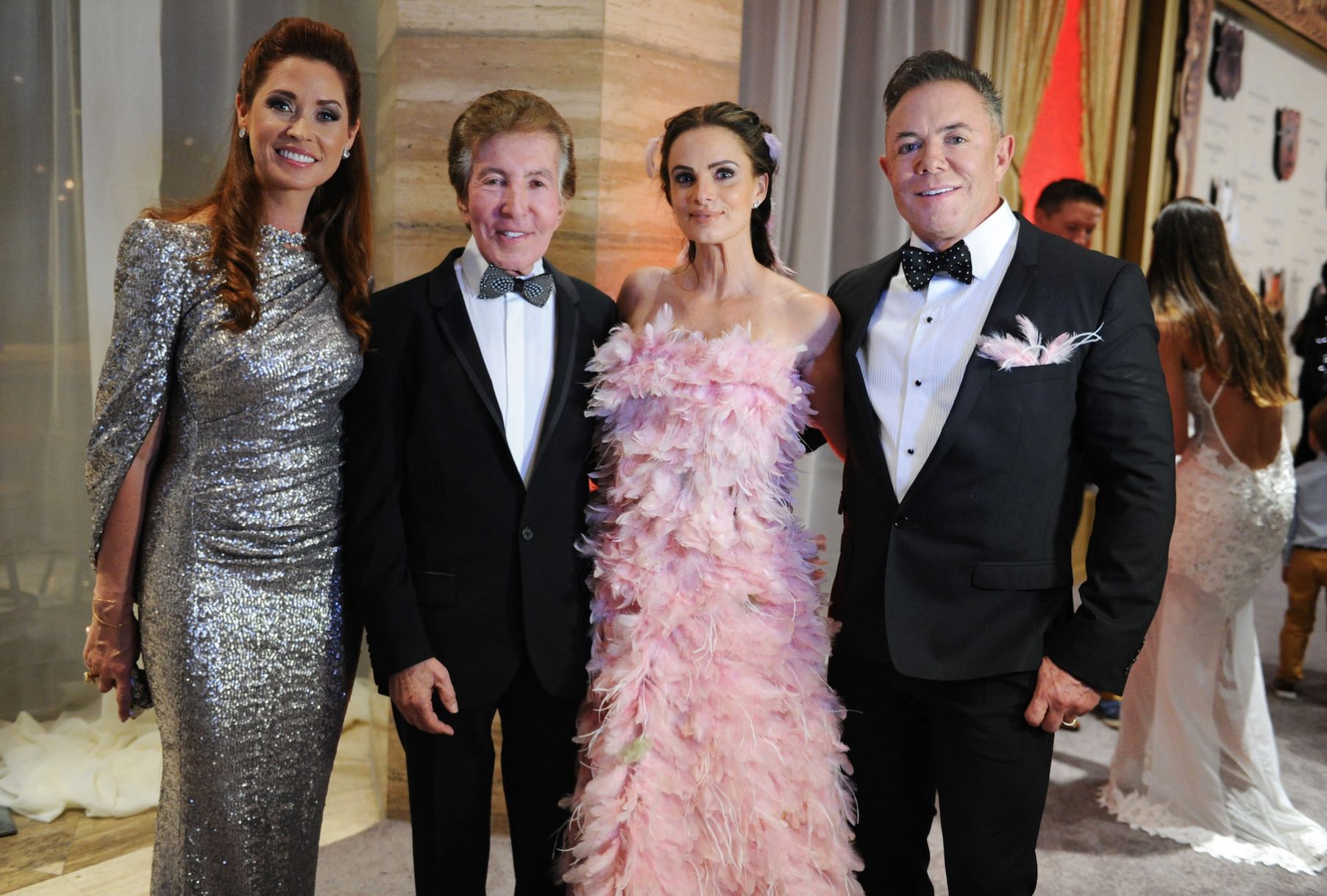 Photo Credit: Make-A-Wish South Florida
Miami's most anticipated, glamorous, seasonal-kickoff event is rapidly approaching: the annual Make-A-Wish Ball. Spearheaded by the Malnik family, and most specifically the Ball chairman, Shareef Malnik, the annual fête has continuously delivered sold-out ticket sales and the highest-grossing profits out of any Make-A-Wish event throughout South Florida. The secret to this success? The philanthropic family behind it and the trio of Shareef Malnik, president and CEO Norman Wedderburn and gala host Robert Hill.
Shareef recalls when he first became chairman 19 years ago. After attending the ball for many years with Lee Schrager, he developed a fondness for the event but also thought with a twinge of regret that if something was not done, there may be a decline of attendance and eventually the disappearance of the beloved ball due to its monotony. So, he decided to take his concerns up with the bosses—his father, Al Malnik, and Make-A-Wish South Florida president and CEO Nancy Strom. "I was sitting with my dad and Nancy, and I was explaining the changes I thought the ball needed to make," he recalls. "And they ultimately asked me to become the chairman of the Ball—which was not what I was expecting—but I immediately said yes. Without even thinking." However, Al's philanthropic son had a few conditions before fully accepting the position: "I told them I would accept under the condition that I would make a lot of changes—because I knew sometimes it's hard to see change when you've been doing something for nine-10 years one way only."
Always the visionary, Shareef foresaw radical changes that needed to be made to the iconic Miami event, most importantly satisfying the need to extend the Ball's reach to a younger crowd. "We had to make the Ball relevant for today," he says. "We have a community of extremely cutting-edge people, therefore we need a cutting-edge Ball." Some of the changes included swapping the orchestra and making the ever-famous Kim Kardashian the emcee of the Ball. These changes faced their share of pushback. "'But the same orchestra has been playing with us for nine years… but [Kim Kardashian] had a racy video come out,'" Shareef says of the concerns. He responded, "Exactly. We have to change the composition of the Ball, the texture of the Ball to keep it relevant. We have to look years down the line and keep people coming back for more."
Photo Credit: Romain Maurice
And indeed they did, each year garnering larger audiences, more funds and bigger and better entertainment. "When we first enlisted Shareef to head the Make-A-Wish Ball, I knew he was the man for the job. With his experience running The Forge and the strong ties he had with people throughout the city, it was a natural fit. That year, we decided to go all out and spend $75,000 and have the Ball at the Intercontinental Hotel. I believe the first year we raised $200,000, and now we raise $2.5 million. It's been more successful than we could have ever predicted," says Al Malnik.
To Shareef, however, the importance is not so much in the amount of funds raised, but to maintain an audience that keeps returning every year. And keeping with his boundless visions, this involves keeping things fresh each year. "Of course, how much money you raise is important, but it's not the most important thing in any one individual Ball, because we need to ensure people have a good time and want to come back," he says. "It's thinking about the next five, 10, 15 years ahead."
Entertainment is a key component, and with each Ball the organization manages to outdo the year before. Last year, John Legend headlined the Ball with an outstanding live performance at the pinnacle point of the night. This year, they've managed to snag Lenny Kravitz.
"I've known Lenny for years, and I've always respected him, and I wanted him this year more than any other artist," Shareef shares. "I called a very dear friend of his and said, 'let's get the conversation going,' and here we are."
Another key component to its success is the Ball's most recent emcee: Shareef's wife, actress Gabrielle Anwar. Each year, the duo sets things off with a grand surprise entrance. "I'll never forget the most awkward year when Gabrielle had me dress in tights and perform a choreographed ballet performance with her on stage. That was maybe not my favorite year, but certainly most memorable," Shareef laughs. "Each year is memorable—the Make-A-wish team makes sure of that! But I did very much enjoy dancing the Slumdog flash mob with my family," Anwar quips on her personal fondest memory.
For the elder Malniks, their relationship with the organization is very deep and personal. The couple first became involved 20 years ago and chose to dedicate themselves wholeheartedly to the chapter, deeming it their main objective of what they wanted to accomplish in the charity world. At the time, they didn't have kids of their own together, but Make-A-Wish stood out to them most because of the involvement of the children. And Al and Nancy experienced firsthand what it's like to be on the other end of the system after their son was diagnosed with leukemia. "You never realize when you're involved with something, and all of a sudden someone comes to you with paperwork saying, 'by the way, you are qualified for Make-A-Wish,' and you stand there holding the paperwork and you think, 'this is real, this is us.' The whole element of what you're doing truly holds another meaning," Nancy emotionally recalls. "We didn't utilize the services because we are contributors, but it's amazing to see all the things that can be done for these kids, to just make them not think about their disease for even a moment." Amazingly, the Malniks' son is now 13 years in remission, and they have remained diligently dedicated to the organization to this day. One of the highest moments of the family's history with Make-A-Wish was certainly when Al and Nancy received the Lifetime Benefactors award. "I took that very personally because I thought it was so wonderful for them to acknowledge our participation," Al said.
Photo Credit: Romain Maurice
Together, the family has accomplished more than one could hope or imagine for the Make-A-Wish children. To this day, they have granted every single wish for each child involved. But for Shareef, this is a given—he would not accept anything less. For the Malniks and the rest of the organization, the goal is so much bigger. "Our foremost mission is to grant every single wish to every child in our chapter. Period. We don't want any child to go without a wish, and we've never said no—even in the worst economic times, we've granted every single wish. So, we of course will continue to do that," Shareef explains. "We've also added 90 more counties into our territory, which is fantastic. So, another short-term goal is to make that merger seamless. But the big, overall mission is to create a community and culture where Make-A-Wish is synonymous with our community; it is integrated in our lives, and we engage people, and the experience that they have with us is to make them enjoy it and want more of it, so that it becomes a lifestyle. And Make-A-Wish really is a lifestyle."
Al Malnik shares the same philosophy as his son, who is successfully carrying on his philanthropic efforts. "The common denominator in this all is the kids. It's such an inspiring mission for those who can afford to give. And I think we've got a very good formula, and we're going to continue to expand. Our goal for the future of the Ball is to annually net $5 million. That's our aspiration right now, and I firmly believe we will succeed," he states.
If one thing can be certain, it's that this year's Ball will be unforgettable. As we wait in suspense—the Malniks continue to remain tight-lipped on what this year's theme will entail—it is certain it will live up to and exceed all elements of year's past. "It's mystical music box… so just think about dancing, music, colorful and animated song and dance," Shareef hints. "And of course, Lenny Kravitz is going to rock us!"
Photo Credit: World Red Eye