Photo Credit: Robin Hill
Wind your way up or down North Miami Avenue, and much like buried treasure, the Miami Design District shines like a diamond in the rough. This passion project of esteemed Miami developer Craig Robins is where fashion comes alive. Here, you don't just grab a random pair of shoes, you get a full shoe-shopping experience. Part of that experience? Personalized valet and shopping attendants, sparkling art installations, celebrity sightings, A-list eateries, fashion shoots and glamorous vibes that are just so distinctly Miami.
When you get there, start at Palm Court, the heartbeat of this buzzing neighborhood. Skirting its outer edges, the flagship Dior is a must-see for luxury shoe shoppers. The complex's white façade is a piece of art itself; it was inspired by a Japanese-style dress from Dior's Spring/Summer 2007 couture collection. Inside, women's shoes are on the second floor, not far from a VIP salon and terrace where both privacy and wine are free-flowing. If it's men's shoes you're looking for, wander just a block away to Dior's sister store, Dior Homme. A striking contrast from the brand's fanciful O.G. Miami shop, this one is sleek, black and white, and made with the modern man in mind.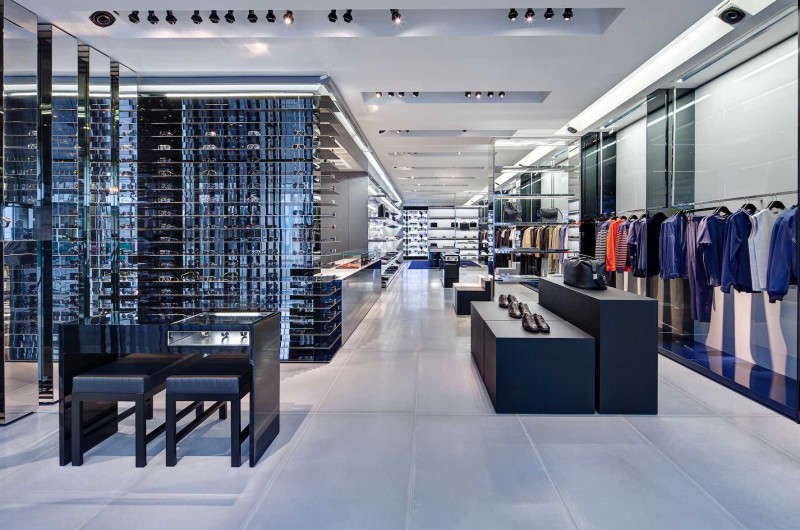 Photo Credit: Dior Homme
Also in Palm Court, the "cutout" aluminum storefront of Christian D.'s French neighbor, Louis Vuitton, is hard to miss. The architectural brainchild of Japanese designers Jun Aoki and Mirei Uchibe, the outside is just foreplay for what's inside. A nod to high points in Miami's history, you'll find touches of Art Deco mixed with 1950s modernist furnishings. And beautiful shoes aside, the art speaks volumes. While you try on a pair or five, take note of the 36-foot glass-and-mirror artwork by Florida's Teresita Fernandez and scenes of St. Tropez painted by a French artist named André.
Of course, no shoe shopping is complete without a peek into Valentino—and lucky for you, it's right next door. A testament to its Italian roots, there's Venetian terrazzo everywhere you turn, and with nearly 5,000 square feet of space, the whole store has a definite "palazzo" feel. The genius behind it is real. In the brand's true avant-garde style, Valentino has purposely created a store in Miami that doesn't actually feel like a store at all.
Ready to explore the part of the District outside of Palm Court? Good. The iconic Christian Louboutin awaits. Seen on red carpets and runways worldwide, these shoes are most known for their bright red soles, flawless design and sky-high stiletto heels. At the brand's Design District boutique, which sits right across from the Moore Building on NE 40th Street, expect the same grandeur you feel when you actually own a pair—and of course, its signature crimson color. Paying homage to its French history, the high ceiling is designed to look like a 1920s Parisian museum. Beneath it, you'll find endless red carpets, a grand staircase, a mezzanine, large open windows, white and gold birch walls, and an actual colonnade from a 1970s building façade in Paris. Tailoring it to Miami, there's some Florida flair, too; like touches of Florida Keystone, coral and art by Key West artists.
Photo Credit: Christian Louboutin
Next door, Prada's elegant window displays and Roberto Baciocchi-designed storefront will certainly attract you. Inside, creamy carpets run through every room, setting a neutral base for otherwise interesting design choices. Here, corners are round instead of square, tables are made entirely of crystal and subdued green lighting gives the entire store a playful, sage glow. Quietly sitting to the side, the curvy, dark green couch is as alluring as the shoes themselves—so grab a seat and try some on.
Before you leave, you have to stop by one of the Design District's newer additions, the jaw-dropping Saint Laurent. Spanning two floors, it's filled with polished brass fixtures, statuary and silk marble walls, benches made of leather and nickel-plated brass, and towering glass cases that proudly display YSL's colorful handcrafted footwear. "The goods" aside, the store is a fashion lesson in itself. With its vogue but simple white-and-black interior, it reaffirms an age-old mantra that fashion gods like Yves Saint Laurent have been trying to tell us for years: Sometimes, less really is more.
Miami Design District sits just north of Midtown and is bordered by NE 36th Street to the south, NE 43rd Street to the north, NW 1st Avenue to the west and Biscayne Boulevard to the east.
Photo Credit: Miami Design District
Subscribe to discover the best kept secrets in your city