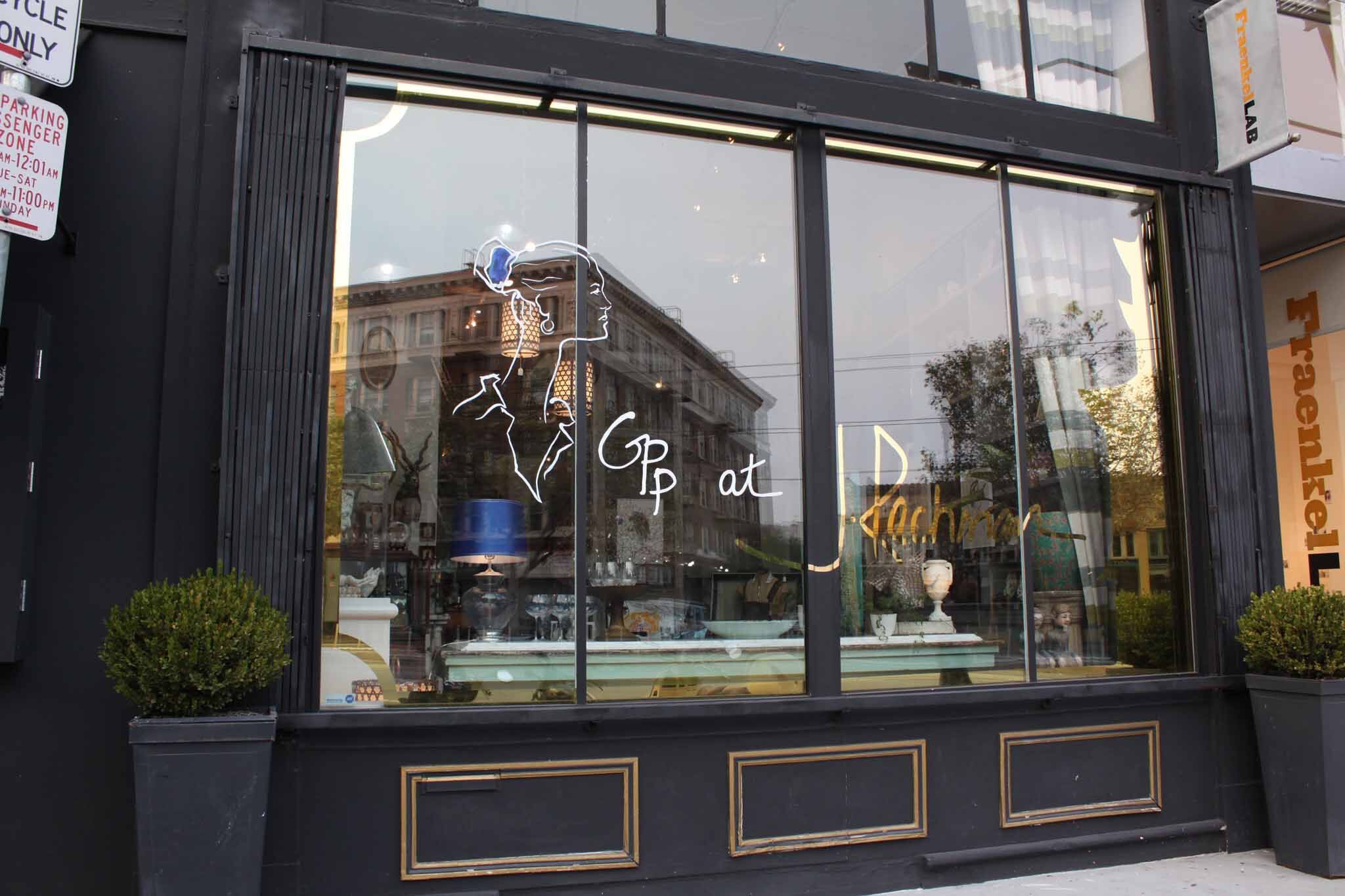 Photo Credit: Jeffrey Fulgencio
Interior design extraordinaire Jonathan Rachman has recently debuted an exhibit of fashion illustrator Gladys Perint Palmer's work. From now until the end of the year Perint Palmer's beautiful illustrations are on display at Rachman's namesake boutique J.Rachman. The amazing illustrations feature everything from runway interpretations to notable celebrities to local luminaries.
Photo Credit: Jeffrey Fulgencio
Some of Perint Palmer's subjects include gowns by Missoni, Givenchy, Chanel, Oscar de la Renta, and Fendi; and portraits of Princess Diana, Julien Macdonald, Densie Hale, and Anne Getty. Her works have been featured in top publications like The Sunday Times, The New York Times Magazine, New Yorker, L'Officiel, Elle, and Vogue. She is currently working on a commissioned portrait of Angela Missoni for Vogue Italia to celebrate Angela's 20th anniversary as the brand's creative director.
Photo Credit: Jessica Monroy for Drew Altizer Photography
Rachman first became familiar with Perint Palmer's work when he took her class at the Academy of Art University. "As her student, I was always in awe of GPP's technique in illustration and her ability to bring any subject's personality to life," Rachman told Haute Living. "As a designer, I am even more in awe of how her work is always so chic and preciously unique. I am honored and thrilled to represent her work in San Francisco, welcoming my teacher, mentor and an icon!" Perint Palmer is the executive vice president of artistic development at the Academy where she continues to inspire fashion students to this day. "It is delightful to link up with Jonathan, my former student," Perint Palmer said of the partnership. "His space and his taste level are superb. His enthusiasm is contagious."
Photo Credit: Jeffrey Fulgencio
To commemorate the collaboration, Rachman hosted a stylish soirée at his treasure-filled shop, which is across the street from Zuni Café. To make the exhibit's launch even more festive, Rachman invited Susie Hoimes, Margot Larkin, and Lydia Kortelink to showcase their unique goods. Hoimes has an extensive collection of vintage jewelry, MDVII; Larkin makes hand-painted glassware—think wine glasses with pretty coral motifs; and Kortelink is the founder of Merritt & Rich, a whimsical collection of silk scarves. The women mingled with guests chatting about their respective companies and selling their gorgeous goods.
Photo Credit: Jeffrey Fulgencio
Guests sipped pink champagne and negronis and snacked on delicious passed appetizers. Notable attendees who hobnobbed at the party were Mary Beth Shimmon, Dina Bandman, and Claudia Juestel.
The exhibit is open to the public at J.Rachman from now until December 31. Prices of Perint Palmer's signed original illustrations are available upon inquiry.
Gladys Perint Palmer's work on display
Photo Credit: Jeffrey Fulgencio
Gladys Perint Palmer's work on display
Photo Credit: Jeffrey Fulgencio
Gladys Perint Palmer's work on display
Photo Credit: Jeffrey Fulgencio
Gladys Perint Palmer's work on display
Photo Credit: Jeffrey Fulgencio
Photo Credit: Jeffrey Fulgencio
Photo Credit: Jeffrey Fulgencio
Photo Credit: Jeffrey Fulgencio
Photo Credit: Jeffrey Fulgencio
Photo Credit: Jeffrey Fulgencio
Subscribe to discover the best kept secrets in your city