Photo Credit: Getty Images/Romain Maurice
Haute Living celebrated its annual Haute 100 evening honoring the 100 most powerful and influential members of Miami with a special dinner in the Miami Design District's Palm Court with partners Hublot, Prestige Imports, JetSmarter, Douglas Elliman, Armand de Brignac and Yvonne Rose.
Photo Credit: Getty Images/Romain Maurice

Photo Credit: World Red Eye
As guests entered the fête, they were greeted by a gorgeous display of Prestige Imports' finest fast toys, including a white Lamborghini Aventador S and a black Pagani Huayra, as they made their way toward the red carpet where Miami's elite was mixing and mingling with cocktails and gourmet Cuban bites from the newly-opened Estefan Kitchen.
Photo Credit: World Red Eye
Guests on the prestigious Haute 100 list include Miami's greatest athletes, philanthropists, developers, entrepreneurs, creatives, hospitality power players and more. Attendees included Emilio Estefan, Loren and JR Ridinger, Mike and Alicia Piazza, Chris and Adrienne Bosh, Jay Ajayi, Hublot President of North America Jean-Francois Sberro, Prestige Imports CEO Brett David, JetSmarter CEO Sergey Petrossov, Shareef Malnik and Gabrielle Anwar, Rick De La Croix, Jay Parker, Edgardo and Ana Cristina Defortuna, Keith and Evelyn Menin, David and Christy Martin, David and Isabela Grutman, John Simonian, Larsa Pippen, Yvonne Rosemeir and more, as well as actor Carlos Ponce and Latin singer Jencarlos Canela.
Photo Credit: Getty Images/Romain Maurice
Photo Credit: World Red Eye
Photo Credit: Getty Images/Romain Maurice
Dinner was served amidst the world's most luxurious brand's boutiques in Palm Court, featuring a grand seven-course selection of authentic Cuban dishes catered by Estefan Kitchen. Guests enjoyed sips of Armand de Brignac Rosé to the musical performance of the French Caravan and later a set by DJ Arkitekt.
Photo Credit: World Red Eye
Toward the end of the evening, special honoree Emilio Estefan was called to the stage as Haute Living presented him and his wife Gloria with the Miami Legacy Award for the couple's continued success and contribution to making Miami the great city that it is today. After a highlight reel of the power couple's greatest endeavors, Haute Living CEO Kamal Hotchandani called Brett David and artist Shawn Kolodny to stage to present a special painting created of Gloria and Emilio to the music mogul.
Photo Credit: World Red Eye
The breathtaking painting depicts their Presidential Medal of Freedom photo, along with elements of the Emilio Estefan Haute Living cover story incorporated into the design, which told its own story. They were also presented with a second beautiful painting by artist Paul Gerben. Each painting captivated the pinnacle of the couple's success, and also the great love of their marriage.
Photo Credit: World Red Eye
Photo Credit: World Red Eye
In his following speech, Estefan explained why he loves Miami. "We love you guys, and the one thing I realize about Miami is that a lot of us have grown together for many years, and rather than being envious of each other, we feel proud of each other, and that's what Miami is all about."
Photo Credit: World Red Eye
After a final toast to the evening and one more set from the French Caravan, guests departed the beautiful night with special gift bags including the Arancia di Capri mini hatbox fragrance from Acqua di Parma, jewelry from Yvonne Rose, Haute Living Haute 100 magazines and gifts from Douglas Elliman.
Shareef Malnik & Shawn Kolodny
Photo Credit: World Red Eye
Stephanie Sayfie Aagaard & Gabrielle Anwar
Photo Credit: World Red Eye
Adrienne Williams Bosh & Chris Bosh
Photo Credit: World Red Eye
Alan Zelcer, Ruth Zelcer, Angela Birdman, & Louis Birdman
Photo Credit: World Red Eye
Brett David, Brooke David, Evelyn Menin & Keith Menin
Photo Credit: World Red Eye
David Martin, Christy Martin, & Michael Comras
Photo Credit: World Red Eye
Edgardo Defortuna & Carlos Rosso
Photo Credit: World Red Eye
JR Ridinger, Loren Ridinger, Alicia Piazza and Mike Piazza
Photo Credit: Getty Images/Romain Maurice
Jacquelynn Power and Linda Uribe
Photo Credit: World Red Eye
Armand de Brignac Rosé
Photo Credit: World Red Eye
Jeff Berkowitz, Jennifer Valoppi, & Christian deBerdouare
Photo Credit: World Red Eye
Kamal Hotchandani, Emilio Estefan and Jencarlos Canela
Photo Credit: World Red Eye
Haute 100 atmosphere
Photo Credit: World Red Eye
Lisa and Lenny Hochstein
Photo Credit: Getty Images/Romain Maurice
Keith Menin, Jay Parker, & Camilo Miguel
Louis & Angela Birdman
Luis Garcia Fanjul & Judith Kamps Garcia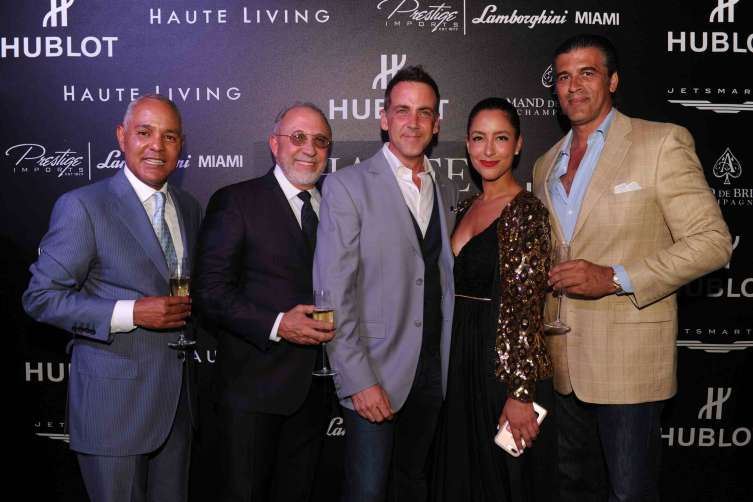 Reginald Sperling, Emilio Estefan, William Vento, Violet Camacho, & Carlos Ponce
Tracy Mourning & Violet Camacho1
Semilof and Vadim Lampert
Photo Credit: Getty Images/Romain Maurice
Larsa Pippen and Isabela Rangel Grutman
Photo Credit: World Red Eye
Haute 100 Dinner Menus
Photo Credit: Getty Images/Romain Maurice
Emilio Estefan and Jacquelynn Powers Maurice
Photo Credit: Getty Images/Romain Maurice
Haute 100 atmosphere
Photo Credit: Getty Images/Romain Maurice
Subscribe to discover the best kept secrets in your city