Director of The Bill Belichick Foundation and mother of twin daughters (Ashley and Katie), Linda Holliday is also the longtime girlfriend of New England Patriots Head Coach Bill Belichick.
Photo Credit: Russ Mezikofsky
Holliday heads up the foundation that raises money to provide financial support and mentorship for families and organizations in need. According to its website, "its mission is to bring the values of the Belichick family – a love of sports, coaching and team building – to the athletic leaders of tomorrow."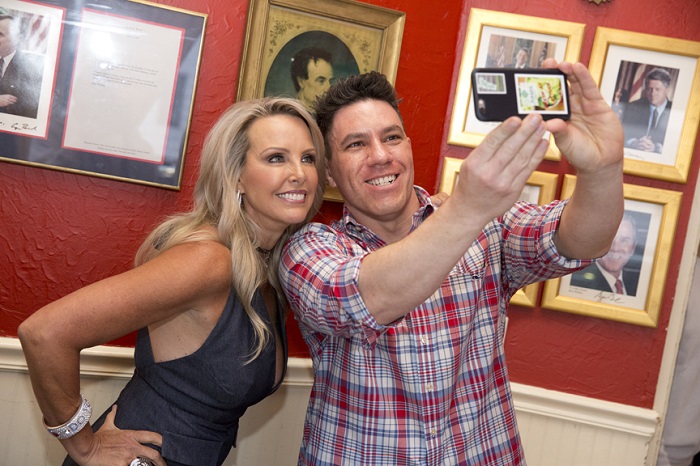 Photo Credit: Russ Mezikofsky
The former runner-up in the Mrs. Arkansas Pageant can often be seen around Boston with Coach Belichick at haute parties, charity events and, of course, Patriots games.
Photo Credit: Russ Mezikofsky
We caught up recently with Holliday to find out what she loves most about Boston.
Where were you born: Knoxville TN
How long in Boston:  10 Years
Neighborhood: South Shore
Occupation: Director of The Bill Belichick Foundation
Favorite Restaurant: In the South Shore~The Square Café & The Quarry OR In Boston~Sorellina
Best Sushi: Crudo in the North End
 Best Italian: Stega North End
Best dessert: Italian … Mike's Pastry
Best place for a romantic date: L'Espalier
Best Sunday brunch: During football season ~ Gillette Stadium
Best place for a power business meeting: Four Seasons
If you have out of town guests, which hotel would you recommend? Boston Harbor Hotel
Favorite shopping venue/boutique: Too many to name just one! Locally in the South Shore, it would be ChelBella.
Favorite place to buy jewelry/watches: In Boston, Deprisco's!  (See Donna!) In the South Shore, absolutely Hingham Jewelers (See Stacey!)
Best Spa: Mandarin Oriental
Favorite Charity Event: The Bill Belichick Foundation Huddle Event every Fall ~of course!  And my other passion ~the BCRF Hot Pink Event every Spring!
Favorite Cultural Event: Patriots Football
Favorite Cultural Institution:  The Isabella Stewart Gardner Museum
Best Steakhouse: Strip by Strega
Best Pizza: Area Four
Best Lunch: Stephanie's on Newbury especially in the Spring OR Mother Juice.  In the South Shore for juice and vegan lunch is The Daily Press Juice Bar
Best Gym/Athletic Facility:  My girls, Katie & Ashley love Equinox in Boston.
Best Massage:  ZenDen in Hingham Amazing Pilates & Yoga too!
Best Limousine/Driving Service: Emerald Square Limousine
Best Museum/Exhibit: The Whaling Museum in Nantucket!
Describe Boston in three words: Historical, Passionate (Sports) & Intelligent (Smaht!)
Favorite historic/legendary place to see or explore: The lighthouses on Nantucket.
All-around favorite spot in Boston:  Anywhere near the water!
Best Aspect of Boston: Loyalty! I absolutely love how Bostonians enthusiastically support their sports teams and the many charities and philanthropic venues in the area.  Thank you for all that YOU do Boston!
Save
Subscribe to discover the best kept secrets in your city