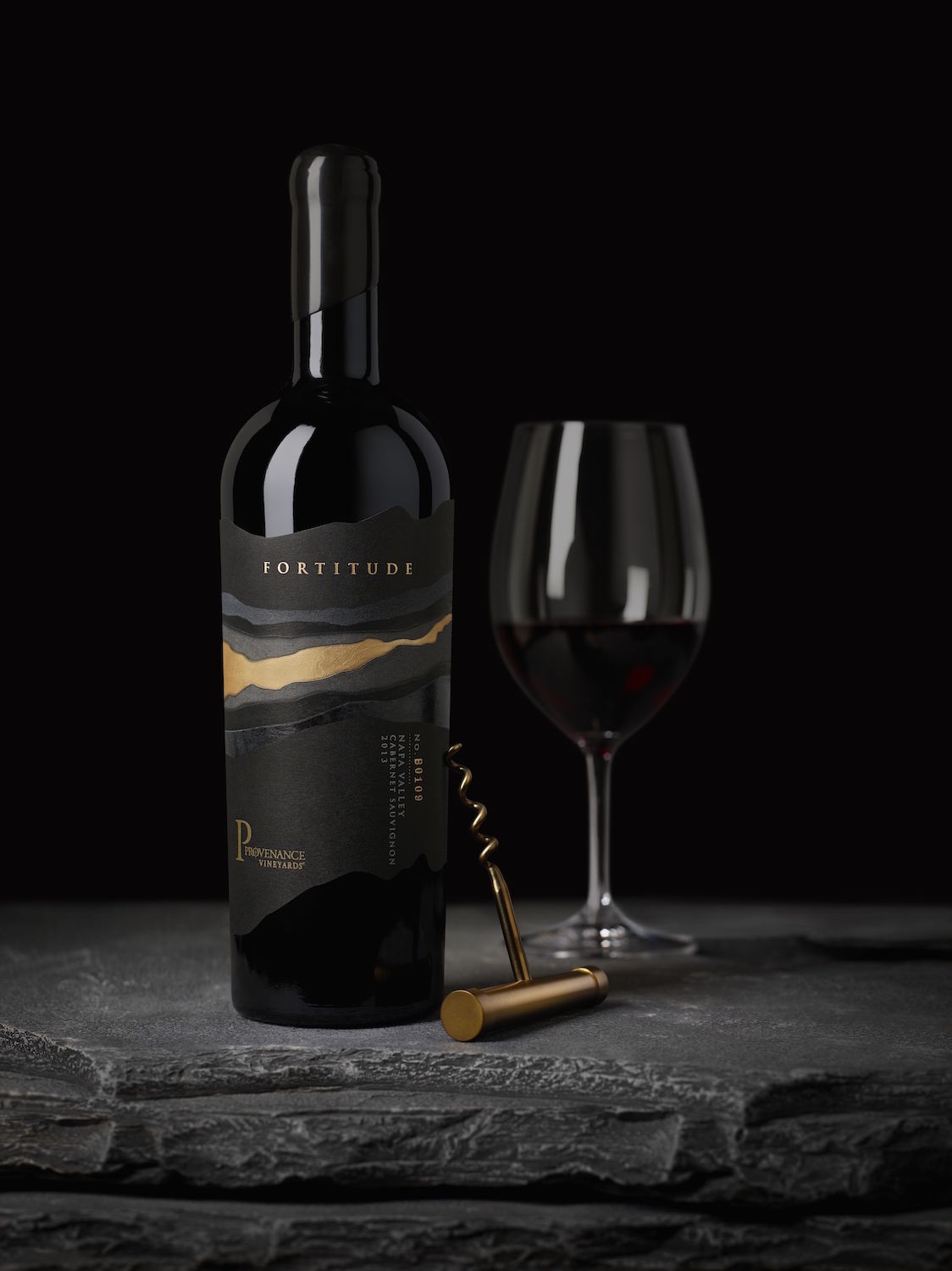 For Provenance Vineyards, the layered and nuanced flavors of its quality reds are nothing new. The winery was forged on the fruits of the famed 58-acre Hewitt Vineyard along the Rutherford Bench—a historic property that since the late 1800's has produced some of California's best Cabernet Sauvignon. So what is it about the winery's latest release that has wine aficionados buzzing?
Fortitude, the winery's recently released 2013 vintage varietal composition Cabernet Sauvignon, is, according to Provenance winemaker Trevor Durling, "the best expression of the entire Napa Valley." The wine's layered complexity is derived from grapes grown in Durling's favorite Napa Valley vineyards: 47% is from Hewitt, 34% is from famed To Kalon (both vineyards are located on alluvial fan soils on bench lands near the Mayacamas Mountains that flank the Valley on the west), and 11% is from the iron rich, volcanic soil of Polaris on the east side of Howell Mountain. The 8% balance is from a vineyard on Crystal Springs Road at the base of Howell Mountain.
Add to this illustrious mix a simply fantastic vintage year. "If there is an ideal vintage, this was it," says Durling of the 2013 growing season that was noteworthy for its low rainfall and dry, warm spring and summer. Perfect weather throughout harvest time also helped to foster the expressive flavors found in Fortitude. But of course, atmospheric conditions are only part of a wine's equation; a wine's true artistry is the result of winemaker knowledge and technique, and the University of California, Davis trained Durling relies on the finest traditions to extract elegant, powerful wines that express their vineyard origins. Fortitude is a prime example. Saturated with essences of blackberry liqueur, dried black cherry, dark chocolate, sweet pipe tobacco, and caramel, Fortitude is a huge wine that works now, and will be even more amazing a few years down the road.
How does Durling do it? Raised in a household where wine was a dinner table staple, Durling was exposed early. A few viticulture classes at UCD had him hooked, and after two internships at Gloria Ferrer and graduation from UCD, the charming and amiable Durling joined Moon Mountain Vineyard, a small, well-regarded organic vineyard in Sonoma. "I spent a bit more than four years at Moon Mountain and it was a great place to start my career," says Durling. "I got to work on small-lot, luxury-class wines made from primarily Bordeaux-style grapes grown in mountain terroir."
Durling joined Provenance in 2010 as assistant winemaker and was part of the team that produced Wine Spectator's 2013 #1 Cabernet Sauvignon – the 2010 Hewitt Vineyard Cabernet Sauvignon. In 2015 he was named head winemaker, and essentially caretaker of a decades long tradition of highly crafted, highly desirable wines. "I'm fortunate at Provenance to have access to some of the best fruit in the Napa Valley," he says. "In addition to our estate vineyards in Rutherford, we harvest grapes from Carneros in the south all the way up to Calistoga in the north. Our job is to make sure that each wine is balanced, complex, exciting and representative of its terroir." With Fortitude, Durling has more than done his 'job.'
Subscribe to discover the best kept secrets in your city