There is no gift more timeless than a watch. When handcrafted with the utmost care and kept in pristine conditions, it can be passed down for many generations to come. According to Jerry Hum, the founder and CEO of Touch of Modern, a local e-commerce start-up that sells stylish and interesting specialty items geared toward men, a watch is the ultimate gift. "Men talk about watches, and who doesn't want their gift talked about?!" Hum recently told Haute Living. "Watch collectors also often have their watches in some sort of display and it's something that they visit and enjoy every morning even if they aren't wearing your particular watch that day, so it's not like any other accessory or article of clothing that gets tucked away and forgotten when it's not in use." Touch of Modern has sold over 50,000 watches—it's one of the luxe brand's biggest categories. We asked Hum to select the best watches to give this holiday season. Here are his favorite pics.
The Cvstos challenge pride of Colombia automatic watch is a limited edition piece that is one-of-a-kind. The sleek navy color and gold details bring to mind a nautical theme. This watch is perfect for the military man.
The Xericscope squared automatic limited-edition watch is a mechanical rose gold timepiece. A second time zone can be set and the oscillating  mass rotor can be seen from the back of the watch.
The Seapro Coral Quartz is black and white  watch made in Los Angeles. It's versatile, classic, and modern.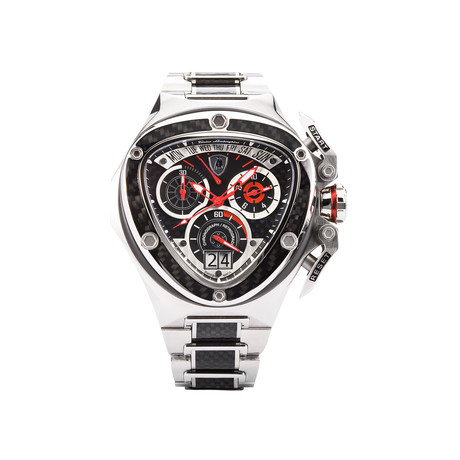 Does your man want his car and watch to match? This timepiece mimics the sleek lines of a Lamborghini Spyder. The water resistant watch has sexy red hands and is made of stainless steel, quartz, and minerals.
Bulgari has been making watches since 1884 and it's technique is unparalleled. This automatic watch has a leather bracelet and silver face making it a quintessential model.
A vintage piece is incredibly impressive—especially for the man who loves to collect watches. This Hermes automatic can only be found at auction. Think of it like wearing a piece of chronological history on your wrist.
Mechanical Fortis watches branded with the name Marinemaster were introduced in the 1940s. It's one of the timepiece makers most popular and long-lasting styles.
The champagne time face and blue leather strap make this F-43 Flieger chronometer automatic alarm watch an ideal gift for the style conscious gentleman.