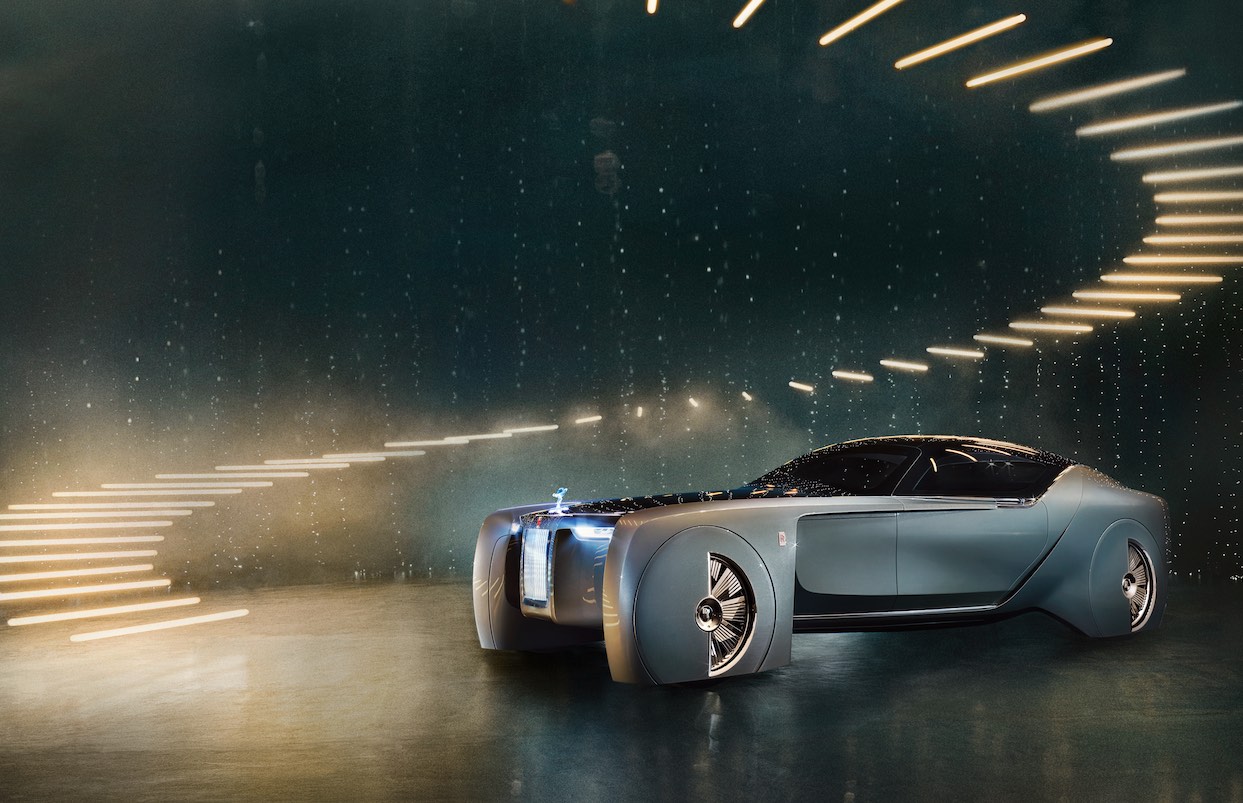 Photo Credit: Rolls-Royce
The Barker Hanger in Santa Monica, California boasts a long history. Yet, it was all about the future on October 11, when Rolls-Royce debuted its Vision Next 100 to North American audiences.
With its slick yet grand silhouette, the exalted vehicle appears more likely to roll out of a sci-fi movie than to journey today's roads. And, there is a point to that – the car illuminates the manufacturer's forward concept for luxury mobility. The exceptional car truly caps parent company BMW's centenary celebrations, which visualize the next couple of decades of haute automotive advance.
Codenamed 103EX, the one-of-a-kind automobile – Rolls-Royce's first ever "Vision Vehicle" – strikes with a design that evokes effortless elegance. The almost 20ft-long, 5ft-high hulk – reflecting the dimensions of the iconic Phantom Extended Wheelbase – captures the very essence of the double-R brand. Its elongated jet black-moon silver bonnet commences with a re-imagined but still recognizable Pantheon grille – the hand-crafted glass mascot, Spirit of Ecstasy, perched atop – and races back to a torpedo-like trunk. Defining the future, the staggering exterior pays tribute to Rolls-Royce past by quoting the one-time revolutionary aesthetics of the 1920s' experimental 10 EX.
And yet, "With the Rolls-Royce Vision Next 100 we were mindful not to dwell on the past. We wanted to be as innovative as possible and at the same time transcend the design history of the marque," Design Director Giles Taylor said in a statement.
The remarkable scale of Rolls-Royce pioneering ingenuity glares to the fullest when the side and roof door open to reveal the cabin, or "the grand sanctuary." Inside, an opulent white sofa sits in front of an OLED display. No stirring wheel; Vision Next 100 provides an effortless electric, fully automated drive, guided by a virtual concierge named Eleanor, after the real-life woman whom the marque immortalized as its mascot in the early 1900s.
As indulgent a Vision Next 100 ride might be, it would inevitably come to an end. Yet, as every other feature of this car, it becomes a memorable gesture of a "grand arrival " – a red carpet-like light beams out to escort passengers off the cabin lounge.
Pairing the tried-and-testes sensitivities that make Rolls-Royce a true luxury brand with the marque's bold, cutting-edge configurations, Vision Next 100 is the ultimate vehicle of wealth to yet traverse the roads of the world's most affluent cities.