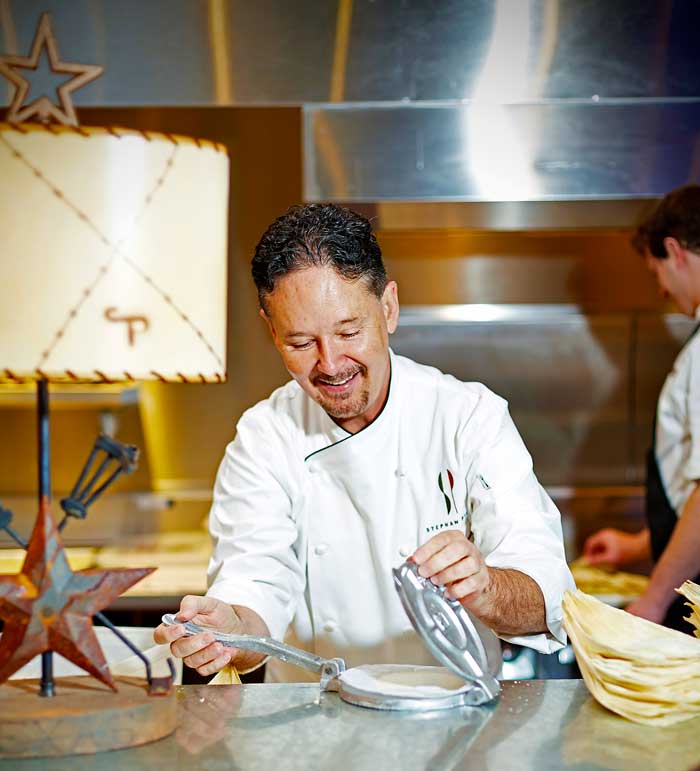 Legendary Texas Chef, Stephan Pyles will host a Garrison Brothers Bourbon Dinner on Thursday, September 29th with special guest speaker Dan Garrison. Stampede 66, the chef's restaurant serving modern Texas cuisine will serve as the venue for the exclusive event featuring a three course meal paired with three different Garrison Brothers Bourbons including one Single Barrel Bourbon that was bottled especially for Stampede 66 earlier this year.
One of the founding fathers of Southwestern cuisine, Chef Pyles is well known for his creative dishes which seamlessly fuse elements of Southern, Mexican, Tex-Mex and Cajun cuisines. Spending more than 25 years in the Dallas restaurant circuit, the 5th generation Texan has opened countless restaurants, authored several books and was the first person from the Southwest to win a James Beard Award for 'Best Chef.'
Inspired by his upbringing in Big Spring,Texas, Chef Pyles opened Stampede 66 where he serves traditional Texas dishes with a modern twist. On the menu there are southern classics such as BBQ brisket, chicken fried steak and honey fried chicken.
Founded in 2007, Garrison Brothers was the first and oldest legal whiskey distillery in Texas. An artisan distillery, they hand craft each bottle and barrel of whiskey to produce only a few hundred barrels a year all with their own distinct flavor. Well known for their craftsmanship their whiskeys differ from anything currently available on the market with rich aromas of molasses, caramel, butterscotch, and maple syrup, along with spices like cinnamon, vanilla, nutmeg, and anise, appear earlier, sometimes overpowering the smoke and wood essences.
This dinner promises to be an indulgent treat for the senses with unique and bold flavor profiles that will tempt your palate.
Tickets to this dinner are $85 per person plus tax and gratuity.
Menu
Appetizer
Chilled Cauliflower Soup; brown butter powder
Garrison Brothers Stampede 66 Single Barrel 2016 
Entrée
Whiskey Glazed Pheasant; leeks two ways, mini peppers, smoked pumpkin puree
Garrison Brothers Cowboy 2015
 Dessert
Linzer Torte, black figs, pear ice cream
Garrison Brothers Fall 2014
 HELPFUL LINKS:
https://www.facebook.com/Stampede66
https://twitter.com/stampede66
Subscribe to discover the best kept secrets in your city