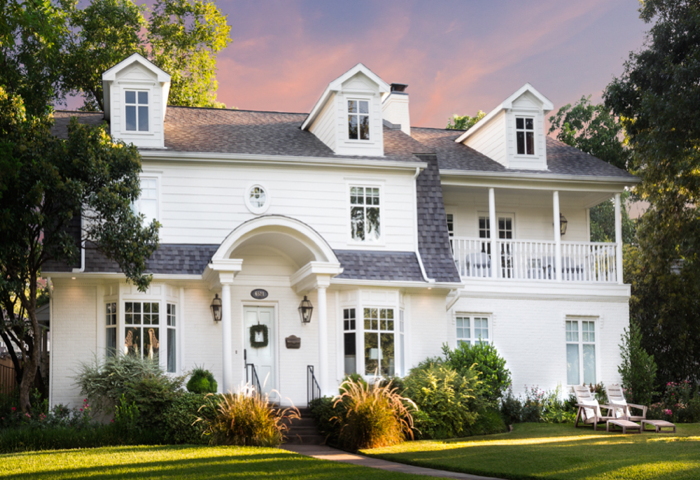 This year's "Explore Lakewood" theme features homes that effortlessly highlight gorgeous interiors while also bringing the outside in. The perfect ode to this treasured East Dallas neighborhood, all the homes on the tour share the latest in design trends while accentuating the rolling hills and creek views that have made this neighborhood a sought-after oasis.
This 40th Annual Lakewood Home Festival takes place on Saturday and Sunday, Nov. 12 and 13, 2016 and is hosted by Lakewood Early Childhood Parent Teacher Association (LECPTA.) Founded in 1952, the organization is for parents with children from birth to elementary age living in communities east of I-75, south of Lovers Lane, west of Grand Avenue, and north of I-30. Holding social events throughout the year, the organization has made it Its mission to enrich the lives of neighborhood children by helping them to develop lasting relationships among families and supporting local schools.
The festival is a community event that raises funds for Lakewood Elementary School, J.L. Long Middle School and Woodrow Wilson High School. The funds raised during the tour go towards school materials, computers and enrichment programs for the students. Since 1976 it has raised millions of dollars for the local schools; setting a new record last year by raising over $187,000.
On November 11, 2016, the annual home tour will kick off with the "Lights, Camera, Lakewood" auction party sponsored by Dave Perry-Miller Real Estate at the historic Belo Mansion.
Filled with impressive estates nestled in one of the city's most idyllic neighborhoods, this year promises to be another spectacular event for Lakewood and tickets are selling out fast!
 Tickets will be available at: http://www.lakewoodhomefestival.com, Comerica Bank® locations at: 2311 Abrams Rd. and 6260 E Mockingbird Ln., Talulah Belle and at the door to each of the homes.
The 2016 Featured Homes Are: 
Built in 1941, this Dutch Colonial home was renovated including all period detailing in 2015. Built on an oversized lot, the second floor balcony overlooks a beautifully landscaped front yard. Designed by the homeowner, the gorgeous interior combines traditional pieces, French country and transitional accents.This estate is the perfect representation of a classic American home. Sponsored by: Nancy Johnson Group and Michael S. Wilson Custom Homes
A stately Southern Luxe Farmhouse, this home was built on a double lot in 2016. Inspired by the southern estates in East Texas, this magnificent home is a treasure of architectural delights. It blends contemporary, transitional, classic and rustic designs to create the perfect home for a modern family. The wraparound porch gives a nostalgic nod to a simpler time while the floor-to-ceiling windows add to the bright, contemporary interior. Every detail of the home is custom designed and the carriage house is also a "must see". Sponsored by: Heather Guild Group, New Leaf Custom Homes and Maestri, LLC Architecture + Design
Perched atop a rolling hill in the heart of Lakewood, this picturesque Dutch Colonial Revival estate was built in 1927 by renown Lakewood developer Lee Kraft, of Dines and Kraft, as his personal family home. In 2014 the current homeowners completed a full renovation and addition revitalizing the home back to its former glory. Incorporating their love of travel and adventure throughout the interior of the home, it has become the perfect fusion of preservation adapted to modern living.  Sponsored by: JacksonSells and Chicago Title – Skillman/Lakewood Office
A traditional two-story home, this estate built in 1997 is situated on an acre lot. Built on land once belonging to retail tycoon, Stanley Marcus of Neiman Marcus it is surrounded by a lush array of large trees. The home underwent a major renovation in 2014 to fit the needs of the current owner's large, fun-loving family. The backyard is an oasis complete with a naturally landscaped pool, a deluxe outdoor living space, and multiple areas for entertaining, including a large fire pit. This home makes the perfect venue for entertaining or just family fun.
Sponsored by: Farris McMahon Group and Lawyers Title Lakewood
Built in 2016, this stunning, contemporary home sits on a cul-de-sac overlooking White Rock Creek. Walking through the doors the rich urban feeling of the home is evident in the interior inspired by British designer, Timothy Oulton. Incorporated throughout the home are dark accents, crystal chandeliers, and polished concrete-and-walnut floors. Bringing the lush outdoors inside are walls of glass and windows that make the home feel like a glamorous and sophisticated "tree house."  Sponsored by: Nancy Johnson Group and Republic Title Lakewood
This iconic, modern home rich in history was built by O'Neil Ford and Arch B. Swank in 1939 for Juanita and Alfred Bromberg, who lived there for 60 years. Situated on 10 acres of prime Lakewood Real Estate it is modestly nestled by trees easily transporting visitors to a serene countryside. The estate is complete with trails, bridges and wildlife and features beautiful screened porches and balconies to enjoy the idyllic meadows and babbling brooks. After acquiring the property in 1999, the homeowner continues to maintain and preserve the American architecture and design. Today the home is listed in the National Register of Historic Places. Sponsored by: David Bush Realtors, Republic Title Lakewood and Cornerstone Home Lending Inc.
Save