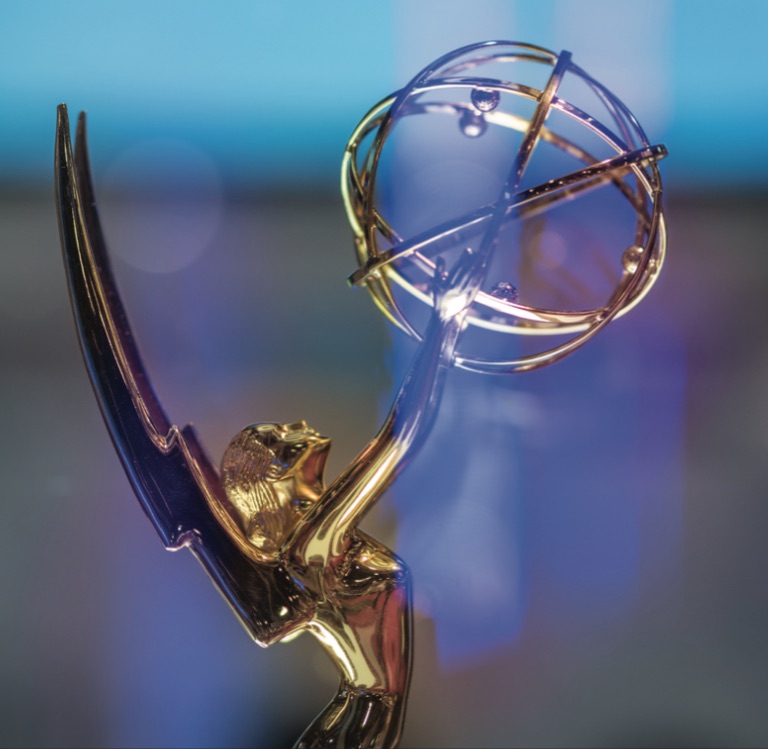 What do Kevin Spacey, Claire Danes, Amy Schumer, Viola Davis, Taraji P. Henson, Bryan Cranston, Benedict Cumberbatch, Idris Elba, Julia Louis-Dreyfus, Peter Dinklage, Tom Hiddleston, Kirsten Dunst and Kerry Washington all have in common? Well, a few things actually—including their 2016 Emmy® nominations. But this talented crew of thespians has another likeness besides talent: each member will receive a gold ticket to the Emmy Awards Governors Ball, the Television Academy's star-studded after party and one of the toughest seats of the year to get in Tinseltown.
Immediately following this year's September 18 telecast, the crème de la crème will be fêted at what has become the largest sit-down dinner in North America.
The industry's most elite will celebrate Nature's Elegance—this year's theme—from inside the air-conditioned venue (hey, it gets hot downtown!) while experiencing the romantic garden ambience that delights the senses.
From the moment guests enter the Governors Ball, they will be mesmerized by the inspirational beauty of old world gardens and the California landscape's natural grandeur. Some of the signature elements will include suspended canopies of lilac, wisteria and ivy, a winding central pathway bordered by lush plants and grasses, rustic walls draped with foliage, and flickering 'firefly' lighting illuminating the room.
Cheryl Cecchetto of Sequoia Productions, the brains behind the production and conception, adds that the "nature-driven theme of al fresco celebration" was spawned by the event's co-chairs, Barbara Cassel and Ed Fassl. The event's "lush garden walls, cascading overhead orals, and custom-designed 'Farm-to-Table' menu" perfectly complement the evening, as Cassel strived to achieve "a clear message of grand style within a natural atmosphere of comfort and relaxation."
To keep things fresh, the Television Academy has also added a new twist: setting a record by throwing three separate balls over back-to-back weekends. In addition to the Governors Ball, the Creative Arts Emmy Awards ceremony will extend from one to two consecutive nights—each with its own gala. In total, some 8,000 guests will be wined and dined in magnificent style at the trio of events.
That's a lot to have on anyone's plate, but legendary chef Joachim Splichal and his Patina team—back for their 21st Governors Ball— can handle it. For months, they have been collaborating on dishes that celebrate the late summer season. Drawing inspiration from this year's rustic theme, Splichal, as well as Culinary Executive Chef Gregg Wiele and Executive Pastry Chef Frania Mendivil, crafted a three-course meal that includes beet salad with pistachio-goat cheese bonbons and blood oranges, thyme-roasted tenderloin and slow-braised short rib and, as the finale, a chocolate cream cake with tropical coconut mousse that brings out the natural flavors of each ingredient.
With this line-up, they will certainly demonstrate their extraordinary culinary talent, flawless technique and stunning presentation. "Our menus for the Emmys Governors Balls over the years have consistently showcased ingredients that are at the peak of the season. My esteemed colleagues and I work with local farmers and foragers to design a menu that is truly inspired by the bounty of the earth," Splichal explains.
Though he tries to change his fare from year to year, "You will notice two things we almost always serve: steak and chocolate," he says. "What can I say? These people have great taste."
To ensure that the innovative food will have a date for the ball, Italy's most awarded sparkling wine producers, Ferrari, is returning for a second year as the Emmys' official bubbly. Guests entering the Governors Ball will kick off the celebration as they receive flutes of prestige label Ferrari Trento.
Meanwhile, Napa Valley's Sterling Vineyards is scheduled to be onsite for the first time—offering up a wine menu that includes its 2013 Cabernet Sauvignon, 2014 Sauvignon Blanc, 2012 Platinum Cabernet Sauvignon, and 2013 Chardonnay. "Our Sauvignon Blanc displays bright, crisp fruit and embraces the acidity from the blood orange and tangelo vinaigrette on the Heirloom Beets. This high quality Napa wine is elegant and balanced with some mid palate weight that is the natural foil for this dish. Our Cabernet Sauvignon is a delicious combination of ripe berry and oak and will be the perfect complement to the earthy mushroom and tenderloin of Patina's Turf and Turf," explains Mari Coyle, Sterling's winemaker.
She adds, "Wines are like people: they need to be nurtured, loved, and nourished with time to develop complex characteristics. In the end, we all want to be enjoyed and appreciated." Here you have it, Hollywood: at this year's Emmys, everyone leaves a winner!