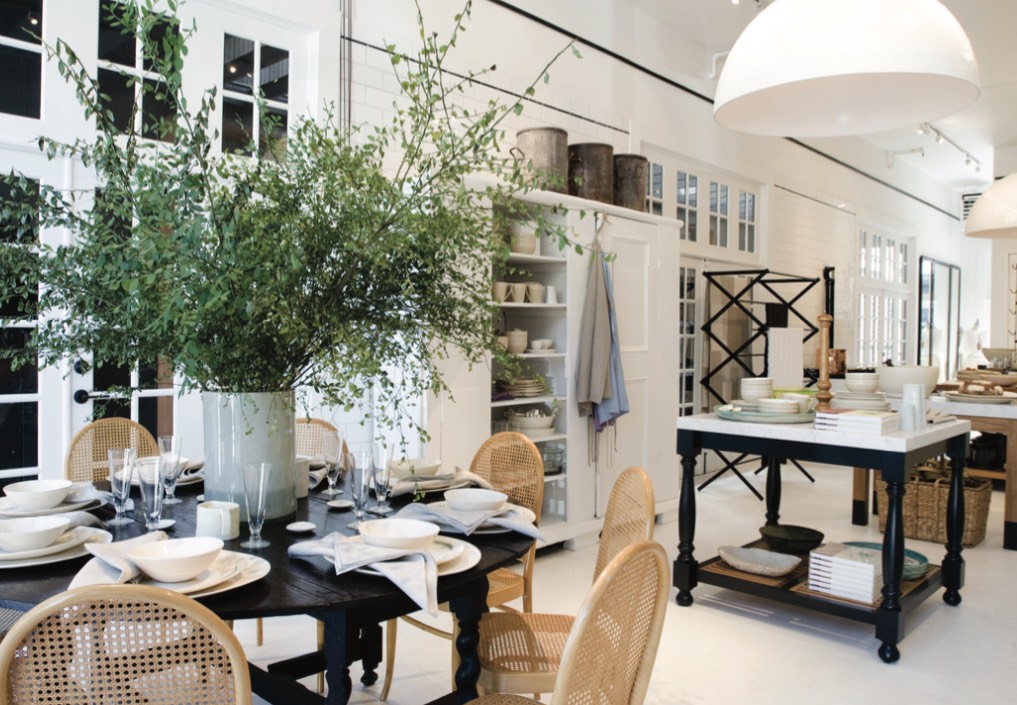 Photo Credit: Angie Silvy and Katie Newburn
When savvy San Franciscans look for luxury home goods, say, exquisite handmade bowls from South Africa, or they want high fashion like Stella McCartney handbags or couture apparel for an exclusive event, they know there's only one place in the city where they can find all of this—Sacramento Street. While the street itself runs from the Presidio to the Embarcadero, the city's best interiors and womenswear shops are on a quiet residential stretch between Broderick and Cherry streets in Presidio Heights. Long home to a handful of San Francisco's most iconic destination boutiques, such as Sue Fisher King and Waterlilies, over the past couple of years a slew of new, youthful brands have been breathing fresh life into the haute shopping hood. Here's a roundup of our favorite Sacramento Street shops to visit for luxe treasures.
There is no better place to outfit a dream kitchen than Sam Hamilton's shop, March (3075 Sacramento Street, 415-931- 7433). With walls covered in white subway tiles, high ceilings, and a luxuriously understated vibe, the space feels as though it could be in the home of a renowned culinary personality like Martha Stewart or Ina Garten. Tables and shelves are filled with copper pots, handwoven baskets, and splatterware bowls. Everything you need to assemble a sophisticated dining room is here—think wooden bowls, linen napkins, gold silverware, colorful canisters, hand-dipped taper candles, and mercantile benches. If you find yourself drooling over Aga stoves, you're in luck—March has a functioning one that Hamilton uses when she hosts special events and dinners. In fact, March is one of only two San Francisco distributors for the legendary Swedish stove maker. March also has a line of pantry items and an in-house design team. So not only can you outfit that dream kitchen with fancy pots and pretty glasses, but you can season your steaks with special hickory-smoked sea salt and design your kitchen with a gorgeous island—all thanks to March.
There's something about Jessie Black (3252 Sacramento Street, 415-757-0202). When you walk into the pretty Australian blonde's namesake boutique, you can't help but feel relaxed. Unlike some design stores that can feel crowded, the Jessie Black shop is carefully edited and open. There's a refreshing lack of stuffiness and pretense because Black doesn't want her customers to be afraid to touch things. There is no clutter on the shelves; instead each one holds a pristine selection of carefully curated items from folded cashmere throws and fringed leather pillows propped up sideways to stacks of pale yellow knits. Everything is in shades of elemental white, cream, taupe, and grey. It's a dreamy space that's warm and cozy, with wooden floors, tons of luxurious textures like faux fur and cashmere, and plenty of shiny metallic accents in the form of mirrors and vessels. Black, who describes her style as "textural, neutral, timeless, and classic," has an MBA in luxury goods and is incredibly knowledgeable on the subject. She can tell you which type of Mongolian goats produce the softest fabrics, and she even makes her own signature lines of cashmere sweaters and high-thread-count Egyptian cotton sheets. While she loves supporting local artists and artisans, she also showcases inspired one-off pieces discovered on her frequent travels to far-flung destinations.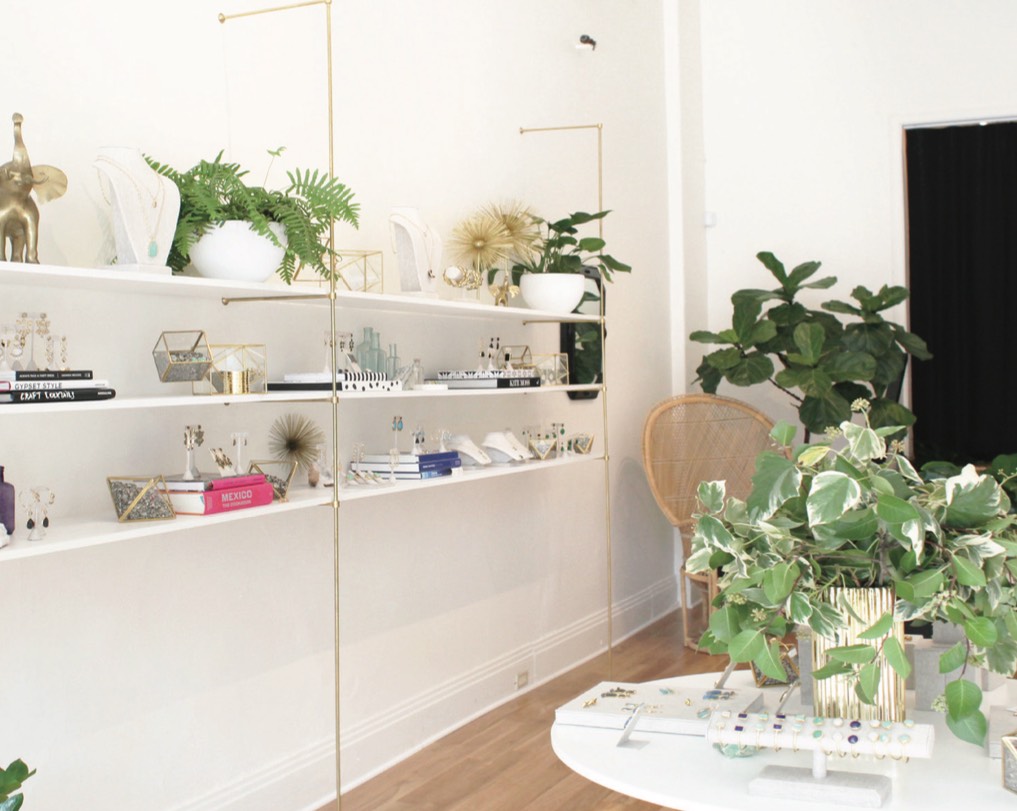 Margaret Elizabeth (3334 Sacramento Street, 415-529-1217) is a jewelry boutique filled with beautiful, handcrafted pieces made from high-quality semi-precious stones. Meg Shackleton founded the local brand in 2011 when she left her corporate job at Google and decided to pursue her passion for making jewelry. The approachable shop is light and bright and filled with colorful rings, delicate bracelets, and dangly earrings. The style of Margaret Elizabeth is incredibly feminine with a color palette inspired by the earth and sea. There are gorgeous egg-shaped drop earrings made of turquoise surrounded by deep blue lapis; strands of thin gold chain link with a moody and romantic black crystal pendant; and cushion-cut rings with moonstone, labradorite, or chalcedony stones. Margaret Elizabeth's gemstone bangles come in so many different colorful gems that you won't be able to walk away with just one. You'll want a stack for your own wrist.
Hudson Grace (3350 Sacramento Street, 415-440-7400) is the area's go-to boutique for upscale entertaining accessories. There is a timeless quality to the store with an emphasis on simplicity and modern elegance. The majority of plates, platters, and glasses are white and each item is handmade earthenware. One exclusive collection of porcelain tabletop pieces is made in a 100-year-old factory in Limoges, France. Hudson Grace is ideal for hostess gift shopping. Pick up a stack of vibrantly colored linen napkins, a local chef's cookbook, or a set of teak serving trays. You'll also find vases, pitchers, massive bowls, candles, and marble cheese platters and more at this chic and stylish storefront.
Anyon Atelier (3452 Sacramento Street, 415-814-3849), from native San Franciscan Lindsay Brier, is the sister boutique to Anyon Interior Design. Brier really knows what she's doing—she has spent her life surrounded by the decorative arts, beginning with her mother, who owned an antique shop in Russian Hill. She has a passion for incorporating antiques into her designs and many of her vintage finds can be found at the Atelier. The store-front is small, but it's packed with wonderful furnishings, stunning artwork, and delicate accessories. A vivid mix of marble, jade, and reclaimed lumber displayed with leather, alpaca, and linen give the place textural interest. You can shop for pillows covered in interesting fabrics and seaside photographs by César Ancelle Hansen or coffee table books that focus on haute destinations like the Hamptons and St. Barts.
The doors open on September 6 to the rich colors and intricate textiles of Found by Maja (3484 Sacramento Street). This boutique is the product of treasure hunter and globetrotter Maja Lithander Smith. The jewel box of a store has deep blue walls, hand-painted de Gournay wallpaper panels, and shelves made of brass and smoked glass. What will you find? Delights from all over the world: Turkish bamboo towels, Guatemalan organic cotton blankets, Cambodian silk bead necklaces, and custom Moroccan poufs. Local photographer Jock McDonald's prints and vintage furniture pieces are also available.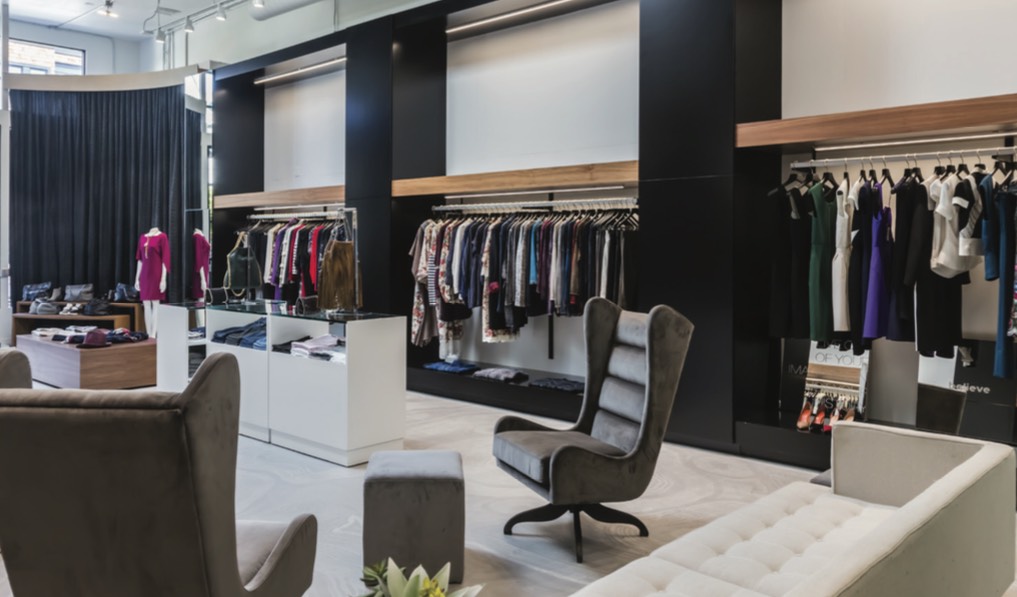 SF's most influential fashionistas have flocked to Betty Lin (3625 Sacramento Street, 415-345- 8688) for the past six years, but the boutique's current home on Sacramento Street across from Spruce restaurant opened a little over a year ago. Lin stocks her shelves with a sharply edited collection of casual-luxe designs. Find clothes by Suno, Stella McCartney, Roland Mouret, Yigal Azrouel, and Ellery, along with denim from Mother and Goldsign, jewelry by Goti and Erickson Beamon, and shoes from Alexa Wagner. Humanoid. Lin, who displays a wealth of fashion knowledge, always finds a way to showcase her clothing and accessories in a subtly glamorous way.