Art and wine are two very similar industries. In both worlds, you have an individual—the artist or winemaker—crafting a very special item—the painting or bottle of wine—for the enjoyment of others. The individual's creative expression is endless and the result is a wildly varying range of product. Art lovers can purchase a mass-produced buddha canvas sold at Pier One or an original Frida Kahlo portrait at a Sotheby's auction. The same low-high, there-is-something-for-everyone quality applies to wine. Cabernet Sauvignon fans can purchase a mass-produced bottle of Charles Shaw at Trader Joe's or a single vineyard bottle from the wait list at Harlan Estate. There are more parallels that can be made between art and wine, but rarely do the two intertwine in a public setting. You can't walk the floors of the SFMOMA with a glass of unoaked Chardonnay in your hand—but what if we told you there is a place nearby where art and wine collide? Allow us to introduce you to Donum Estate, a charming picturesque ranch-style vineyard and sculpture gallery on 187 acres of rolling hillside in Sonoma.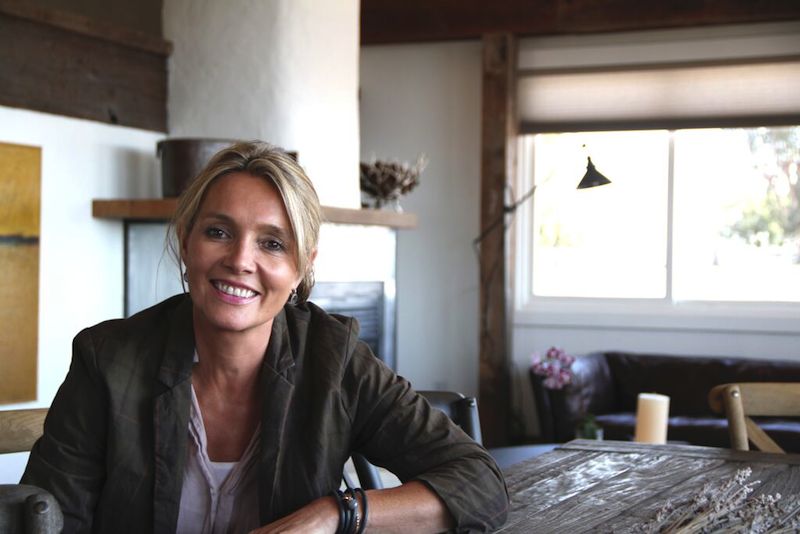 Donum is run by Anne Moller-Racke, a stylish blonde whose dark eyes glitter excitedly when she talks. She is more of a plant whisperer than a winemaker—which is why she prefers the title winegrower. She has been farming the Carneros vineyard and its two sister sites in Russian River and the Anderson Valley for years. Walk the grounds with her and it's hard to believe she is the president of the estate. It's as if you're getting a tour from Donum's very own fairy godmother, albeit a down-to-earth, but incredibly knowledgeable wine-loving fairy godmother. She can describe everything, from the Burgundian grand cru grape-growing model to the Non-Violence twisted gun sculpture by Carl Fredrik Reuterwärd. She makes nine different wines from the three AVAs and believes that winemaking is easier to control when made in small batches. "Winemaking is like cooking," she says while pouring a glass of the 2013 Carneros Estate Pinot Noir—which has excellent notes of chocolate. "It's overwhelming if you have to make dinner for 14 people, but if you're just cooking for four people, it's fun."
Donum is not a new winery, Moller-Racke has been making sensational high-quality Pinot Noir and Chardonnay since 2001. However, in the past five years, with the arrival of new ownership and its extensive collection of large sculptures, the winery has undergone an exciting transformation that's approaching its completion. A new hospitality center will debut this fall and an art walk is now part of the Donum experience. Vineyard guests (note that an advance appointment is necessary to visit the winery) will be able to tour the extensive gardens and get an up-close and personal view of the growing collection of renowned sculptures. Sip the bright and fresh 2014 Estate Chardonnay while you walk past Yeu Minjun's Contemporary Terracotta Warriors. A pretty pond glimmers in the distance just past rows of vineyards, young olive trees, and fragrant lavender fields. A giant metal Liu Hui Captured the Rhino sculpture sits elegantly behind you.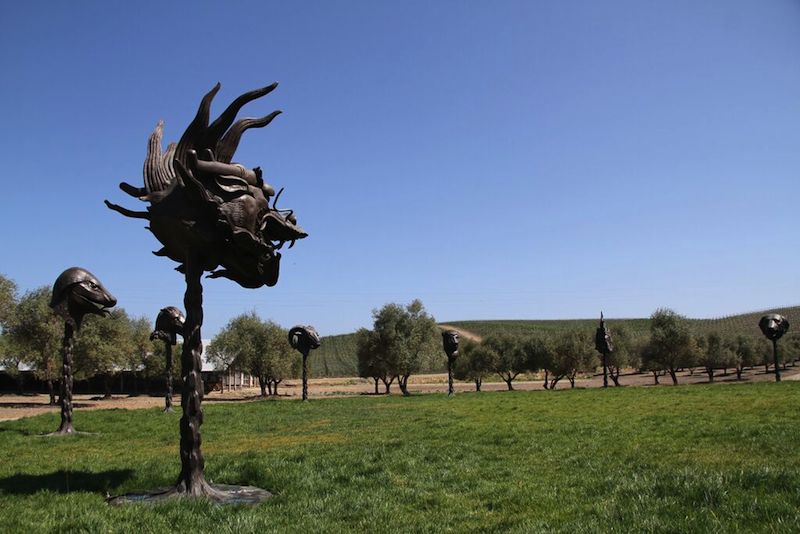 Last month, a partnership with the Japanese artist, Ai Weiwei was announced. WeiWei's 2011 Circle of Animals Zodiac Heads sculpture was acquired by the winery in 2015, so it's only natural that Donum and WeiWei expand the collaboration. Weiwei has designed a new line of labels for the ultra-premium single-vineyard single-appellation Pinots and Chardonnays. "We have long been inspired by the strength and evocative power of Ai Weiwei's art," Moller-Racke explains gesturing toward the head of ram. "We have been equally inspired by his willingness to push boundaries and to overcome convention. It is precisely this combination of elements, that we strive to bring to the art of winemaking. You know, wine and art really do go together." Standing on the peaceful rolling hills of Donom Estate, the metal from Zhan Wang's Artificial Rock No. 126 shinning like liquid silver under the sun, we couldn't agree more. Clearly, the blending of wine and art is something that Molle-Racke—and Donum—has mastered.